News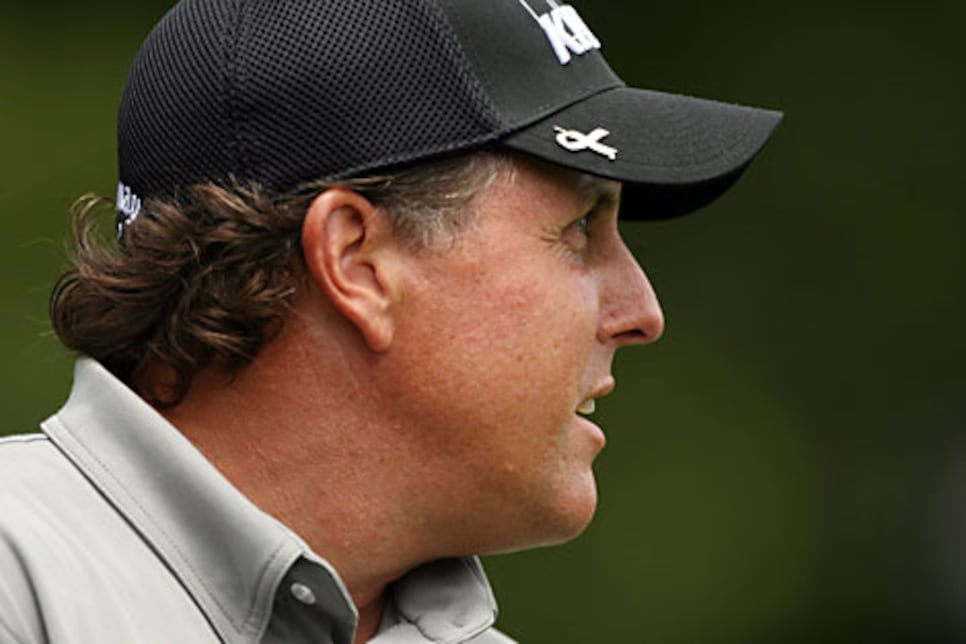 Intimates of Phil Mickelson say he's been in good spirits of late, but caution that he's reluctant to reveal too much about his wife's condition.
When Phil Mickelson revealed on his website that he was ready to return to the PGA Tour after taking six weeks off to care for his wife, Amy, he only needed two sentences to announce it.
After Mickelson played a practice round Wednesday at Hazeltine, to get ready for the upcoming PGA Championship, he left without talking to reporters.
Mickelson hasn't held back when talking about Amy's battle with breast cancer or how he's holding up, so consider this a new direction. And it's not an accident.
Chances are it's going to be a trend, at least for awhile. Talking less may become more common for Lefty, when the conversation turns to how she's recovering from breast cancer surgery and how he's handling it as well -- not easy when the issue has been out there in a public forum. But the view reflected from several people inside the Mickelson camp is that while Amy has always been a very public figure by Mickelson's side on the course, she's also a very private person in regards to her health -- and Mickelson wants to protect her.
Rob Mangini, a longtime Mickelson buddy, was part of a group that flew overnight to Hazeltine with Mickelson on Mickelson's jet and played the practice round with Lefty, his caddie Jim Mackay, Geoff Ogilvy and also Keith Sbarbaro, who is TaylorMade's vice president of tour operations.
Mangini said Mickelson seemed in a positive frame of mind.
"He was in a great mood because all the news has been very positive," Mangini said. "The long-term prognosis on Amy was very, very positive, and Phil's come a long way. From the medical standpoint, it was a big shocker for him the last few months."
Mangini said he is aware of the type of surgery Amy underwent at Houston's M.D. Anderson Cancer Center, although he declined to reveal details. There are others among Mickelson's insiders who do not know the specifics and they regard such a blackout, if that's what it is, as an indication Mickelson wants to keep a tight lid on the news. The details of Amy Mickelson's surgery or the specifics of her post-surgery treatment have not been made public. It is known that the cancer was confined to breast tissue and had not spread to the lymph nodes. Those close to Mickelson say he understands that he will be asked questions at next week's WGC-Bridgestone Invitational (and the PGA Championship and The Barclays) about Amy's cancer treatment, his mother Mary's cancer surgery that came two months later at MD Anderson, and how he is adapting. But they expect Mickelson to be less revealing than he has been in the past.
Mickelson has played twice since Amy's diagnosis was made public March 20 -- at Memphis and at the U.S. Open -- and most questions were about her cancer and his emotional well-being. After he tied for second at the Open at Bethpage, Mickelson said he hoped for some privacy, and now he may be moving in a direction to make sure he gets it.
Mangini, who also played with Mickelson on Tuesday at San Diego Country Club, said the plans are for another practice round on Friday, maybe at the same course.
Those who know him best say Mickelson is indeed ready to mix it up on the golf course again. He just may not be as eager to get in too deep about what's happening off of it.
As for when Amy will rejoin her husband on the golf trail, there's been no talk of that at all.