News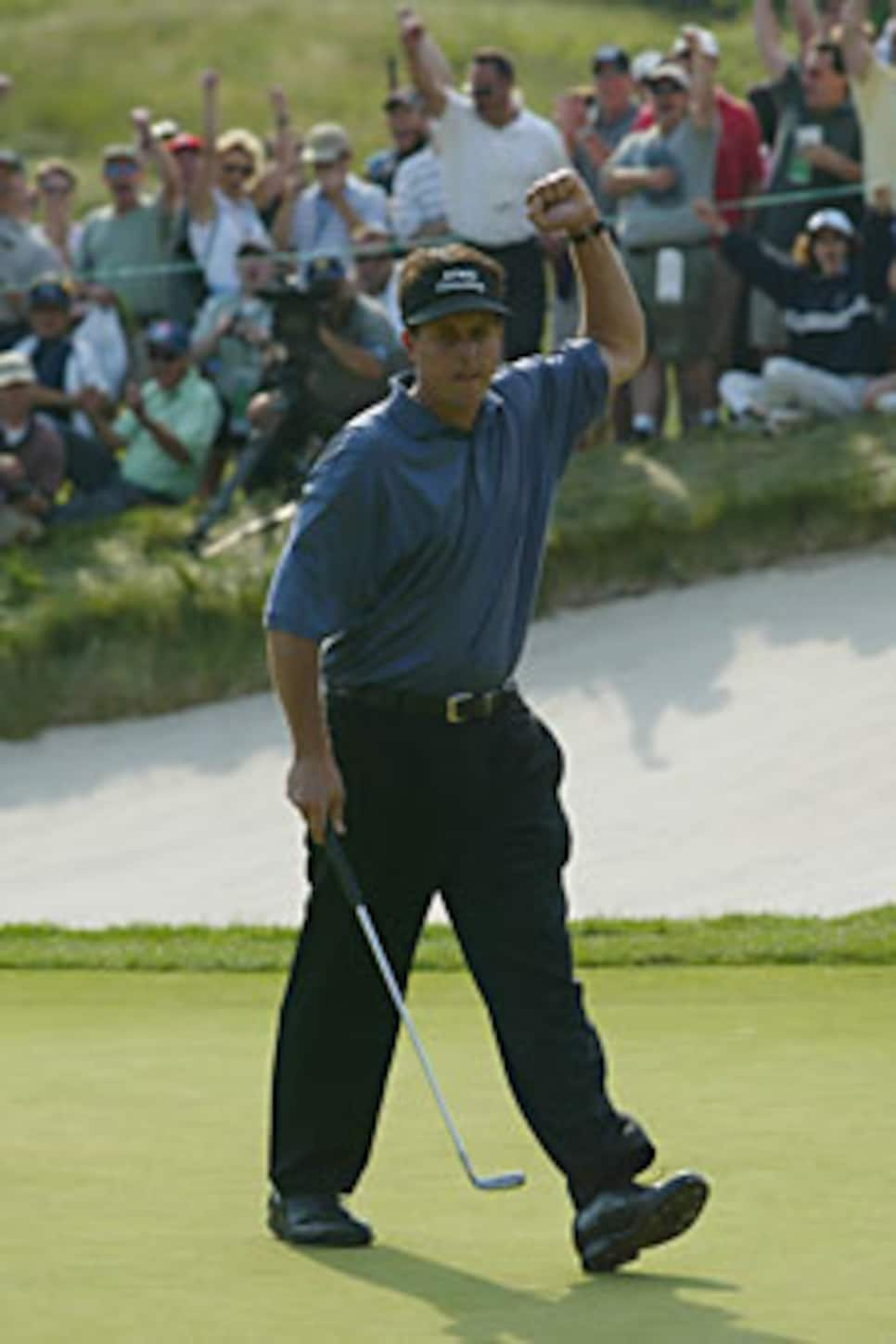 Phil Mickelson first forged a bond with the New York crowd when he contended at Bethpage Black in 2002.
Nine years later, Phil Mickelson still asks about my wife, who worked for Hugo Boss while Mickelson was under contract to wear the company's golf attire (1997-2002). He always asks about my kids, two young girls he has never met, although my older daughter did pretty well by Phil and Amy when she was born a year after the Mickelsons had their first child.
An assortment of gifts, including two boxes of customized Hershey bars, had more to do with my wife's relationship with the Mickelsons than my own, but it still led to some awkward moments between a journalist and would-be superstar golfer with a history of banana peels.
Three major titles later, Mickelson has affirmed his status as one of the 25 best players ever, his biggest competitive crime being that he was born in the same decade as Tiger Woods. Word that Lefty will return to action next week in Memphis, then play in the U.S. Open before Amy undergoes surgery for breast cancer, has story-of-the-year implications if Philly Mick can work his way into the weekend mix at Bethpage.

You may recall the only other legitimate SOTY candidate: Tiger's return from knee surgery at the WGC-Match Play in February, which lasted 32 holes and ended with a thumping from Tim Clark. The story about Tiger's leg actually didn't have legs, and so we've reached the midway point of the 2009 season mired in a serious news slump.
The next three weeks could easily change that, with Woods teeing it up at the Memorial before Mickelson takes center stage. All the speculation regarding the seriousness of Amy's medical condition is, to this point, nothing more than well-intentioned guesswork, and though you certainly don't have to know Phil's wife to feel immense sorrow and wish her nothing but the best, those who do know her cannot overstate the abundance of positive qualities she brings to the PGA Tour.
I've always thought Amy had a marvelous sense of perspective -- the perfect blend of passion and practicality in a game where winning and losing can seem like all that matter. More than most tour wives, she has dealt with the greatest of emotional extremes throughout her husband's never-a-dull-moment career and handled them with uncanny grace. If there's an ounce of justice in this world, she'll win this battle, 3 and 2.
On this week's installment of the "Grey Goose 19th Hole," we led off the show wondering if Phil can realistically contend at the U.S. Open, given all he'll have gone through in the stretch leading into the year's second major. My concern involves his physical preparation. Can he find enough time to hit enough balls and spend the requisite number of hours on his short game to reach peak form for what undoubtedly will be the toughest test of the year?
He has two weeks. Knowing Mickelson at least a little bit, he's probably prepping for Amy's surgery, which is scheduled for the end of the month, with the same intensity as he would devote to getting ready for a U.S. Open under normal circumstances. Can he do both? One can only hope so, because Mickelson would have been the fan favorite at Bethpage if not for his wife's medical condition.
Now we're talking about a turbo-charged atmosphere unlike any we've seen, an amplified version of the competitive environment Lefty has always thrived in. If he's sharp enough to take advantage of the support and draw on the inspiration he finds in his wife, we could be looking at a performance for the ages.
There are only a dozen or so players capable of shooting par at Bethpage over the course of four grueling days, and Mickelson obviously is one of them. His return is a big deal for several reasons, his presence at the U.S. Open a storyline with depth and numerous potentially positive ramifications. For him to play well enough to contend would be a terrific bonus. It's the kind of thing you'd be silly to count on but really, really hope will happen.