News
Make-Or-Break Proposition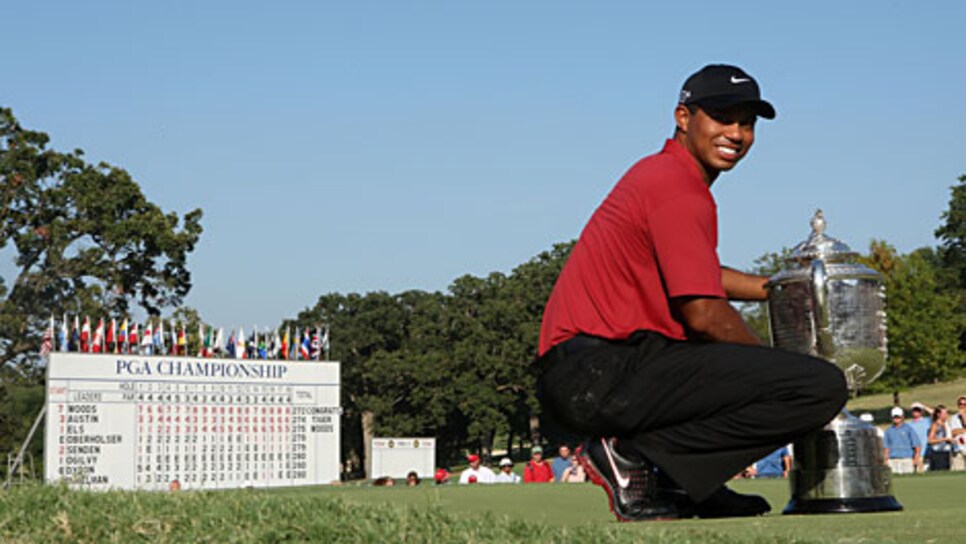 Tiger Woods is looking for the same result as 2007, when a win in the PGA salvaged his season.
The trip to Hazeltine for next week's PGA Championship means we have hit the 10-year anniversary not only of the scissor kick, but of the year Tiger Woods personally took the PGA, put it on his shoulders, and carried it from its fourth major status to an equal member of the Big Four.
At least when Tiger wins it: When he doesn't win it, or contend, the PGA just isn't the same show. Even last year at Oakland Hills, the second straight major for Padraig Harrington, really didn't get interesting until late. The Shaun Micheel-Chad Campbell duel at Oak Hill in 2003 was the same, even with Micheel hitting one of the greatest final-hole shots in major championship history.
What saved Hazeltine in 2002 the last time was not Rich Beem's victory jig but Woods' four closing birdies and his 3-iron from the fairway bunker on the 18th hole in the second round, a shot Woods ranks among his greatest of all-time.
But Woods already had two majors that year, the Masters and the U.S. Open, and if not for a bad draw at Muirfield may have been in Minnesota going for the Slam. What adds an extra layer of drama to the PGA, are the years when Tiger comes in attempting to "save his season." "Glory's Last Shot" has also been Tiger's last shot five times. Two times he has delivered.
The last time Woods was in this spot, 2007, was one of those times. Tiger has also won two more PGAs with a major or two in his pocket, four Wanamaker Trophies that add to his amazing 28 percent winning ratio in majors all-time. When Woods does contend and win, as he did in 1999 at Medinah -- when he slapped back the testosterone of Sergio Garcia with a must-make sidehill par putt on the 17th hole of that manly Chicago beast -- the PGA morphs into what the Masters used to be and what the U.S. Open should be.
In holding off Garcia to win in '99, Woods ended a 10-tournament major streak, going back to his breakthrough victory in the '97 Masters. The exhausted look on his face and the extended hug with his father after putting out on the 72nd hole showed how much he had poured into this one particular major. Behind the scenes, the PGA brain trust realized their event played bigger than it ever had before.
But if there was an event that put the PGA on the map, after five victories by Jack Nicklaus and Walter Hagen, it was the 2000 edition at Valhalla. This was not only Tiger's third-straight major, it was epic in the golf produced by Woods and underdog Bob May, and for one classic scene: Tiger's memorable greenside celebration when he trotted after his birdie putt on the 16th green and pointed it toward the hole. There was also the controversy over Woods' tee ball at 18 in the playoff, on whether a spectator threw or kicked Tiger's Nike back down a cart path. But the takeaway was Woods making a downhill 6-footer to stay alive on the 72nd green. "This was one memorable battle," Woods said.
There were no defining or exhausting moments in the 2006 PGA at Medinah, with Woods winning by five over Micheel, with Garcia, Luke Donald (shooting 74 with the Tiger pairing on Sunday) and Adam Scott finishing T-3. This was Tiger's second straight major, and part of a nine-tournament winning streak that began at the British Open and extended into 2007.
Ah, 2007. Six months after the win streak ended with a loss to Nick O'Hern in the WGC-Accenture Match Play, Tiger arrived at Southern Hills in sweat-dripping Tulsa having been shut out in the majors. At Augusta, he finished second to Zach Johnson. At Oakmont, he went down to the final hole before losing to Angel Cabrera. After playing poorly and indifferently at Carnoustie, he went into full lock-down mode for the PGA. In a world without Tiger, it would have been Woody Austin's glory.
But instead it was Tiger's, as he turned a promising season into a successful one and inherently turned that PGA into the most significant major of the year. It could be the same story this year. Should he prevail at Hazeltine, one can imagine Tiger talking about this '09 season the same way he reflected on 2007 that day in Tulsa. The other parallel is that his first child, daughter Sam was born two years ago and his second, son Charlie was born this year.
"Well, golf-wise, it's been a good year," Woods said at Southern Hills. "I've won this year. I've won a major championship now. I've contended in three of the four. So that part's been good. Off the golf course, it's been great. Last year the golf was great, but off the golf course was difficult. So I will certainly take this year over last year any time."
In other words, thank you PGA.
And you can hear the PGA say, thank you Tiger Woods.