News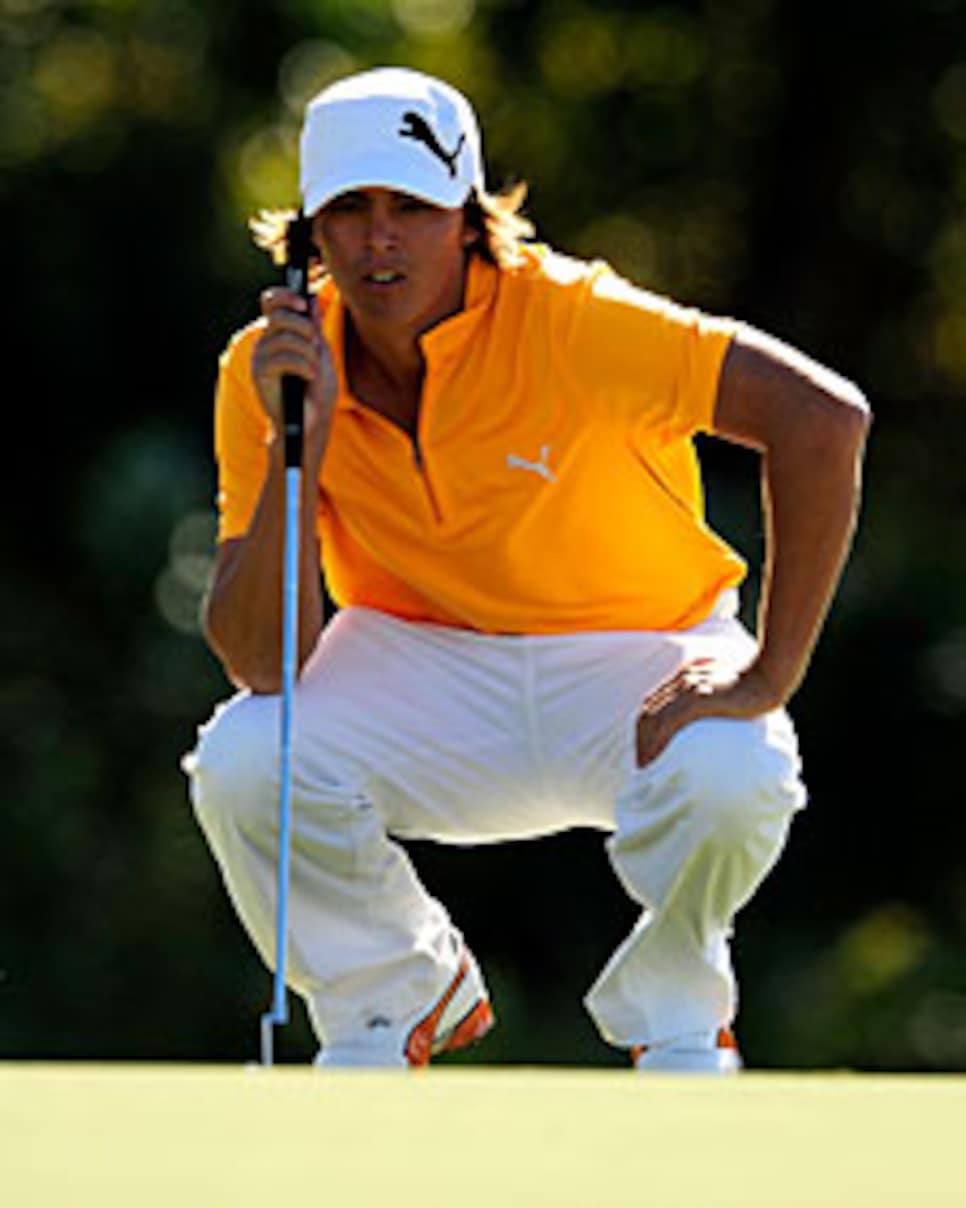 Rickie Fowler qualified comfortably for the PGA Tour, finishing tied for 15th.
WEST PALM BEACH, Fla. (AP) -- Troy Merritt has never played in a PGA Tour event. That's about to change.
Even after making double-bogey on the final hole, Merritt shot a 3-under 69 on Monday to win the PGA Tour qualifying tournament, finishing the six-round event at 22 under and one shot ahead of tour veteran Jeff Maggert.
"Probably the most satisfying double-bogey I've ever made," Merritt said.
Matt Jones (66) was third at 19 under, one shot ahead of Martin Flores (65) in the event where the top 25 finishers earned cards on the PGA Tour for 2010. Rickie Fowler made it comfortably, his final-round 70 leaving him tied for 15th.
Merritt earned $50,000 for medalist honors. There was no formal ceremony, just a long line of relatives and well-wishers getting autographs and photos taken.
"The trophy is to get to play with the big boys next year," Merritt said.
Five players began the final round outside the magical top-25 barrier and rallied to earn cards. David Lutterus shot the round of the day, an 8-under 64 to jump from tied for 28th to tied for eighth. Shane Bertsch made a bigger leap, a 65 getting him from 50th to 15th.
"It's not a real comfortable week," Bertsch said. "But I just kept plugging."
Cameron Tringale moved 23 spots up to 19th, and Spencer Levin and Brent Delahoussaye also made final-round jumps to be among the 25 Q-school graduates. Chris Riley, a 2004 Ryder Cup player for the U.S., also advanced.
Among the notables who did not qualify out of Q-school were major champions David Duval, Todd Hamilton and Shaun Micheel.
Lutterus was 9 under through his first 14 holes of the final round, enjoying a strangely relaxing day on his way to going from having no status anywhere next season to having a PGA Tour card.
"My game just wasn't quite there the first five rounds," Lutterus said. "Just clicked today. I was actually enjoying it."
The only score that mattered Monday was 9 under, the line between joining the PGA or Nationwide tours for 2010. Ken Duke missed a long birdie try on his final hole, missing by a shot. Two-time PGA Tour winner Tom Pernice Jr. drove into the water on the 18th, made double bogey and fell one shot shy.
Pernice won on the Champions Tour this year, meaning he already had a place to play in 2010.
"True, but I didn't come here to not make it," Pernice said. "Anybody that came here, they come here with the intent and feeling that you're going to make it."
Julien Trudeau didn't know what to feel when he didn't make it, one of eight players to finish at 8 under.
Trudeau's friends raised $4,000 to send him to the final round of Q-school and cover the price tag of hotels, dinners and the rental car. He rewarded them by winning a Nationwide Tour card, but he waited for hours after his round ended to see if 8 under would be good enough, first sipping coffee in the locker room and then beer in the parking lot.
"One way or the other, I'm so happy to be here," Trudeau said. "And so lucky."
It's not uncommon to see a final-hole meltdown at Q-School, and James Hahn won't forget his 18th hole for some time.
Hahn was tied for 50th starting the final round Monday. A year ago, he was selling shoes at Nordstrom, scratching out a living as a "paycheck-to-paycheck player" and considered quitting golf for good.
His first 17 holes Monday were flawless, five birdies, no bogeys, putting him in position for the PGA Tour.
"I was talking a lot to myself on the last hole walking up, saying 'If it's my time, it's my time,'" Hahn said.
It wasn't his time. He drove into the bunker on the last hole, got a perfect lie and hit his approach from 163 yards to about 65 feet.
A two-putt, he's on tour. His day ended four putts later.
The first putt was 10 feet short, his second missed by 2 feet, and Hahn lipped that one out for good measure.
"I'm not going to beat myself over the head about it," Hahn said. "That's golf."
Hahn was fine. Delahoussaye could barely keep his composure, and he was one of the lucky ones.
Delahoussaye was planning a January honeymoon. Teary-eyed, he called his fiancee a few moments after finishing his 108th hole of the week, telling her that plans were changing. He's on tour now, and plans have to change since he's got events to play in January.
"I've been trying for so long," Delahoussaye said. "I'm pretty sure she'll be all right with going to Hawaii instead."