News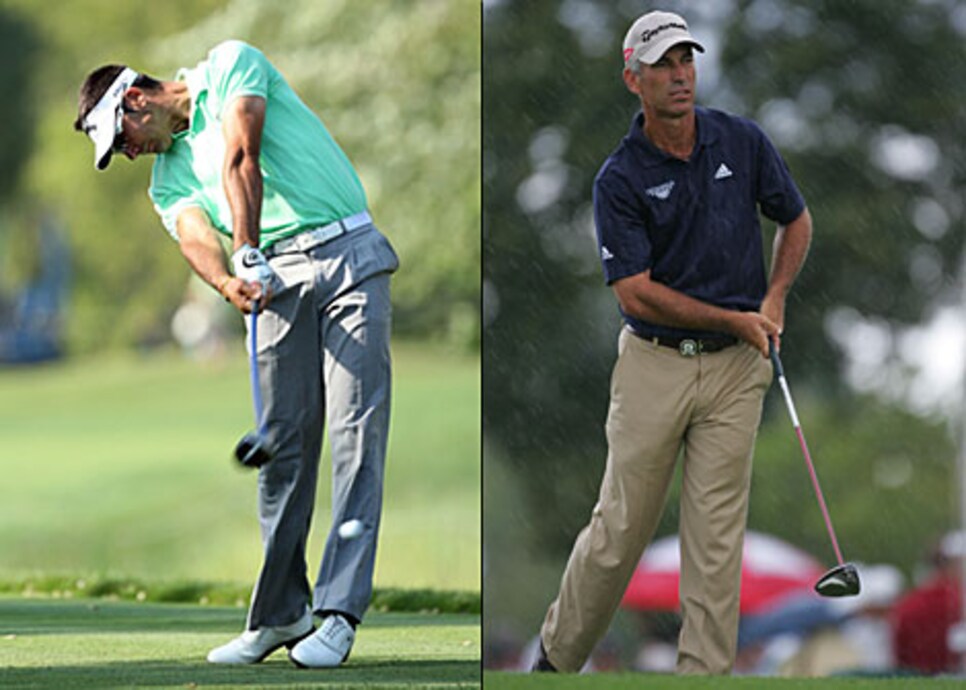 instant folk hero: Quiros (left) turned heads at Hazeltine with his astounding power, especially when he reached the uphill 606-yard 11th hole in two. __USING HIS SMARTS:__The 1995 U.S. Open champion, Pavin (right) utilized his well-rounded game to finish T-19 on the longest course ever used in a major.
On the longest course in major championship history, darn near the shortest hitter beat the longest hitter by one stroke. If there was a win for Corey Pavin at the 91st PGA Championship, it was not finishing T-19 at age 49 as much as it was the moral victory of clipping the breakout star of the tournament, the dashing young Spaniard with the pencil thin sideburns, Alvaro Quiros.
Despite being outdriven by 54 yards on average by Quiros, the 2010 U.S. Ryder Cup captain shot a two-over 290, capped by a brilliant par-save at the 72nd hole that reflected the tenacity that made him an easy choice to lead next year's team to Wales. While the Champions Tour can't come soon enough, Pavin realizes he has a better chance on monsters such as Hazeltine than venues where it takes 20 under to win. "But it's a grind to play courses this long," he said. "It's hard and taxing on my brain."
Quiros became an instant folk hero Thursday by hitting into the wind and into Tiger Woods' group at the uphill, supposedly unreachable 606-yard, par-5 11th (see page 48). Woods described the effort as "stupid long," but ultimately what was stupid was the way Quiros closed Sunday—with a triple bogey at the par-3 17th and a
bogey from the middle of the 18th fairway with a three-quarter 6-iron.
"The way I finished, it was a disaster," Quiros said. "But [overall] it's a positive experience, for sure."
Finishing par-par despite hitting at times seven clubs more than Quiros, Pavin was more analytical. "Distance isn't everything in golf," Pavin said. "There are so many ways to get the ball in the hole, and that's why golf is so fascinating to fans. You have so many different types of players out there, different swings, different ball flights, guys hit it far, guys hit it short, guys miss greens, guys hit tons of greens, people don't putt well, some people putt great, and it's such a mix. When you put it all in the pot, there's such an equality out here in scoring, it's amazing."
What's amazing is the way Quiros consistently flies the ball more than 300 yards with a three-quarter swing. "He makes the ball get small in a hurry," said Golf Channel analyst Brandel Chamblee. Listed at 6-foot-3, 185 pounds, Quiros has six inches and 30 pounds on Pavin, who, 23 years older, was winning tournaments in the mid-1980s when Quiros was in diapers.
"I know who Corey Pavin is, for sure," Quiros said. But since he didn't take up the game until he was 15, the 26-year-old has no memory of Pavin's 4-wood into the final hole at Shinnecock Hills at the 1995 U.S. Open or the intensity with which Pavin played the Ryder Cup at Oak Hill later that year. Even Woods' early successes are a mystery. "If I had to be honest, I didn't grow up with Tiger," said Quiros.
But there is no doubt that Quiros has grown up in a hurry, winning each of the last three years on the European Tour, including the Qatar Masters this past January against the strongest field in a regular tour event in that circuit's history. After missing the cut in the first three majors this year, Quiros rounded into form with a T-15 at the WGC-Bridgestone Invitational and thrived on the bomber's paradise in Chaska. The Minnesota fans quickly fell in love, and Quiros showed he was more than just a long-baller, by opening with a 69 and bouncing back from Friday's 76 with another 69 to start Sunday T-8.
As his Q ratings grew, so did his smile and his apparent comfort with the attention. "The people, it looks like they start to know me, and this is good," he said Sunday night. Earlier in the week, he told reporters gathered around him by the clubhouse, "Americans love the action, the spectacular, and I think it is a little bit of myself, the action."
Stories of Quiros' drives circulated not only among the massive galleries—just before he teed off at 15 on Sunday, a spectator could be heard saying, "Better wait for the green to clear"—but back in the locker room and practice ground, too. Harrington and Woods joked that they had that extra distance in the bag and just didn't bother to take it out, but Quiros never swung the club afraid.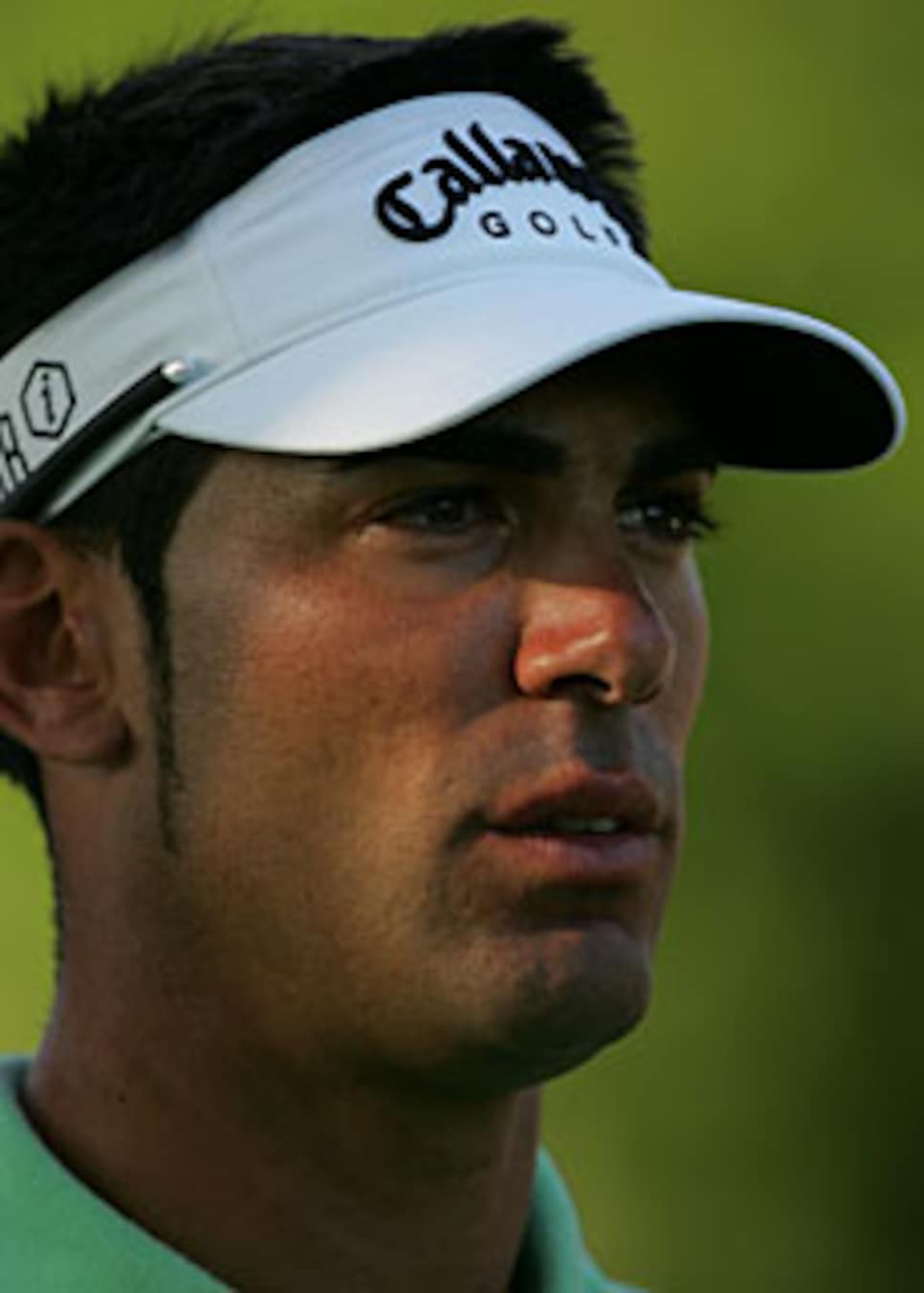 Friday, Quiros' tee ball at the par-5 15th was measured at 380 yards, and Saturday he had only 46 yards for his second shot into the 432-yard ninth. But as explosive as Quiros' game is, his short game, at least during the PGA, was admittedly lacking. He hit four more greens in regulation than Pavin but took five more putts.
"I have to work a lot on the rhythm, that is the key to improving my swing, and on top of that my short game this week was very poor," Quiros said. "I have to improve a lot, and the most important thing to improve is my short game."
Pavin knew a little bit more about Quiros than Quiros about him, having watched the Spaniard win at Qatar as part of his homework as Ryder Cup captain. He figures Quiros will be on an extremely powerful European Ryder Cup team in 2010. "All I know is he hits it miles, and he's got great action at it. He swings it very good, and he looks good, but I don't know much more about him than that."
Pavin had enough to worry about battling father time but had too much competitive grit to let the course overpower him. At first he hesitated to accept the PGA's special invitation to play Hazeltine, but shortly before the commitment deadline he took on the challenge when he saw evidence his game was returning. A year ago he made it to the FedEx Cup playoffs; this year he is outside the postseason bubble but doesn't believe the demands of his captaincy are to blame. "Age catches up to you as well," he said. "At the end of last year, I was exhausted after the FedEx Cup."
Saturday night, after just hoping to make the cut, then going 73-71-71, Pavin and longtime caddie Eric Schwarz started talking about how a T-4 would get them one final Masters. That dream ended with back-to-back bogeys at 9 and 10, and Pavin came to the 475-yard uphill 18th with nothing other than professional pride to drive him.
In his prime Pavin played par 5s only slightly longer. A poor tee ball left him 252 yards to the pin from a bad lie up against the gallery ropes, but the former UCLA star, a 15-time winner in a career dating to 1984, scraped out a final par with his old Bullseye putter.
Once a gritty little Bruin, always a gritty little Bruin. "I'm grinding away," he said. "I want to score the best I can no matter what situation I'm in."
Their differences notwithstanding, that's an outlook Quiros understands. "In the end, it doesn't matter if [you are] a long hitter," Quiros said. "The only thing that matters is the score."
[Ljava.lang.String;@63ece8dd