News
Tiger Woods and the One That Got Away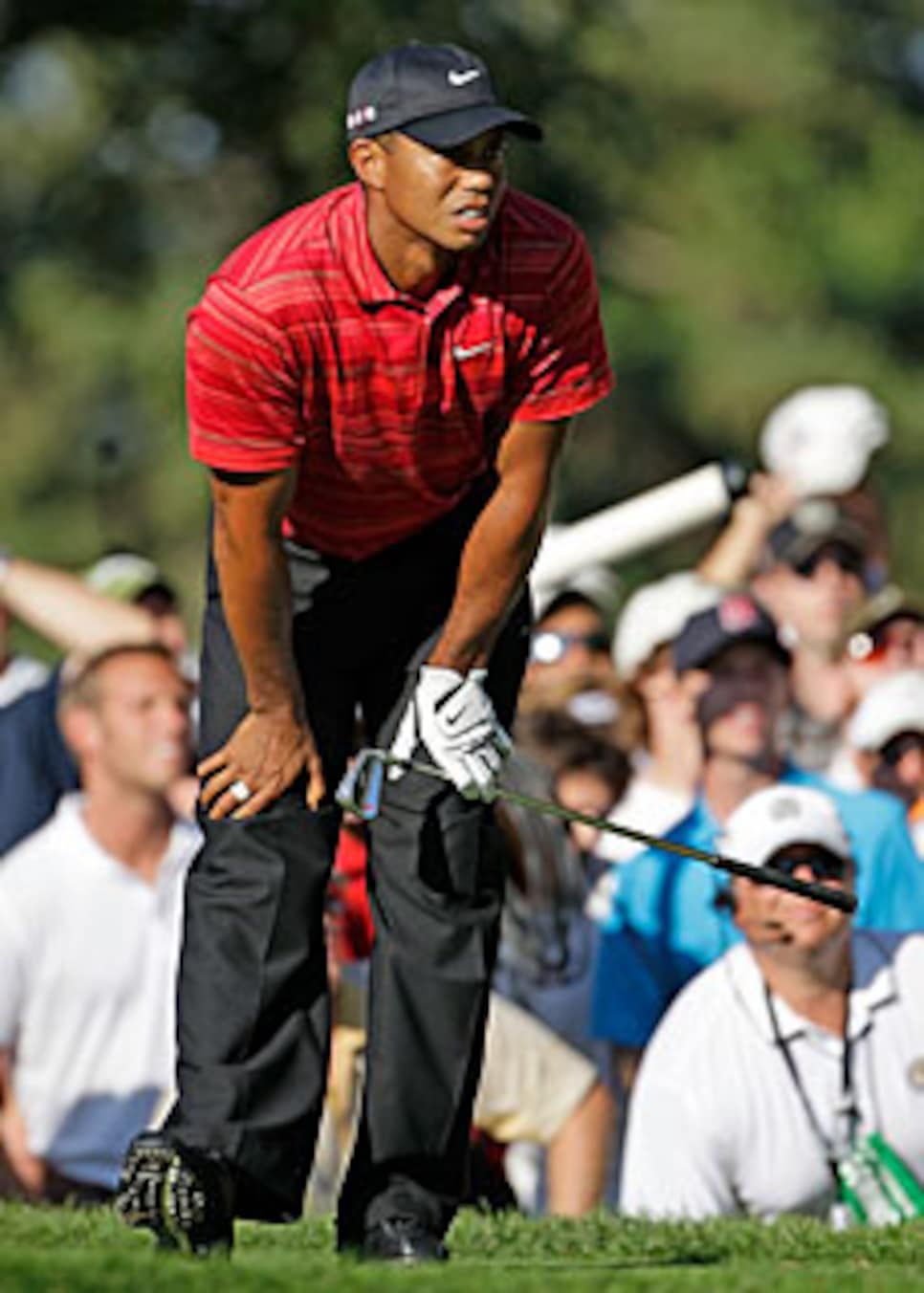 Tiger Woods reacts to his poor tee shot on the 17th hole during the final round of the 91st PGA Championship at Hazeltine National.
Tiger Woods started walking shortly after his follow-through, almost beating the ball to its resting place on the 18th green. He absolutely, positively had to chip in for birdie there, so as that white sphere with all those dimples stuck its tongue out and disobeyed the world's greatest golfer one last time, he was resigned to a vexing defeat.
When you putt the way Tiger Woods putted in Sunday's final round of the 91st PGA Championship, anything can happen, even Y.E. Yang. Asked to handicap his chances before their climactic tour of Hazeltine National, the fiesty South Korean did the math. He had one PGA Tour victory and Woods had 70, so that sounded about right. In any language, Yang said through an interpreter, he was a 70-to-1 shot.
But this will be remembered as a shocker beyond those numbers, an upset of Buster Douglas vs. Mike Tyson proportions, the difference being that Tyson was ill-prepared for his 1990 comeuppance. Tiger played a dawn-patrol practice round Monday, 12 or so hours after he won the WGC-Bridgestone Invitational in Akron, Ohio. Later in the week he was spotted at local gyms while peers snoozed or buttered their toast. When Woods built a four-stroke lead Friday night, a bookie in Ireland, Paddy Power, issued early payouts to Tiger backers. On the range the next morning, guys who knew of Ed Fiori and Nick O'Hern refrained from predicting miracles. Tiger will be Player of the Year anyway, maybe also Comeback Player of the Year since he was on crutches last August, and he's hoarding FedEx Cup points. Why not a 15th major, putting him a slam away from passing Jack Nicklaus?
In an ode to the Golden Bear, Woods opted to navigate a long course under varying winds with constraint. Nicklaus famously rubbernecked toward trophies while contenders crashed around him. Saturday, Woods appeared to be enacting an Ali rope-a-dope, hanging on as foes expended energy before returning to their corners, winded. Vijay Singh made a mess on the greens in the third round, and in the fourth Padraig Harrington exited the hunt when he entered one of Minnesota's 10,000 lakes.
One by one, they disappeared, all except Yang. If he felt nervous, he hid it well. Then again, he had a front-row seat for a putting display that shall haunt Woods until April's Masters. Tiger will hear about being conservative to a fault, but if 33 of his 75 strokes had not been consumed by a petulant short stick, he would be hailed for establishing a smart game plan and abiding by it like the champion closer he is. We figured if Woods hit fairways at Hazeltine, he could win this thing putt-ing blindfolded. We just didn't think he would try it. If he read books like he read greens Sunday, he never would have gotten into Stanford.
"I made absolutely nothing," groused Woods, exaggerating only the slightest bit. When Yang chipped in for eagle on No. 14, Woods had to convert for birdie on the drivable par 4 to avoid falling back by two. He made it, but otherwise, Woods left a trail of ifs and maybes. He provided a clue at No. 1, then again at No. 4, where he three-putted, and No. 10. At No. 13, a 240-yard par 3, Woods authored a brilliant 3-iron to 10 feet while Yang landed in a bunker. A two-shot swing felt possible, but Yang got up and down and Tiger missed, again.
Twenty minutes later, Yang snagged a lead he would not yield, despite a three-putt at 17, where Woods also bogeyed. "We kept waiting for a defining moment," rued caddie Steve Williams, who has witnessed too many to count. Strangely, as a final touché, Yang turned out the lights on 18 with a fabulous second, while Woods' approach bounced into the thick stuff. An exceptional week of golf before spectacular audiences concluded in call-your-neighbor fashion, with a staggering kicker. After Yang birdied, Woods and his rotten putter were stranded on the green, consigned to clean-up duty. He missed, punctuating an unnatural disaster that had experts rubbing their eyes.
Harrington quipped Saturday that Tiger's amazing streak would end someday, maybe when he was 60. One of these days, Tiger's lead after 54 holes would be a loss, but nobody imagined it would be Sunday, especially Tiger. He bore through the clubhouse without a word, did his press conference, graciously praised Yang, then vanished in a black Buick. Woods might have spread hope throughout the ranks by being beaten. But that was not his mission, and this one will sting even after Tiger submits that putter to the Cash for Clunkers program.