News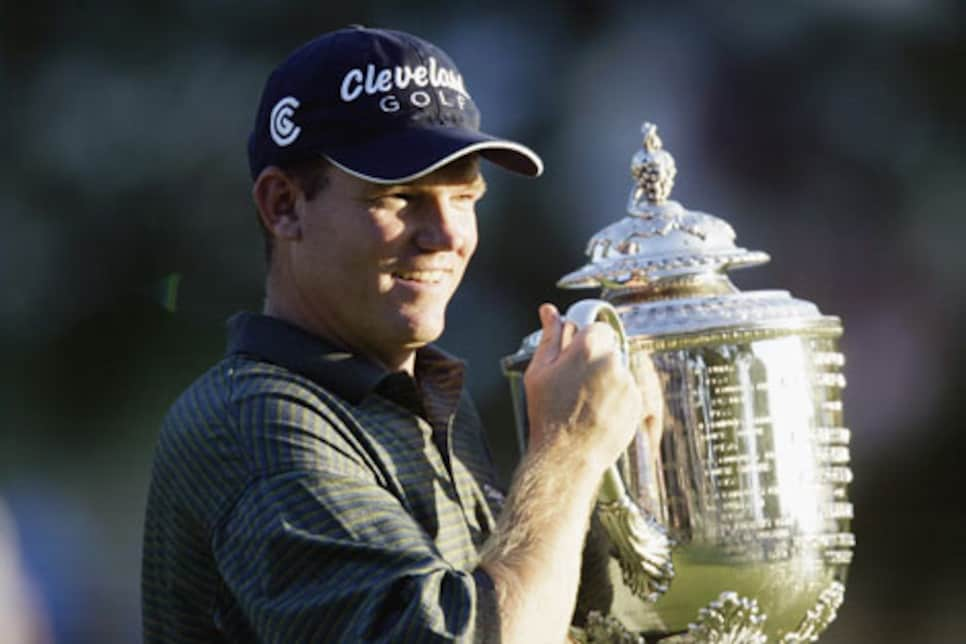 Shaun Micheel is only the latest player to emerge from obscurity to claim the Wanamaker Trophy.
Fifty years ago, at Minneapolis Golf Club, Bob Rosburg came back from a six-stroke deficit after 54 holes to defeat Jerry Barber and Doug Sanders and win the PGA Championship. Rosburg, who died this year at age 82, became best known for his pioneering work as a rover for ABC's golf telecasts, but he was a fine, natural player before he ever grabbed a microphone. Since it was very hot that week in Minnesota, the weather reinforced Rossie's aversion to beating balls. He recalled shortly before his death that he hardly saw the practice range during his biggest victory.
It's not likely that this year's PGA champion at Hazeltine National Golf Club will go the week without visiting the practice tee, but it is quite possible the eventual winner will have something else in common with Rosburg, who never won another major after his breakthrough in 1959.
While history's brightest lights shine on the golfers who win multiple professional major titles, the fact is that many players do what Rosburg did and claim only a single major. For whatever reason, more golfers have had their grandest week in the PGA Championship than the other three majors.
Since the advent of the Masters in 1934 -- at least in retrospect the beginning of the modern majors era -- a total of 29 golfers have made the PGA their only major, compared to 22 in the British Open, 21 in the U.S. Open and 15 in the Masters. That Rosburg prevailed at Minneapolis GC did not come as a surprise to anyone charting the PGA's history. The decade of the 1950s was the heyday of one-time major winners in the championship.
Five winners (Chandler Harper, 1950; Jim Turnesa, 1952; Walter Burkemo, 1953; Chick Harbert, 1954; Lionel Hebert, 1957) prevailed in the championship's old format, match play, which was abandoned after the 1957 event. Dow Finsterwald won the first stroke-play PGA, in 1958, followed by Rosburg. And Rossie was actually part of a streak of one-and-done major victors, with Jay Hebert (1960) and Jerry Barber (1961) following him, among six solo champs in the 1960s. Only the 1990s could come close to those two decades, when five golfers -- Wayne Grady, Paul Azinger, Steve Elkington, Mark Brooks and Davis Love III -- claimed their only majors in the PGA Championship.
The current trend shows that the first three majors of the year have produced more frequent one-time major winners. Shaun Micheel (2003) is the most recent PGA champion with only one major to his credit. But the U.S. Open has had four such winners since 2003 and the Masters and British Open three each in the same span.
Back in the old days, when there were many fewer zeroes in prize checks, it was said that winning the U.S. Open was worth $1 million for a golfer by the time the exhibitions and endorsements and other extra income was added up. The other majors might not have been quite as lucrative, but they, too, came with a larger financial payoff than what was written on an oversize check.
The prestige was more nebulous to calculate but no less real. Rosburg's longtime colleague on ABC, Dave Marr, always had the 1965 PGA Championship behind his name. The same was true of another television icon, Ken Venturi, who carries the dramatic survival story of his win in the heat in the 1964 U.S. Open at Congressional. Tom Weiskopf was thought by many to have the game to challenge his fellow Buckeye, Jack Nicklaus. Weiskopf didn't turn out to have that kind of career, but he did win the 1973 British Open at Troon -- separating himself from the thousands of golfers who go careers without claiming even one historic victory.
In the late 1960s and early 1970s the Masters had its most concentrated period of one-time major winners, with Bob Goalby (1968), George Archer (1969), Charles Coody (1971) and Tommy Aaron (1973), but these men got the same spoils as those who have slipped into a green jacket more than once.
Certainly, golfers who have been stuck with the modern moniker "Best Player Never To Have Won a Major" such as Colin Montgomerie would have traded one professional major victory for the unwritten asterisk that accompanied them into middle age and beyond.
Without question there are players who after winning their maiden major were expected to win more. Rosburg was one of them. A decade after his PGA victory, Rosburg had a great chance in the 1969 U.S. Open only to be beaten by another one-major man, Orville Moody. Not only was that Moody's only major win, it was his only PGA Tour triumph -- but he came out on the senior tour and won regularly.
Who would have thought Hal Sutton's 1983 PGA Championship would be his solo professional major? That the 1997 PGA would be, so far, Davis Love III's only Grand Slam title? Or that Fred Couples would walk away with one of golf's most important titles only once, at the 1992 Masters?
Winning any tour event is hard work, but a major is another matter completely. As Rosburg proved 50 years ago, along with dozens of golfers before and after, there isn't any shame in ending your career with just one major title. A bunch of golfers would love to be in the shoes of those who had one week when everything went right and the golf gods kept the frowns on the other guys' faces.