News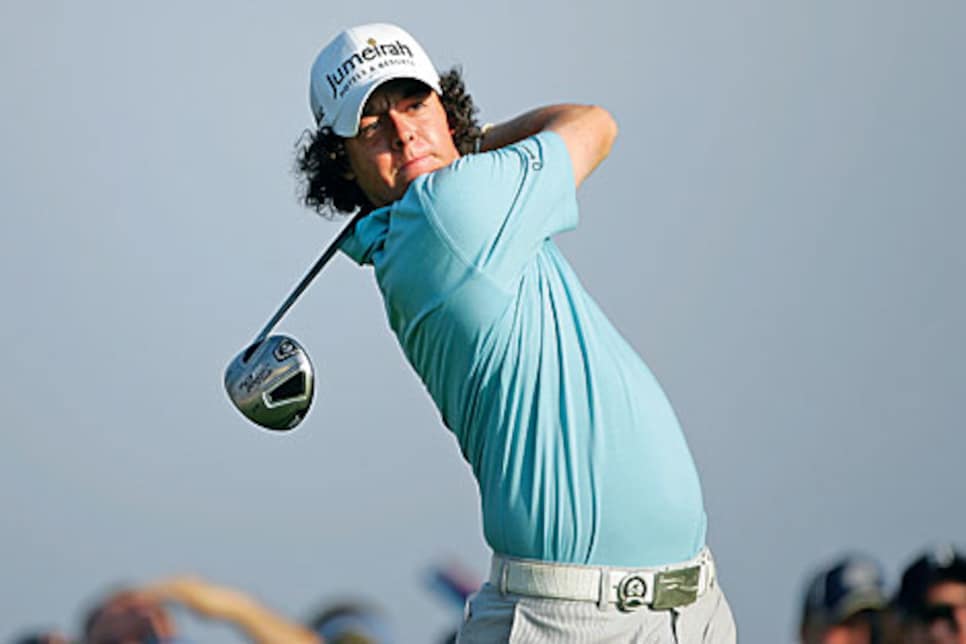 progress of a prodigy: McIlroy used one of golf's finest swings to finish T-3 at Hazeltine, his best performance in his first full year of major championships.
Everyone knows golf isn't a game of perfect, but watching Rory McIlroy's sublime swing makes people forget.
Perhaps in response to that unfairness, the 20-year-old from Northern Ireland seems determined, even in the tournament arena, to look as much as possible like a regular kid just bumping along. Between shots, he tends to let his loose-limbed 5-foot-9, 160-pound frame sag into a slouch, his golf clothes fit as if tailored by the House of Slacker and his ruddy baby face peeks out from a bushy tangle of 1960s-style tendrils that instantly emboldens spectators to say out loud, "Get a haircut."
But once he grips a club, McIlroy can't hide his talent, which makes his errant shots that much more jarring—and at times, maddening. So it was at the PGA Championship, when McIlroy, beginning his final round tied for 13th, seven strokes behind leader Tiger Woods, managed to convert a perfect drive on Hazeltine's par-4 first hole into a double bogey when he pushed a short iron and somehow took four more from the edge.
A lot of waste had come before. After beginning the championship three under par through six holes, McIlroy made six bogeys in his next 28 holes and then a double when he three-putted from 12 feet on the par-3 17th Friday. Saturday a 60-something turned into a 71 when buried bunker lies led to bogeys at the 13th and 15th.
It's the kind of stuff that calls up McIlroy's blooper reel. There was this year's Masters, where he got into contention with a birdie on the 15th Friday, only to four-putt the 16th for a double bogey and then triple-bogeyed the 18th after taking two in a greenside bunker to barely make the cut. There was Switzerland in 2008, where at the Omega European Masters he failed on a five-foot putt on the 72nd for victory and then somehow missed an 18-inch tap-in on the second hole of sudden death to hand the tournament to Jean-François Lucquin. Even when he got his first professional victory in Dubai early this year, the six-shot lead he held with six to play was down to one on the final hole.
But beyond unrealistic expectations, it gives pause to see someone so often compared to Woods—who even at a young age seldom repeated the big competitive mistakes—do such un-Woodsian things.
However, McIlroy may indeed have a perfect temperament for the game, and just as his misadventures of the last year didn't send him spiraling, neither did the opening double bogey at Hazeltine. He immediately responded with three birdies and turned in 34 after eating up a back pin on the ninth with the purest of 8-irons. There would be only one more birdie on the back nine, but more importantly, only one more bogey, and that on the ridiculously difficult 518-yard, par-4 12th. Quietly, amid the drama of Woods himself being un-Woodsian, McIlroy's closing 70 earned him a T-3, five behind Y.E. Yang.
It also completed a solid first full year of major championships that included a T-20 at the Masters, a T-10 at the U.S. Open and a T-47 at the British Open. Among the select group of players who completed 72 holes in all four Grand Slam events, McIlroy's cumulative score of five over par was only three strokes higher than leader Ross Fisher. McIlroy also proved a formidable final-round player in the game's biggest events, with an inward-nine 31 at Augusta, a 68 at Bethpage Black, and a tie for the low round Sunday at Hazeltine.
McIlroy is now ranked 22nd in the world, and his consistency in the majors is an effective rebuttal to those who question whether he will indeed be the next big thing. McIlroy is used to the backlash that comes after a hailed prodigy turns professional, but he had given skeptics more ammunition since winning at Dubai by failing to finish better than fifth in the combined 11 tournaments he played on the European and PGA tours before the PGA.
To some, McIlroy has yet to prove he has more than simply a great swing. It was praised before he shot an incredible 61 at Royal Portrush at age 16, and the praise continues. After defeating McIlroy, 2 and 1, in the quarterfinals of the WGC-Accenture Match Play in February, Geoff Ogilvy called it the finest in golf. McIlroy's Sunday playing partner at Hazeltine, Stephen Ames, said, "It's up there in the class of Tiger at the same age, one of those five-times-in-a-century kind of things."
It's a marvel greater than the sum of its parts. McIlroy lacks rippling muscle and limits most of his training to core exercises, but he's got Gumby-like flexibility and a martial artist's timing. His clubhead speed of 114.8 miles per hour with a driver is only in the upper-middle range among touring professionals, as is his good-but-not-extraordinary ball speed of 170 mph. But there is a correctness to the hit that seems to give the ball an extra bit of hang time. McIlroy is seventh in driving distance on the European Tour with an average of 301.8 yards. At Hazeltine he was third at 314.6 yards, only five yards behind celebrity bomber Alvaro Quiros. Meanwhile, his iron play, while not yet possessing the versatility and refinement that will come with time, is nonetheless superb. At Hazeltine he hit 51 of 72 greens in regulation to rank tied for sixth in that category for the championship (he ranks fifth on the European Tour in that category this season).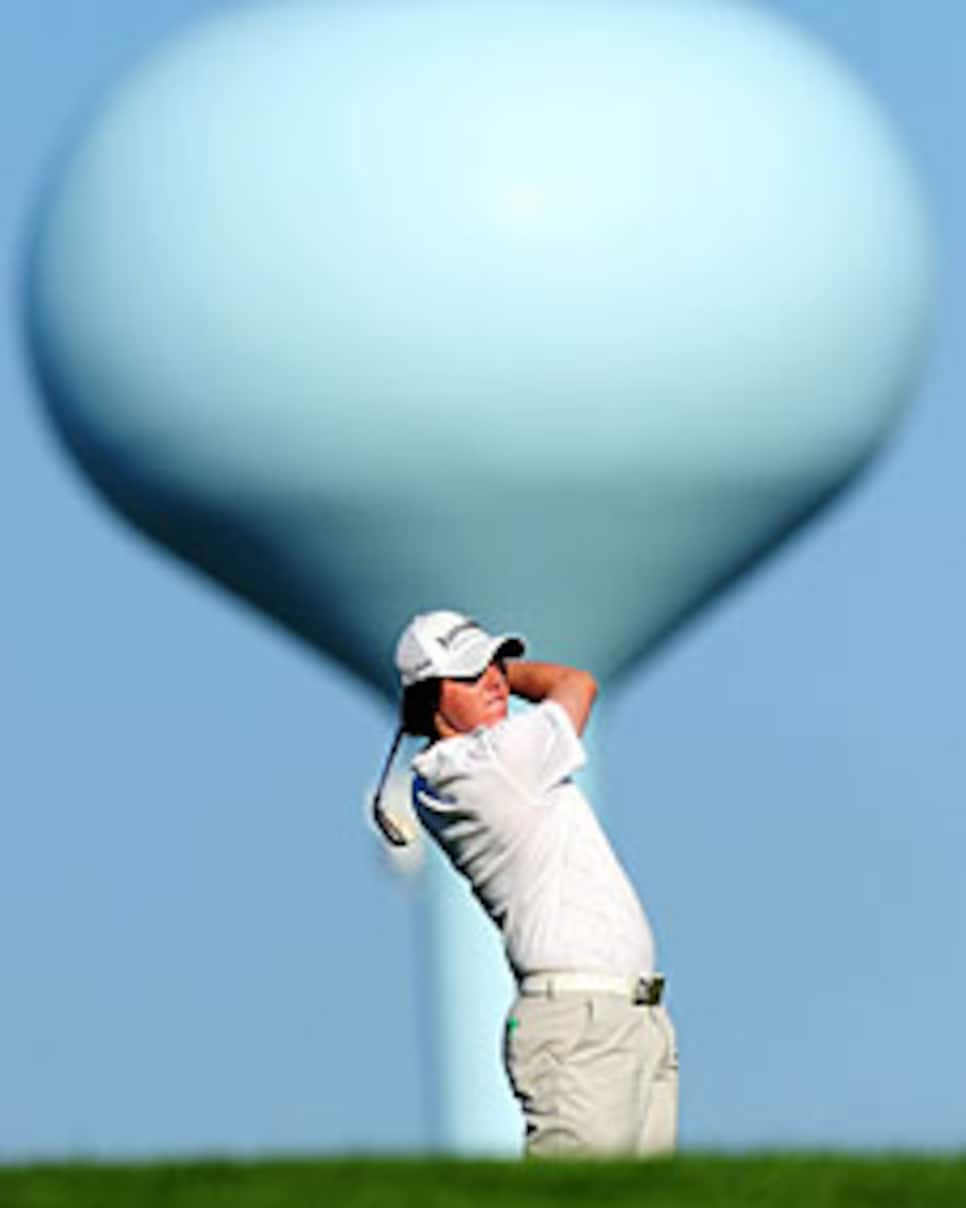 To protect his gift, McIlroy and his circle constantly try to lower the volume. Goals are left open-ended, the long view is emphasized and the playing schedule leaves a lot of time off. "These are still early days," says Gerry McIlroy, Rory's father, who worked three jobs so his son could play competitive golf. "Naturally Rory wants it right now, but I always tell him, 'Slow down, there's a lot of time.' " When the PGA Tour in April offered Rory a special membership that would have allowed him to play a full schedule as well as the lucrative FedEx Cup, it was declined.
"I just encourage him to enjoy it," says his manager, Stuart Cage, "and not to get worried about the pressure of being in the spotlight and not to get worried about comparisons to Tiger Woods. He has always handled it well because deep down, without ever saying much, he knows where he is going. He doesn't mind being called Tiger's future rival.
"He just has to go through the learning process, which has been fast because he has a wonderful mind for the game," said Cage. "A lot of his mistakes are the result of self-belief, but he's realizing that just because he can pull a shot off doesn't mean it's the shot to hit, and that when you are good enough, steady play can win. And nothing teaches that better than major championships."
Unlike Woods, who as a 20-year-old playing in professional events openly spoke of winning and said "second place sucks," McIlroy would rather lower expectations.
Coming to Hazeltine after a T-68 at Firestone, he sounded like a journeyman. "It's just about making the most of playing badly," he said. "Turning the 40th- and the 50th-place finishes into top-30s or top-20s. I'm still learning how to do that." He also held off the inevitable questions about winning his first major. "I never want to set myself a time frame when I would want to win one, because you look at Sergio Garcia," he said. "If he has not won a major, it's obviously very difficult to win one. It's not as easy as Tiger makes it look sometimes."
The comment points to McIlroy's acute awareness of Woods' ability—well developed at a young age—to erase mistakes with his short game and putting. McIlroy is not of the same caliber in those areas, and knows it. He has been working with Padraig Harrington's putting coach, Dr. Paul Hurrion, who emphasizes rocking the shoulders while keeping the rest of the body still. But what it really comes down to is the ability to grind.
It's not a word easily compatible with McIlroy's free-spirit style as an amateur and fledgling pro. But he has learned that becoming a consummate grinder—minimizing mistakes with management and short-game skill, saving pars with brave putts, indeed "making the most of playing badly"—will ultimately determine whether he becomes a dominant player and multiple major winner.
It was why McIlroy betrayed some exuberance when he came off the 72nd green at Hazeltine. His 3-wood from 286 yards on the 642-yard 15th was just short of perfect, then he missed a 10-footer for birdie when his first brush with contention late Sunday at a major jolted him with some extra adrenaline. But after pulled irons on the 17th and 18th holes left him flop shots from greenside rough, he held his nerve to save par both times. "I'm really pleased with myself," he said, reveling in the sublime imperfection of major championship golf. GW