News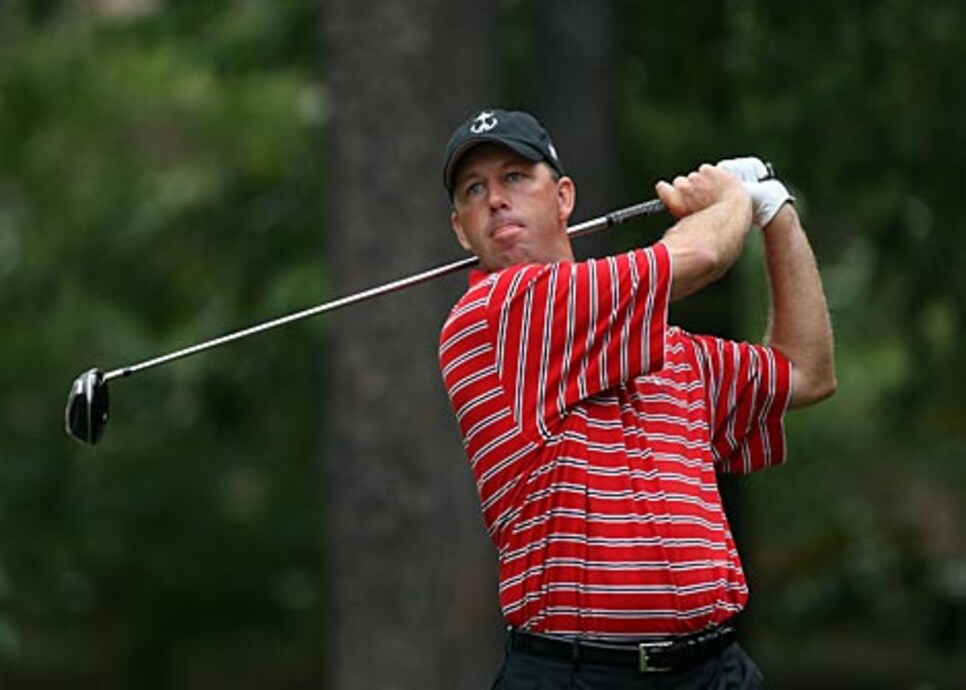 Mike Small, a two-time National club pro champion, will be one of 20 club professionals competing in the PGA Championship at Hazeltine.
Each year at the PGA Championship 20 club professionals get to put their games up against the sport's elite. More often than not, the results reveal their play doesn't match up. But the guys who give lessons, run tournaments and sell shirts for a living can't blame their bats and balls. Fact is, almost without exception the clubs pros have been as expertly fit to their equipment as the tour players.
When club pros speak to their pupils and members about the importance of being properly fit for their equipment, it's not lip service strictly designed to seal a sale. These pros have experienced first-hand the advantages of matching clubs to swing, says Dino Antenucci, senior clubfitting analyst for Titleist, a company with 12 of its professionals among the 20 club pros in the field.
"They take fitting just as seriously as the tour players, but what they are looking for is probably a bit different," says Antenucci. "Because they do work and don't spend eight hours a day practicing, they're frequently looking for something a little easier to hit. They still want the workability, but want something that can help them mitigate the effect of their misses."
Although it may seem counterintuitive that a player about to tee it up in a major championship is focusing on what will help his mis-hits, it makes absolute sense and provides a solid lesson for everyday players who have day jobs, too. Too many recreational players get fit to their Sunday punch when they should base their shaft and club choices more on the shots they hit most frequently, as it will increase their margin of error. The club pros are no different. They're standing behind the counter or on the lesson tee and a few days later they're teeing it up in the PGA Championship on one of the hardest courses they're ever going to play. With less time to work on their own games than a tour pro, any help they can get from their equipment is welcomed.
Achieving that help, however, is rarely a quick fix. Antenucci says a typical session with a club professional at the company's Oceanside test and fitting facility lasts three-to-four hours and goes through the bag. Wedges, he says, often take the longest to get through because of the number of different shots a players wants to be able to hit -- out of the sand, off the fairway, out of the rough and around the greens. If a player has changed his swing, that adds another variable.
"We may have fit someone into the proper loft and lie combination a year ago, but maybe their swing has changed and then we need to adjust all that," says Antenucci. "When we come out with a new club that's another variable as well."
So is set composition. "It is something you are always talking with the player about," says Antenucci. "Rarely will one of our club pros walk out of here with just 14 clubs. They're going to have one, two or three extra clubs that they can move in and out of the bag as warranted by the course they are playing. They want to be able to fill in any gap and have clubs ready for any situation."
Sometimes, though, last-minute additions are needed. Antenucci says that prior to the U.S. Open he fielded some calls from club pros in the field requesting hybrids to combat Bethpage Black's substantial length. And just last week, Sam Arnold, a pro at The Vineyard Golf Course in Cincinnati, dialed up Antenucci in search of a 64-degree wedge. Arnold had played a practice round at the PGA site and felt it might be a handy club to have at Hazeltine. Several other players have touched base since qualifying for the PGA, too, requesting different-lofted drivers or wedges with fresh grooves to combat firm greens and meatier rough. "It's really not much different than what you see from tour players," says Antenucci.
Whether they play like tour players or not.