News
Tom At Turnberry: Eight Feet From History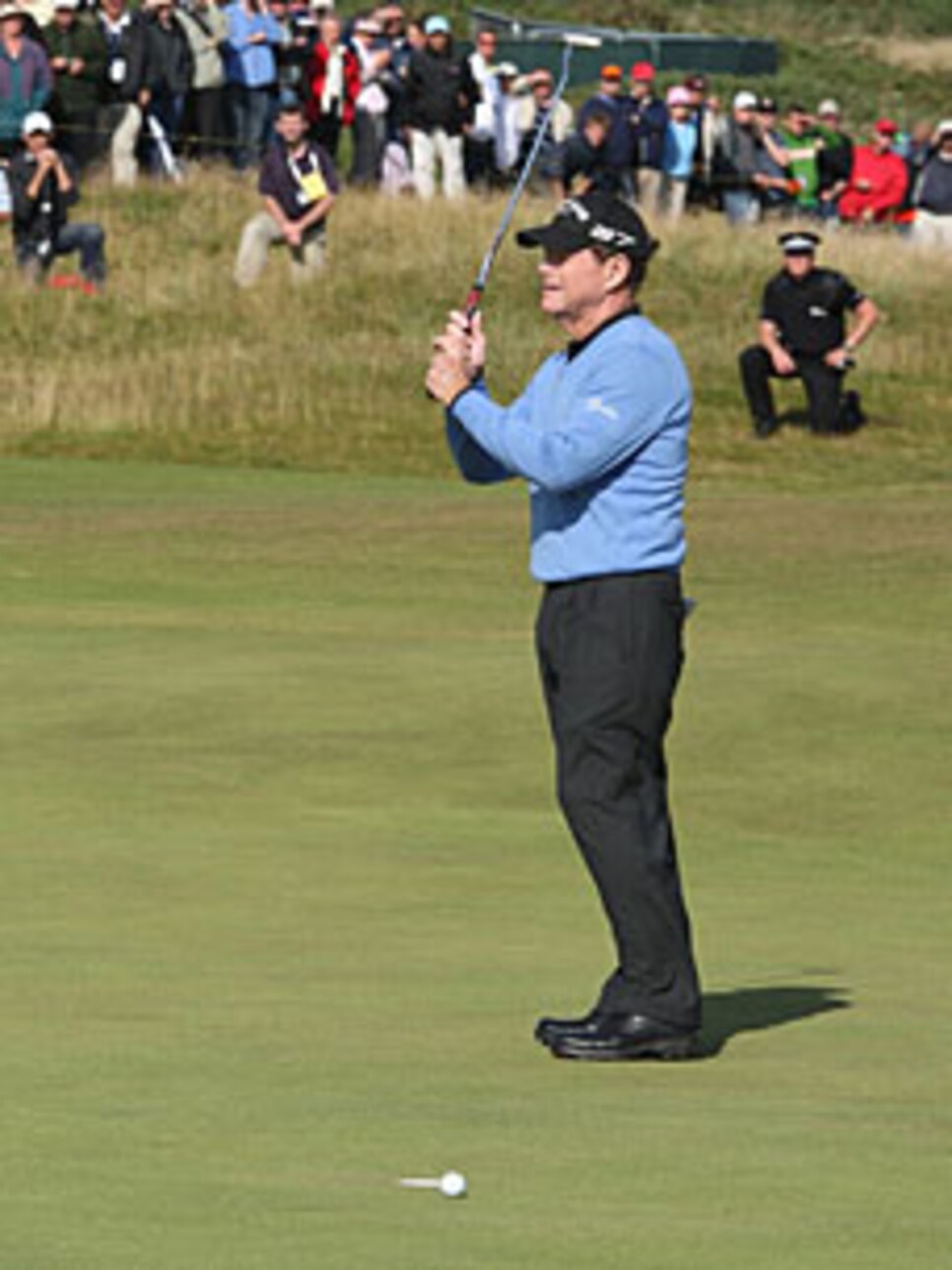 Tom Watson misses a putt on the 14th green during the final round.
You knew you would wake up the Monday morning after with no more aches and pains. You were ready to tear up your AARP card and throw away all those pills. You couldn't wait to test your suddenly restored 20-20 vision on your birth certificate, which surely would not look as yellow and frayed. You felt confident that you would never again need an afternoon nap, doze off during the late news or lose your teeth after misplacing your trifocals. You were young again because you were watching masterpiece theater from Turnberry. Jim Nantz, in the gallery for the 138th British Open, called Tiger Woods' first Masters conquest a win for the ages. This was going to be a win for the aged. Tom Watson, 59, stood over his putt, eight feet from history. Seldom have so many silent thousands closed their eyes, willing a ball to disappear.
Alas, he missed. Watson, needing but a par to secure his sixth claret jug, hit an 8-iron he later rued might have been a 9-iron, through the 72nd green. A genius at chipping, Watson instead used his putter from the thick collar. He rapped the ball hard, too hard, but he'd made his share during this odyssey when he at once turned back the clock and filled us with new memories. Watson sank several nervous three-footers, a spate of 10-footers, even a couple of 60-footers for the week. Now, he was eight feet from a can-you-top-this victory that would have been as cherished by the audience as the legend himself.
But he missed, and the next hour, the hour when Watson was to have savored a glorious celebration, went sadly. Stewart Cink thrashed him in a playoff. Watson made more bad swings in four extra holes than he made in four rounds of regulation. The only comparable bad patch occurred on his outward nine Friday, but he rallied for 32 coming home. Sunday, Watson ran out of steam, and there were no holes left, save for the one in his heart. He was devastated. Athletes of half his years might console themselves by saying they fought the good fight. Not Watson. He just folded his hands at the post-mortem and lamented what had slipped from his grasp.
Stewart Cink, meet Geoff Ogilvy, a world-class competitor who won the 2006 U.S. Open that the Phil Mickelson everybody was rooting for lost. Cink, a person of faith and honor, is respected by and popular with peers. Regrets for interfering with what could have been high among the most stunning tales in golf annals are not required, not when you birdie four of your last eight holes. It's just that Watson seemed so destined.
Adam Scott touted Watson early, but not the bookies, who pegged him at 2,500-to-1. Wednesday, Watson was seeking details of the American League's triumph in the All-Star Game. He's a Royals guy, from Kansas City, middle America. His demeanor did not evoke thoughts of impending magic, although he said that while he is a ceremonial figure at Augusta, Scottish links are different. After Thursday's 65, Watson used words like "spiritual" and "serene." Barbara Nicklaus texted him, and the fans embraced him, again. They don't just love him in the birthplace of golf. They long ago adopted him, but as Watson says, the admiration is mutual. "Tooom! C'mon, Tooom!" He had his left hip replaced last October; he might require rotator-cuff surgery, for all the times he reached to the bill of his cap.
The rhythmic swing repeated itself over four rounds, as if to defy gales from any direction. No player in the field handled fickle crosswinds better than Watson, and though it wasn't meant to be for Greg Norman and his one-stroke lead after 63 holes last July, Watson was up one with one to go. Mathew Goggin, Watson's first playing partner Sunday, clapped for him on their trip up the 18th. Cink did likewise in overtime.
"What fun," said Neil Oxman, Watson's caddie, as Sunday's journey commenced. Oxman's real job is political consultant. He is a Democrat. The theory is Watson aspires to convert Oxman, who responds, "Hey, Golf Digest, 1972. Only one golfer voted for George McGovern. Liberal kid at Stanford."
At Turnberry, Watson was Benjamin Button, undeniably contemporary yet unabashedly sentimental, particularly when mentioning Bruce Edwards, his loyal bagman who died at 49. Watson imagined Edwards looking down on the near miracle, which might have shaped Watson's greeting to long faces at a press conference for the runner-up. "This ain't a funeral, you know," said the people's choice, who was eight feet from history.