News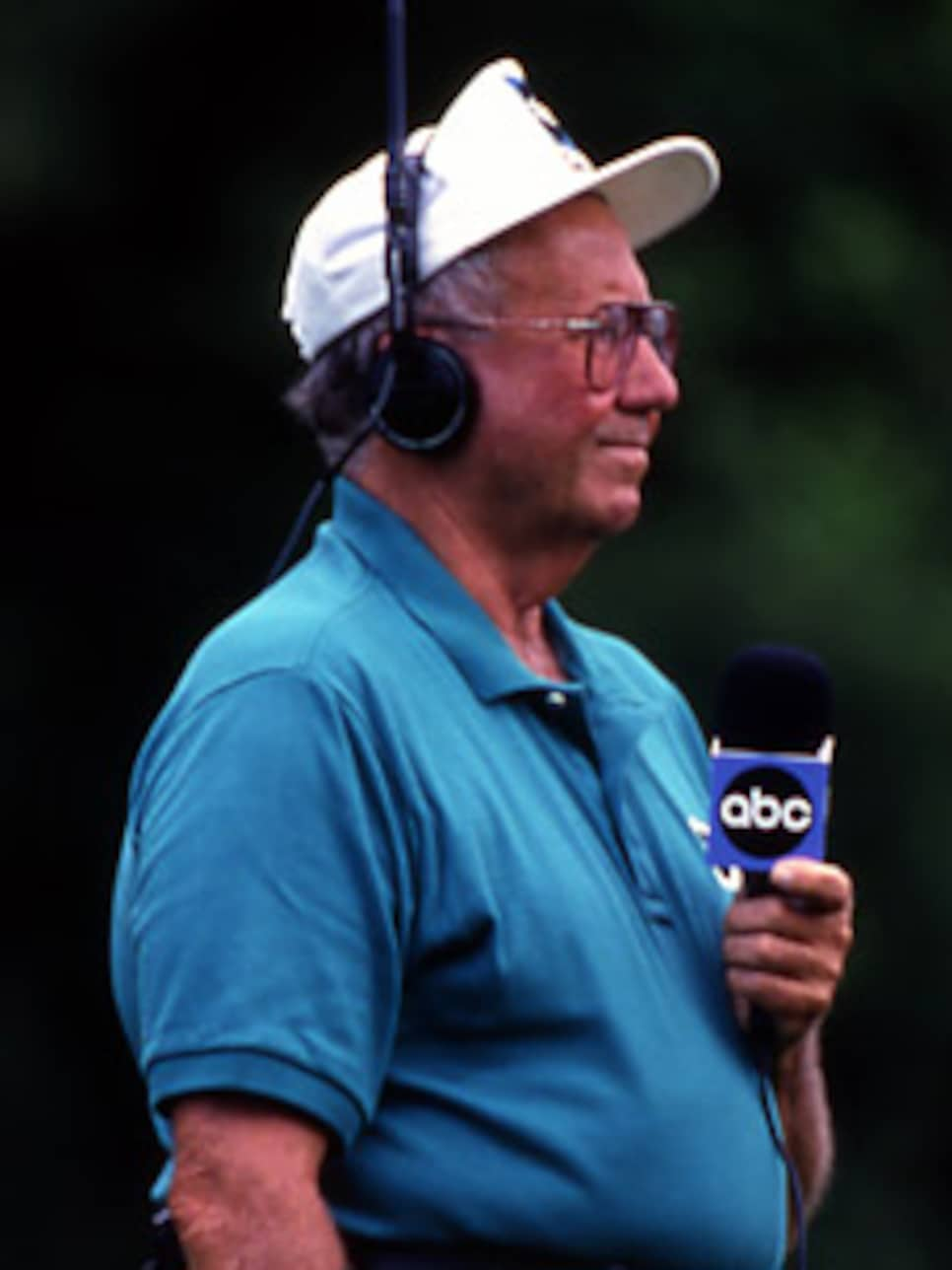 Bob Rosburg covering the 1994 Senior Open at Pinehurst No. 2.
Many knew Bob Rosburg as a crafty golfer and major champion, one of the few pros to use a baseball grip. To a later audience, he was a pioneering announcer for ABC Sports, the first person to regularly describe the action from the ground. "He's got no chance" became Rosburg's signature call, a phrase rooted in Rosburg's own experiences as a good but not great player in a difficult sport he understood better than most.
Rosburg, who was battling cancer, died May 14 at age 82 from head injuries suffered in a fall outside a restaurant near his home in Palm Springs. A San Francisco native and one of the few professional golfers of his generation to have a college degree, Rosburg set out at Stanford with a different career in mind. "My father was a doctor, and I started pre-med," Rosburg said early in his tour career. "But you have to love medicine to stay with it. Golf is easier to love."
The game had Rosburg under its spell early in his life. He was a minor celebrity for his golf prowess as a kid, appearing on Fox Movietone newsreels and working as an opening act on a tour by Antarctic explorer Admiral Richard Byrd. When Rosburg was 12, he beat Ty Cobb in a match at the Olympic Club. At Stanford he played varsity baseball. As a sideline to his playing and announcing, Rosburg owned thoroughbred horses for many years.
"I looked at him as an uncle, an uncle you were close to," said longtime friend Curtis Strange, who worked with Rosburg for eight years at ABC. "He was an incredibly smart man, and he could tell some stories. With his background, where he grew up, the people he was around during his life. It was a fascinating biography."
Rosburg won six PGA Tour events highlighted by the 1959 PGA Championship at Minneapolis GC. Six strokes behind after 54 holes, Rosburg closed with a 66 to edge Jerry Barber and Doug Sanders, capping a week in which he didn't hit a practice ball, not something you see in today's game. You also wouldn't find anyone having a blackberry brandy between nines to settle his nerves, as Rossie did during his final win, the 1972 Bob Hope Desert Classic. He came ever so near to a U.S. Open title in 1969 at Champions GC. Rosburg played a beautiful 75-foot bunker shot to within a yard of the flagstick on the 72nd hole, but missed the par putt and finished one stroke behind Orville Moody.
"Bob had a little bit of a short, quick swing—it wasn't real classic," said 1961 U.S. Open champion Gene Littler. "But he definitely got the job done." A frequent contender, Rosburg finished in the top 10 in more than 20 percent of his 528 career PGA Tour starts, but if things weren't going his way he had a reputation for withdrawing. "In those days you didn't get $10,000 just for making the cut," Rosburg recently told Al Barkow of golfobserver.com. "There were 70 who made the cut and only 30 money places. So I thought if I didn't have a chance of winning any money, I was wasting my time playing the last 36 holes."
After ABC offered him a TV job in 1974, Rosburg was content to largely put away his clubs. While people joked about his fatalistic streak in his commentary—which he said he first displayed when Jack Nicklaus faced a troublesome shot over trees on the 16th hole at Firestone CC in the 1975 PGA Championship—they respected his direct, authoritative delivery. "He's still the standard," said Strange. "He was concise and let the golf be the show."
Rosburg's sometimes gruff exterior—he regretted how hard he was on himself when he played—masked a generous nature. He was an early sponsor of LPGA player Pat Hurst and was instrumental in helping Judy Rankin make the transition from competition to broadcasting. "I would never have had all these wonderful years in television without his friendship and urging," said Rankin. "I was a woman doing something for the first time, and he totally wanted me to make it."
About a decade ago Rankin and Rosburg were at Sherwood CC taping instructional tips. They were on the 16th hole, with a long, difficult approach around some trees. "He had a 4-wood, and I don't think he had hit a ball in two months," Rankin said. "He didn't even take a practice swing, and he hit a beautiful shot. You talk about a natural. He was it."