News
Baker-Finch's 68: Quick Fix For A Junkie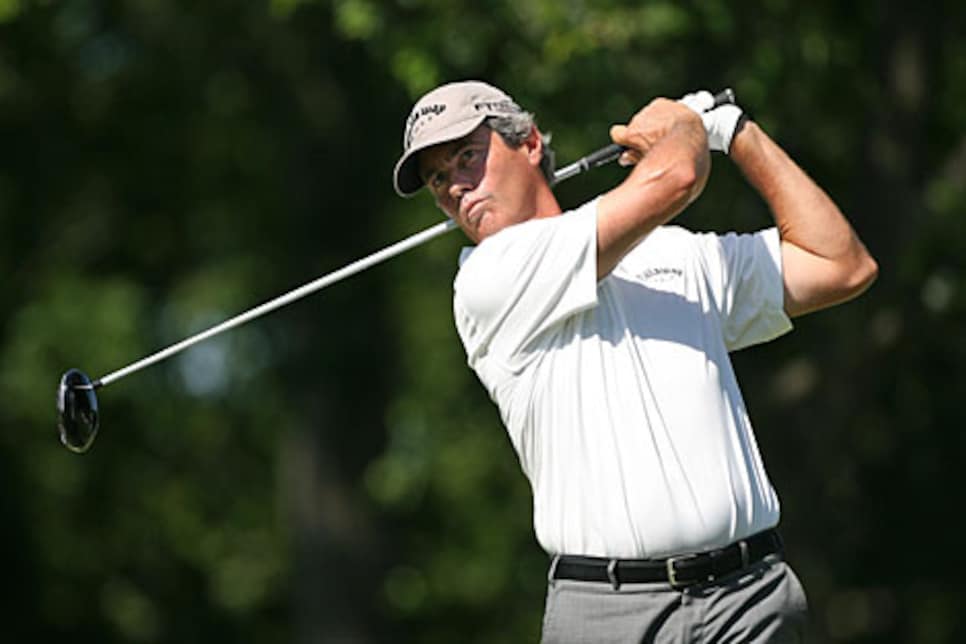 Ian Baker-Finch hits his tee shot on the 12th hole during the second round of the Crowne Plaza Invitational at Colonial Country Club in Ft. Worth, Texas.
Back up in the 15th tower Saturday morning, CBS golf analyst Ian Baker-Finch smoked a cigar as he pored over his research for the day's work. The view from there isn't bad, and his company even picks up the expenses—provided he misses the cut. That doesn't make sense, but pro golf no longer made sense when Baker-Finch walked away from it in 1997, six years after winning the British Open.
David Feherty, his colleague at CBS, likes to say Baker-Finch was so psyched out in the mid-'90s, "He couldn't hit the Gulf of Mexico from the top of an oil rig." TV work may not pay as well, but the Aussie is still in the game without being consumed by its pain. As Baker-Finch said, preparing for the broadcast, "It's a little cooler up here as well."
The day before, on a sweltering Fort Worth afternoon at Colonial CC, Baker-Finch shot an eight-over 78—the type of performance that drove him to the booth. But the headline of the Crowne Plaza Invitational wasn't that Baker-Finch missed the cut. It was the 68 he shot Thursday, his first competitive round in eight years.
"I think you've got to look at it in context, consider how he was playing when he retired," said Feherty Saturday evening. "He had missed 33 cuts in a row, he was driving the ball all over the place, he had lost his confidence and so he took a job in broadcasting. But he's a golf addict, he loves to play, and it really hurt him that he couldn't play at the level he was used to.
"For him to shoot 68 the first day was an extraordinary achievement," said Feherty, "much bigger than anybody gave him credit for. I don't think anybody gave him a chance."
Baker-Finch's opening drive Thursday carried some suspense, perhaps because of the memory of his opening drive at the 1995 British Open at St. Andrews—a violent hook that ran all the way through the 18th fairway, past the white OB stakes and into the parking lot of Rufflets Hotel. Thursday's tee ball was also his first shot in competition since he missed the cut at Colonial in 2001, and only his second tournament since the 1997 British Open at Royal Troon, where he shot 92.
"I just hit the shot I was planning on," Baker-Finch said, matter-of-factly. "I dropped a ball on the ground and hit a 3-wood with a little draw about 250. It was a relief to hit it well, but I wasn't overcome."
At home in North Palm Beach, Fla., Baker-Finch is more than a casual golfer. He plays the back tees at The Bears Club, Ritz-Carlton GC, Fox Club, Seminole, McArthur or Medalist, relying on a controlled power fade to shoot in the mid-to-high 60s. According to good friend Robert Allenby, IBF's short game is still "tour quality" and his putting stroke "is the silkiest there is in golf." But the pressure of playing inside the ropes drove Baker-Finch to early retirement and appointments with every sport psychologist in the business.
He entered Colonial because it was the 20th anniversary of his victory there in 1989, because his daughter is a student at SMU, and because his executive producer, Lance Barrow, is a director at the club. Instead of flying under the radar (as he had hoped), Baker-Finch's comeback turned into a media circus, with film crews from Australia and countless messages clogging his cell phone. "Overall, I'm happy with the whole experience," he said. "There was a lot of pressure. Really, I was only setting myself up to fail."
Instead, Thursday's experience gave Baker-Finch, 48, enough confidence to think about playing the Champions Tour, at least in a limited role around his CBS schedule—similar to NBC's Gary Koch—which would then allow him to exit the game a second time, on his terms. "He loves what he does," Feherty said. "He speaks with the authority of a major championship winner, and he gets paid to talk about golf." But he will always think of himself as a player first.
Feherty, working Friday for Golf Channel, was assigned to Baker-Finch's tower at 15. After Baker-Finch played the hole, Feherty climbed down and followed him the rest of the way. At one point he told his friend he should just walk straight to the clubhouse, saying, "You know, you don't have to do this. It's really cool when you can give it up and just walk away."
Said Baker-Finch, "Yeah, but I know I can't."