News
Well Wishes For Phil's No. 1 Fan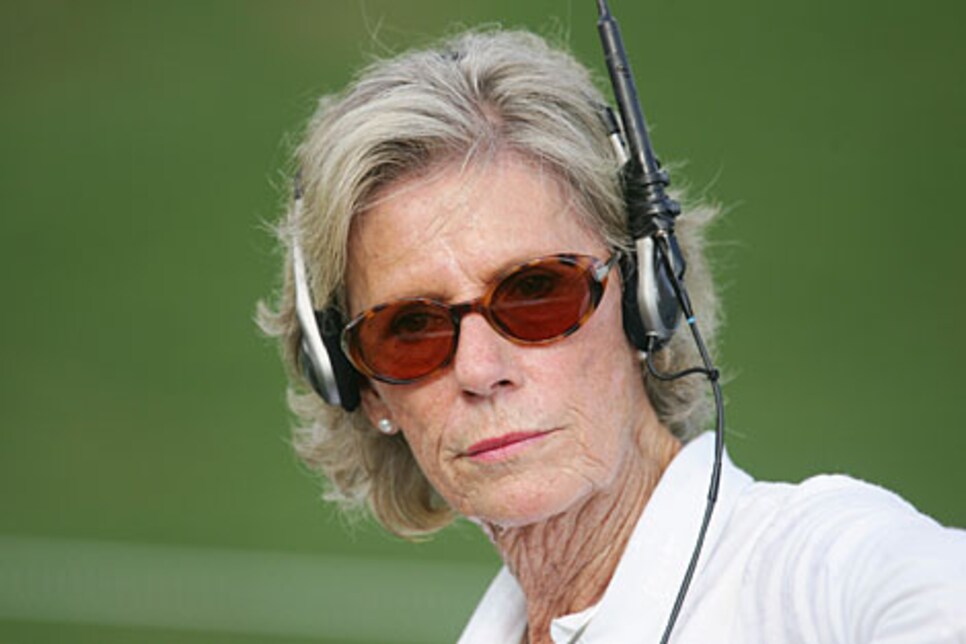 ABC Sports reporter Judy Rankin
Just before Judy Rankin fielded a phone call at her Texas home, she was preparing to send an e-mail. Like the rest of us, she heard the terrible news about Amy Mickelson. And, like too many women, famous or not, Rankin had gone to the mat with the beast that is breast cancer. Now, as she attempted to choose the right words for Amy and husband Phil, Rankin wanted to reach out without imposing. "I don't pretend to be close to them," Rankin was saying. "I know them, of course, and really like them. But I must tell you, after I was diagnosed in 2006, I got this phone message from Phil. I was so sick, and it was so uplifting. Phil just went on and on. It was so heartfelt, so genuine. He wasn't calling me because he thought it was something he should do. It was something he wanted to do. That's where I am now. Anything I can do to help, to tell them I've got my fingers crossed."
Phil was majoring in golf at Arizona State when he met Amy McBride. They married in 1996, and it is as though their honeymoon continues because they are soulmates, lovebirds and best friends who are forever holding hands or chuckling about something or other when they aren't doting over their three children. Amy knew so little of the sport, she was bewildered at the start by protocol that disallowed her from walking beside her man over fairways and toward greens. Now, as Phil builds on his Hall of Fame career, Amy has the drill down. She's outside the ropes, schlepping among his legion of admirers, shorter than many in the gallery, but adept at finding angles for viewing.
Amy is good at something else, as are many PGA Tour spouses. Golf wives are not hermetically sealed off from the action, in super suites or executive boxes. Golf wives are part of the mobile masses, and Amy has never encountered a complete stranger she can't engage in conversation or who isn't deserving of a sincere smile. Phil is by way of California, but is so immensely popular, every game is a home game for him. Amy is very much part of that equation. She is the No. 1 member of his fan club, but when she is climbing a hill in scalding heat or trying to negotiate a muddy downslope, she's just another member, rooting for a birdie putt to drop, waiting to hear all about it if she can't quite see it.
Phil and Amy live a privileged life that has been earned, not given. They reside in luxury, fly by private jet, and you don't have to be a rock scientist to notice her wedding ring. For the man who has it all, she bought Phil a dinosaur head on his birthday. I'm not an expert on dinosaur heads, but I suspect they're fairly recession-proof. Still, any accounting of Phil and Amy's toys and truffles is dwarfed by their legacy of philanthropic and charitable endeavors performed off-camera. Amy doesn't dole out clothing and supplies to disadvanted kids in San Diego every school season because it is a photo op. Phil and Amy could figure out how to spend their money, but would rather dwell on how to share it. The ultimate fun couple has an eye for need.
Amy's sense of humor is such that she treasures peers of Phil who wear him out with sarcastic jabs. She also handles his double bogeys with perspective. After Phil's problems at the 2006 U.S. Open won by Geoff Ogilvy, Amy was presented a box for the silver medalist. "We have three of these already … we don't need another," she mentioned. When Amy discovered the box was empty, she concluded wryly, "They must have known." Amy missed early rounds of this year's Masters, and there was no masking concern among family about "health issues" back home. But she made the Players, all the better to organize a Spiderman-themed 44th birthday party for caddie Jim Mackay, whose wife, Jen, is Amy's pal. Everything appeared well, and then came the brief, shocking press release from Mickelson's management company.
"It's jaw-dropping," said Rankin, who still undergoes periodic exams after four operations. "I went the last mile, just leave it at that. The whole thing is life-altering. I just read where one in eight women now are diagnosed, down from one in five. That's still too many. It can happen to anyone. Amy is only 37. You think to yourself that you can't go through this, but it's something you have to do because there is no plan B. You put everything else aside. There is no choice. You rely on people for support, and hope."
Breast cancer is a tyrannical bully, but it is up against spirited opposition in the Mickelsons, McBrides and Mackays. Get healthy, Amy. See you outside the ropes, real soon.