News
Taking the Measure of Arnie's Greatness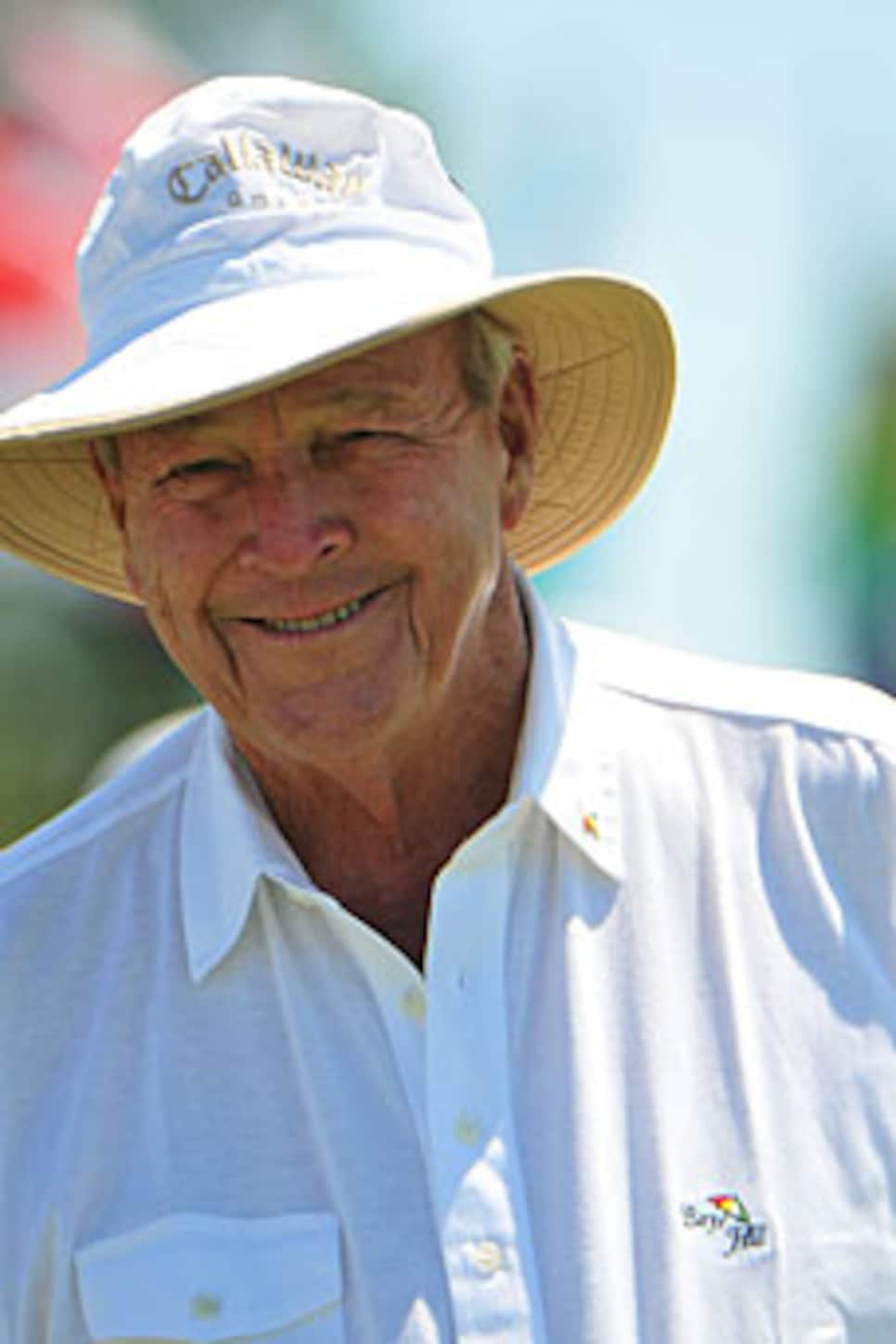 Arnold Palmer on the driving range during the second round of the 3M Championship held at the TPC Twin Cities.
Chances are you have a vivid memory of the first time you saw Arnold Palmer hit a golf ball in person. Those who had the privilege during Palmer's heyday generally retain total recall.
Jack Nicklaus was 14 when he was riveted by the pure percussion coming from the iron shots hit by a muscular figure on the practice range during the 1954 Ohio Amateur. Nicklaus still remembers commenting to another onlooker, "Oh, man, is he strong."
My moment came at age 13 while attending the 1966 Lucky International Open in San Francisco. Used to seeing Palmer on our 19-inch black-and-white, he appeared to approach Harding Park's 15th tee in CinemaScope. Yes, his shoulders strained against a blue alpaca cardigan. Yes, his eyes searched the crowd. Yes, they looked right at me.
Amid a blur of billowing sleeves, he sent out a whistling low draw that hovered for an extra beat as it traced the gentle curve of the downhill par 4. I glanced back to the tee in time to catch the end of the prime Palmer follow-through—the one athletic impersonation I can still sort of do—with its abrupt violence ending in the odd twitching of his quizzically cocked head. As Arnold's 80th birthday Sept. 10 approached, it's a memory I've replayed a lot.
Palmer hit the ball so well in the mid-1960s that Byron Nelson called his impact position "absolutely perfect." Yet those words even then were inadequate to describe Palmer's impact on the game. When I saw him at Harding, he had already become the most important golfer of all time.
Palmer's distinction was simple but definitive. In a sport that more than any other compels its greatest players to turn inward, Palmer stayed outward. Sure, he was blessed with a physical magnetism that came through the screen and a playing style and skills that were thrilling. But Palmer's singular gift was that when he won—and even when he lost—he instinctively shared more of the experience with those watching than any champion before or since. So powerful was the effect that it made the three all-too-short years he was alone at the top of the game, 1960 to 1962, the seminal period upon which modern golf is built.
While he never considered it a paradox, it was the demands his gift entailed, as much or even more than the emergence of Nicklaus, that eroded his energy and ended his reign as a major winner.
"Arnold didn't have it in him to protect himself," says Lee Trevino. "He had an incredible talent. But in golf if you are really talented and want to get the most out of it, you have to keep people off you. Hogan did it by being distant, and Jack did it by not playing that much. Tiger does both. I struggled with it because I was a guy people thought they could walk up to. Arnold never said no, and he wore out sooner than he should have."
Palmer's empathetic journey was never one of a cold careerist. When his best friend Buddy Worsham was killed in a car accident in 1950, a distraught Palmer impulsively left Wake Forest for the Coast Guard and didn't join the tour until five years later. At the 1961 Masters, Palmer held a one-stroke lead on the 72nd hole when, against his better instincts, he acknowledged the premature congratulations of his friend George Low and then made double bogey. Similarly well meaning but psychologically hindering were Palmer's offer to Nicklaus to split the purse before their playoff for the 1962 U.S. Open, and his reassuring Billy Casper that he would finish second as they began the fateful final nine at the 1966 U.S. Open. Palmer at his peak was also the most accommodating of interview subjects, leading his then 5-year-old daughter, Amy, to wonder, "Why does Daddy always have those detectives asking him questions?"
They asked more as Palmer's career major total stopped at seven with the 1964 Masters and the heartbreakers began mounting. From 1966 to 1973, he narrowly lost Opens at Olympic, Baltusrol, Pebble Beach and Oakmont, as well as PGAs (his missing major) at Pecan Valley and Southern Hills. But while his fans may have found it tragic, Palmer never did.
Today he knows that as Nicklaus and Woods are being measured by numbers, he remains, as Dan Jenkins once wrote, the "most immeasurable" of champions. The one who shared the game best, and who stays in the head the most vividly. The most important golfer, still.