News
Cup a Rich Harvest for Women's Golf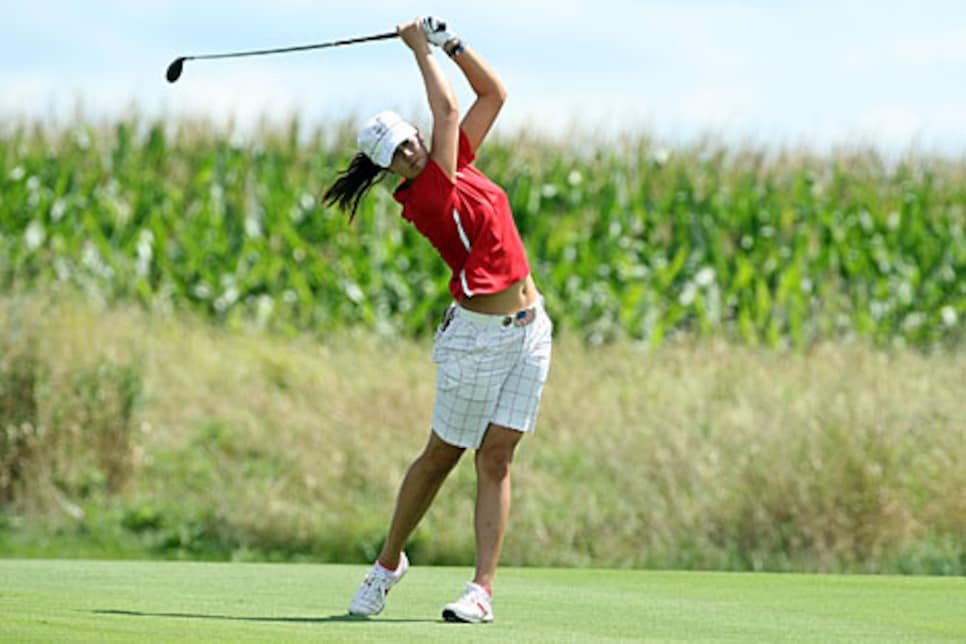 Rumors of the imminent demise of women's professional golf are greatly exaggerated, Golf World has learned from a peachable source, the portable toilet. As thundering thousands descended upon last week's Solheim Cup, they were stacked up for too many yards whenever seeking the nearest point of relief, a clear indication that tournament organizers wildly underestimated its popularity. An earlier clue could be seen on tiny roads leading to Rich Harvest Farms, a retreat carved from cornfields, well west of Chicago and en route to Iowa. Traffic was fearsome there too, and also at refreshment stands, where you could line up for lunch, then reach the front in time for happy hour.
Gridlock, not normally an issue with this league, otherwise felt like a nice problem for it to have. You'd gladly broach the issue of a hasty return to this region with the LPGA commissioner, if there was one. Not in a million years would the PGA Tour be dense or daft enough to vacate such a vibrant market—except for a year ago. Certainly, Jerry Rich talks as if he is anxious for more, another international affair or maybe something smaller, should the LPGA pursue an infrequent regular-season side trip outside Asia. Rich is the zillionaire who decided to build a course in his backyard, then added a lodge to house players from both delegations.
Rich didn't miss a trick. He even buried speakers in bales of hay along the main entrance so as to greet thousands of spectators from other states and countries with music and instructions. A local legend, Rich hosted a United States victory to boot. Home team victories are rare in Chicago, so America's 16-12 conquest over Europe after a strong Sunday singles performance put a tin hat on a terrific party week. Unlike Ryder Cup counterparts, American females have never lost on their turf. They don't scratch and spit like the guys, but there was serial hugging and mugging for three days, probably too much for the opponents and their fans. That's what we do when our flag is at stake. If it's over the top, at least we're consistent.
For reasons unclear, Solheim Cuppers also play rather deliberately. When Rich begins his next construction phase, besides a highway to the course, he should consider lights above it. John Paramor, where are you? If he were on site, he would have run out of clocks. Ben Crane, all is forgiven. Granted the course is designed from the spread formation, with a few putting surfaces akin to helipads. Women were shuttled from Nos. 9 and 11 greens to Nos. 10 and 12 tees, respectively. But the Saturday "schedule" got so skewed that the first afternoon foursomes match was on No. 3 when a member of the second foursomes match, Kristy McPherson, was still on No. 16 of her morning fourballs. Repeat after me: Never knock cricket again.
One benefit of the Slowheim Cup was that it afforded a thorough appraisal of Michelle Wie, who completed an undefeated debut with a singles victory over Helen Alfredsson. Saturday, Wie played from dawn to dusk and looked as though she hadn't had as much fun since she went to the bank. A putting bandit, Wie excelled during two wins and seemed ready for more golf instead of sleep. Galleries serenaded her with "WEEEE! WEEEE!" and she lapped it up. More significantly, Wie justified her designation as a captain's pick by Beth Daniel. The locker room can be a frosty place, multiplied by 10 during group competition, but Wie's actions were those of a young lady who at last felt as comfortable among peers as they did beside her.
Wie paired once with animated Christina Kim. In comparison to her, Boo Weekley is a statue. Kim denied drawing Wie out of her shell because "there is no shell in Michelle." After they romped, Wie tugged on one of Kim's pigtails, the latter responding with a "honk! honk!" The public hasn't seen that side of Wie, jocular and emoting, but it's a matter of record now and who knows what this experience will mean to her future?
Some of Wie's career stops have been pointless, or 3½ shy of this one. She must resist any urge to cross the gender barrier again. Wie's place is on the LPGA Tour, where she now knows she also belongs. Sunday's singles ran a bit tardy, but it was still a good show before Golf Channel returned to regularly scheduled programming. Now, as I brace to leave Rich Harvest Farms, I see thousands of tail lights ahead. So, just in case, Merry Christmas to all.