News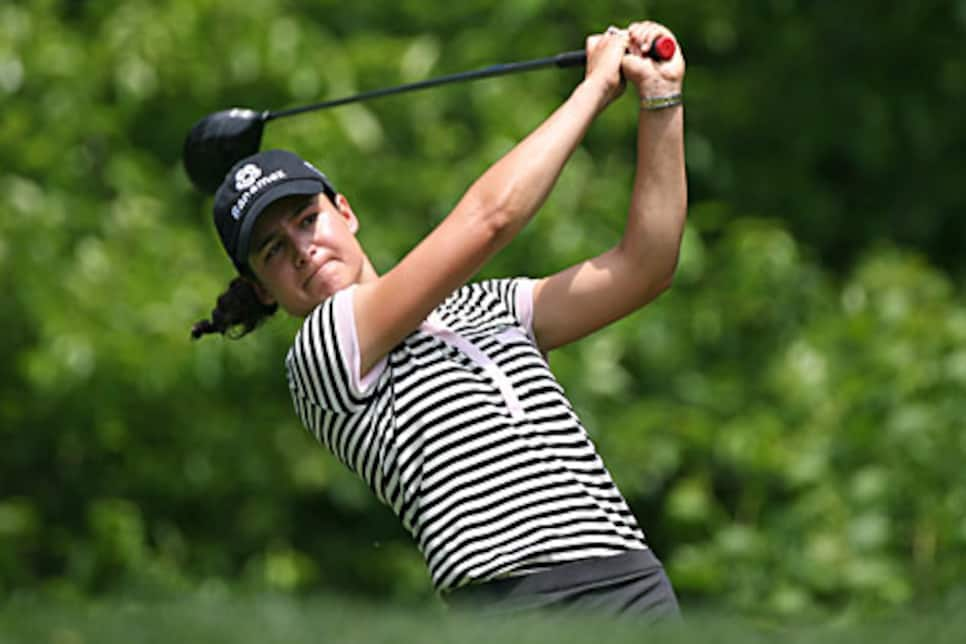 Just like with Tiger Woods, a stellar year for any other LPGA player can still be considered a down year for Lorena Ochoa.
CLIFTON, N.J. -- Wisdom comes in unexpected packages and insight is often wrapped with inconspicuous ribbon. Proof of this is found in the fact one of the iconic phrases of the last 40 years was uttered by a pen-on-paper possum named Pogo who observed: "We have met the enemy and he is us." That must be a bit how Tiger Woods and Lorena Ochoa feel right about now, and they are words Michelle Wie should take to heart.
All three are boxed in by their past. In the case of Woods and Ochoa, prodigious achievement has created unrealistic expectations, not by them but by those whose pleasure comes in watching them. Wie, on the other hand, is ensnared in her own hype, trapped in a career marketed around potential rather than performance that now finds itself nearly six years removed from her last victory.
When Woods closed the final round of the Players Championship last week with a rather ordinary 73 to finish eighth, the cries of "What's wrong with Tiger?" went up almost before he finished signing his scorecard. In fact, NBC was posing the question while he was still on the golf course.
Here's what's wrong with Woods: Nothing time won't heal. He had major knee surgery, took eight months off from competitive golf and has played only five stroke-play tournaments this year. Give the guy some time.
How bad has his year been? Woods finished in the top 10 in all five of those events, including a victory at the Arnold Palmer Invitational. For most players that's the beginning of a career year. But true, Tiger is not most players. We expect more from him, and that's exactly the bind he is in -- the web of expectation.
My take on where Woods is right now is this: Get back to me after the Tour Championship. I think we have to consider this entire season a comeback year, a rebuilding year. He will get his game legs back, but it will take time. He just needs more innings pitched against live hitting.
Another cultural icon of the 1970s -- this one real and not drawn like Pogo – Chrissie Hynde of the rock group The Pretenders said: "I'm not the cat I used to be, I've got a kid, I'm 33." Tiger's 33, and he's got two kids. But he will return to being the cat he used to be. The fire still burns. You could see it in his frustration at the Players. He will win a major this year, if for no other reason that to get people off his back.
Ochoa also emerged from last week's tournament with people posing the "What's wrong?" question. She shot 129 the first two rounds at the Michelob Ultra at Kingsmill and then staggered home in tenth place with a pair of 74s on the weekend.
The question is even more puzzling when asked of Ochoa because she is having an even better year than Woods, but it is not surprising because most people don't follow the LPGA as closely as they follow the PGA Tour. Apparently, that was true even of some of the reporters covering this week's Sybase Classic at Upper Montclair Country Club here.
"You've won once this year," said one hard-working scribe whose identity shall remain anonymous for reasons that will become obvious. "What has prevented you from winning more often?"
Ochoa, who yields ground to no one in the contest for nicest person on the planet, calmly answered: "I've won twice," eliciting laughter, then added: "I have two wins, one second place, so I'm happy. I think I am achieving my goals so far."
Exactly. Ochoa, who is trying to win the Sybase Classic for the fourth consecutive year, has played seven LPGA events this year and her worst finish is T-15. She leads the tour with a 69.52 stroke average and is tops in player-of-the-year points. Her problem is that when she came into this tournament last year Ochoa already had five wins.
"What happened last year was a little bit different, Ochoa said, "winning those four in a row, five tournaments early in the year." Yes, she is not having a Lorena-like year -- yet -- just as Tiger is not having a Tiger-like year -- yet. But among Ochoa's many strengths is rock-solid maturity in her approach to competition.
"I have the opportunity to do something special, winning the fourth [Sybase] in a row," she said. "My goal is to just give myself a chance and to be up there on Sunday." Truly, that's all you can do. Unlike other sports, in golf you have no control over the performance of the opposition. If someone else goes low, that's that. There was nothing Woods could do about the flawless finishing round by Henrik Stenson at the Players.
Wie, competing in her first year as an LPGA member, is playing catch-up with the other teenagers on tour. Morgan Pressel, Yani Tseng and In Bee Park have two things in common: they all defeated Wie in amateur match-play competition, and they have each won LPGA major championships as teenagers.
That would seem to validate the path they chose to the professional ranks -- gaining competitive toughness and confidence by playing in junior amateur tournaments. Wie, on the other hand, chose the more high-profile stage of playing against male professionals.
"I really don't regret anything I have done," she said at the Sybase Classic. "There's nothing I can do to change the past if I wanted to." The past, however, does establish the standard against which high-profile players are compared.
Because of that, Woods and Ochoa are being unfairly scrutinized right now. And because of that, Wie has to bear the added burden of proving she is more than mere hype. "Hopefully, I am very close to a win," she said. "I feel like it's going to come. I have faith."
That's a great attitude, but life at the top -- and even for those aspiring to be at the top -- is complicated by the expectations of others.
"What you need to do is just not put too much pressure on yourself," says Ochoa. "[Don't] listen too much to what is happening outside. Concentrate on yourself and do the things that you know if you do them right, you are going to perform."
Ochoa and Woods, right now, are trying to live up to their resumes. They have so overachieved in the past it feels as if they are underachieving now. For Wie, the one-time wonder kid, the goal is to prove she is more than just one of the many talented teens on tour. For all three, the fairest yardstick will be measurement against this full season. Let's all just be patient. They are.