News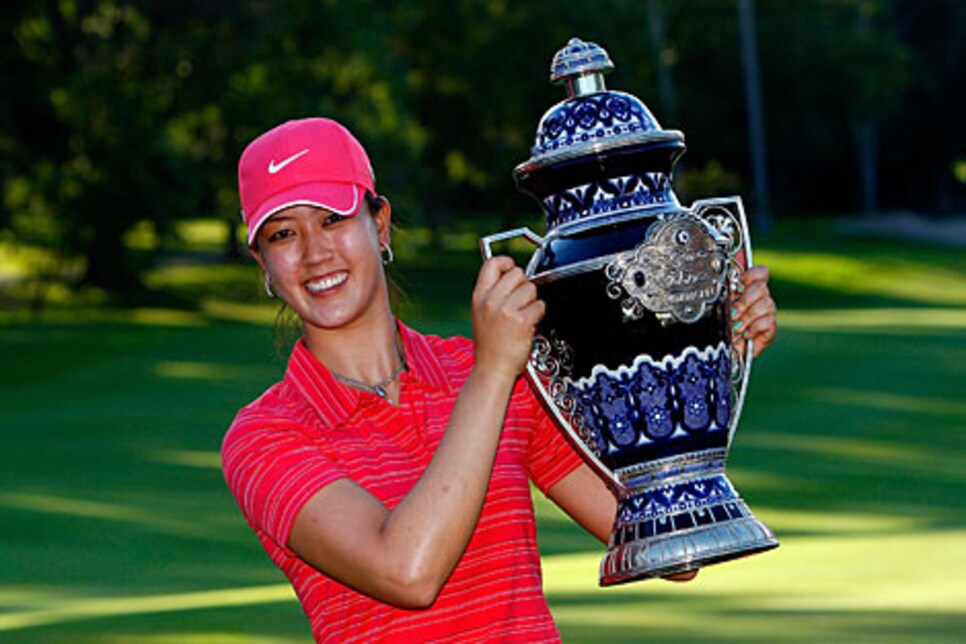 Michelle Wie's win on Sunday was her first since the 2003 U.S. Amateur Public Links.
Wie finished off the victory in style, hitting a greenside bunker shot to 6 inches on the 18th hole and then tapping in for a birdie.
The 20-year-old Wie raised both arms in the air -- her putter in her right hand -- and then put her hand over her mouth. After pulling the ball out of the hole, she turned to the gallery, looked to the sky and let out a large sigh of relief.
Morgan Pressel (67), Jiyai Shin (71) and Cristie Kerr (72) were three back. Wie finished at 13-under 275 after starting the day at the Guadalajara Country Club tied for the lead with Kerr at 10 under.
Wie first qualified for a USGA event at age 10 and played an LPGA event when she was 12. She joined the LPGA this season and has begun to show the sizzling game that has made her arguably the biggest attraction in women's golf.
Wie had a few shaky moments but she was steadier down the stretch as her rivals faltered. In the past, it's often been the Hawaiian who has stumbled.
She had chances to pull away on the front nine, but couldn't quite do it and finished with a 2-under 34 -- 12 under for the tournament. She went to 13 under with a birdie on 11, giving her a one-shot lead over Creamer and Kerr. Wie bogeyed the next hole when her escape shot from under a cluster of trees squarely hit a trunk, the ball rebounding into the fairway behind her.
But she made par through 17.
Creamer drew even with Wie with an eagle on 10. But two bogeys down the stretch ruined her chances of victory.
"I gave it a chance, and Michelle played great," said Creamer, who has battled stomach problems for a year and fought off back and thumb injuries. She is winless this year after eight career victories.
"I feel a lot better with my golf," she said. "It's just unfortunate that you're so close, yet you're so far away."
The LPGA, battered by economic problems and the forced resignation of its commissioner this summer, needs this as much as Wie.
"Literally, when Michelle Wie is atop the leaderboard it's like night and day and that's star power," LPGA spokesman David Higdon said the day before Wie's win. "That's all it is. This is somebody people want to follow. You see it in her presence, the way she walks around. The way people talk to her."
Wie played PGA Tour events when she was 14 -- the biggest stage there is. She was criticized at the time for not focusing on women's events. She turned pro in 2005 before even finishing high school.
She ignored the criticism and, at 16, she was poised to become the first woman to qualify for the men's U.S. Open before her putter failed her.
Shortly after that she began to lose confidence and the biggest attraction in women's golf went into a long, painful slump that was made worst by a wrist injury that ruined her 2007 season.
She has slowly worked her way back, earning her LPGA card for this season, gaining credibility with players and emerging as a star on this year's Solheim Cup, going undefeated in four matches.
When she is on her game, it flies with soaring drives and better and better touch on the greens. Wie has finished second twice this season, and has two other third-place finishes on the LPGA Tour.