News
Obama's Ringing Endorsement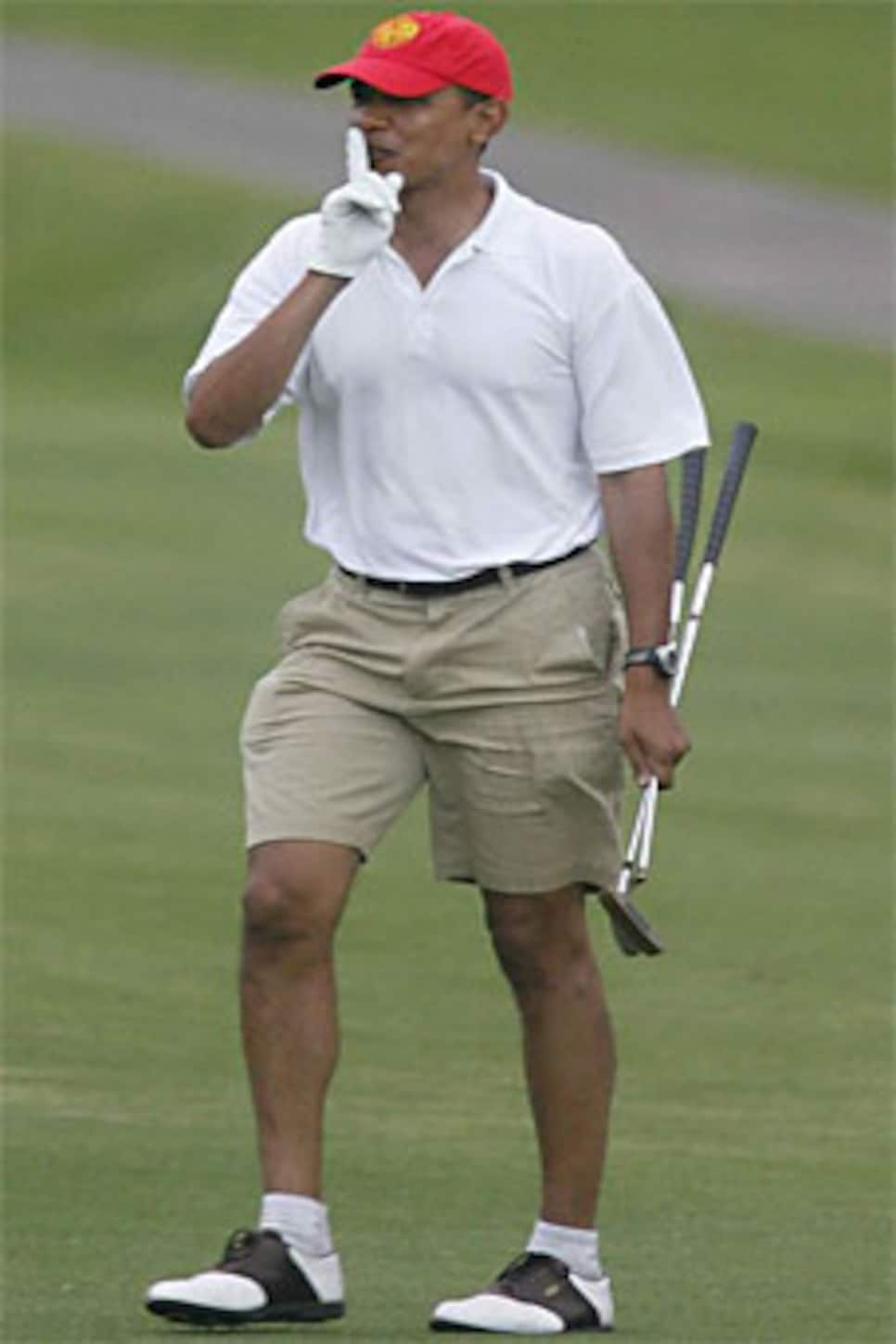 By not hiding his affection for golf, President Obama has proven to be a useful advocate for the game.
Cynics will say it is a meaningless position with relatively little importance. Within the grand scheme of things that may be true, but as a symbolic gesture the decision by President Obama to serve as honorary chair of this year's Presidents Cup is hugely important. The announcement Monday sends a powerful message that golf is OK.
It was not that long ago that some Washington politicians were railing at the financial services company Northern Trust for its sponsorship of a PGA Tour event, specifically grousing about the parties surrounding the tournament. But have you noticed how that anti-golf noise has quieted down? That has not exactly been an accident. It has been the result of some hard work and determined education.
Here's why: quietly, and out of the public eye, the powers that be in golf have communicated to our elected leaders the economic impact of golf, as well as its role in generating charitable contributions and the place it serves in terms of teaching children positive values -- such as honesty and hard work. Companies are involved with golf because it is effective marketing and it promotes positive values. Washington, it seems, is coming to understand that.
Don't take this news lightly. The decision by the Obama Administration to have the President serve as honorary chair was not a cavalier conclusion. The consequences were considered, and the consensus clearly was that it is fine for Obama to be associated with golf.
"I wouldn't say there were lengthy discussions, but it took a little while because he has never done anything like this since he's been elected," PGA Tour Commissioner Tim Finchem told GolfDigest.com. "It had to go through a lot of reviews." What it means is that the myth of the elitist boondoggle label has been exposed as exactly that -- a myth.
"This is very positive for the game of golf, not just for the Presidents Cup," Finchem said. "What this says for him to give the Presidents Cup this kind of recognition is that he has a positive attitude about the game, is a supporter of golf and understands the charitable and other contributions it makes. We could have seven-and-a-half more years of a fan of golf in the White House."
It's not yet known if the President's schedule will allow him to actually attend the Presidents Cup when the United States takes on the International team at Harding Park GC in San Francisco Oct. 8-11. That's a decision that likely will be made at the last minute.
"We are honored that President Obama has accepted our invitation to be Honorary Chairman of The Presidents Cup in October," Finchem said in a statement rannouncing the decision. "As the eighth head of state to serve in this role, President Obama continues a long-tradition of support and leadership dating back to the first Presidents Cup in 1994. His involvement will not only further enhance the stature of The Presidents Cup, but also that of golf on a global basis."
Canadian Prime Minister Stephen Harper, who held the post for the 2007 Presidents Cup in Montreal, preceded Obama as honorary chairman. President Gerald Ford was the honorary chairman at the inaugural Presidents Cup in 1994 and was followed by President George H.W. Bush in 1996. Australian Prime Minister John Howard held the post in 1998 when the event was held in Melbourne, and was followed by President Bill Clinton in 2000. Thabo Mbeki, President of the Republic of South Africa, was honorary chairman in 2003 when the contest was held in Western Cape Province. President George W. Bush was the most recent U.S. President to serve as honorary chairman, holding that position the last time the event was staged on U.S. soil, in 2005.
The fact that this year's Presidents Cup is being held at Harding Park, a public course in San Francisco with a very active First Tee program should also serve as an effective tool for education about the grassroots nature of the game. The Harding Park component to the equation no doubt helped the Obama Administration make up its mind.
"It is a positive thing for the sport to bring some of the best players in the world to a public facility," says Finchem. "The PGA Tour's involvement with Harding Park was motivated by the First Tee facility there, which is terrific."
The timing of Obama's announcement should also help the bid to get golf into the 2016 Olympic Games. A committee will make a presentation to the executive committee of the International Olympic Committee in Switzerland on June 15. A vote over which two sports of seven candidates will be added to the games will occur in October.
As for the Presidents Cup, to have Obama embrace the competition can only be seen as a good thing.
"Even though other heads of state have been honorary chairs, he is just barely more than 100 days into office and he is facing challenges on an awful lot of fronts," Finchem said about Obama. "I have spoken with people in Washington who say they haven't seen it this busy in more than 25 years. So for him to make this commitment now is extra special."
What it could mean is that Washington won't have golf to kick around any more.