News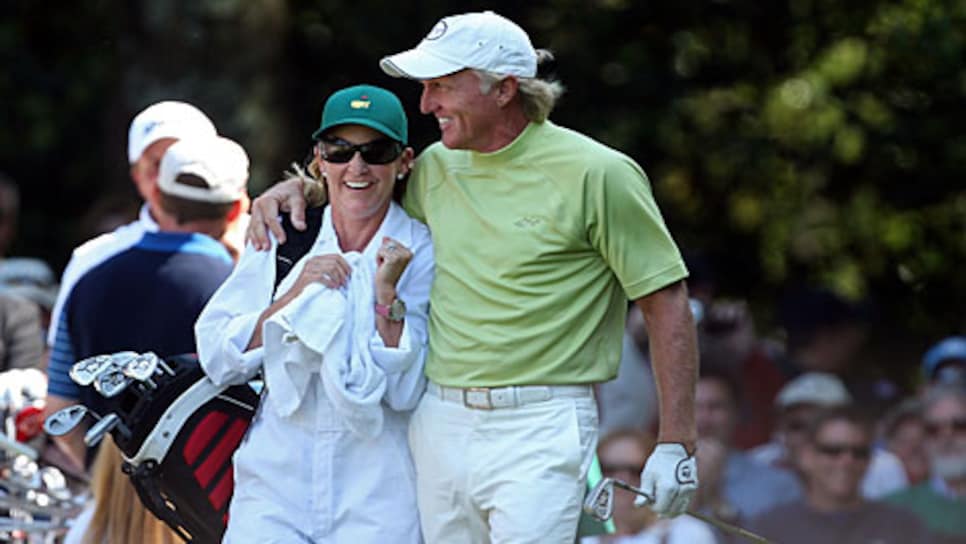 Chris Evert had been a visible presence at golf tournaments during her marriage to Greg Norman.
Just 15 months after they were married, golf star Greg Norman and tennis great Chris Evert announced they have separated.
The announcement Friday comes three days before Norman is to captain the International team at the Presidents Cup in San Francisco, where wives of the captains take on a visible role.
Norman and Evert, each in the Hall of Fame in their respective sports, did not say whether they planned to divorce.
In a statement, the couple said only, "We will remain friends and supportive of one another's family." The statement said they requested privacy for them and their families.
Norman's spokesman, Bart Collins, said the two-time British Open champion would not comment beyond the statement. Norman's first press conference at the Presidents Cup is Tuesday morning at Harding Park.
They were married June 28, 2008, in The Bahamas. A month later, while still on their honeymoon, Norman was nine holes away from becoming golf's oldest major champion at 53 when he led the British Open. He eventually tied for third at Royal Birkdale.
Norman was coming off an ugly divorce from Laura Andrassy, the mother of his two children, which ended in a settlement that paid her just over $100 million. Evert was married twice previously, most recently to Olympic downhill skier Andy Mill, with whom she had three children. They were divorced in December 2006.
The timing of the announcement was in part to prevent speculation on Evert's absence at the Presidents Cup, matches between the United States and an International team of countries from every continent but Europe.
"I don't think it will be a distraction," said Robert Allenby of Australia, part of the International team. "That's just not the way Norman is. He's normally very private with his life. I know Norman. Next week his whole focus will be purely on what we have to do as a team and how we have to come together. He'll be right behind us 110 percent."
Norman had arthroscopic surgery on his shoulder Wednesday to prepare for a winter golf schedule in Australia, and he was in Naples, Fla., on Friday to announce the field for his Shark Shootout.
Norman and Evert became sports' most high-profile couple when they started dating, got engaged and married. Evert, with 18 Grand Slam titles, attended her first PGA Tour event last year at the AT&T Pebble Beach National Pro-Am, which Norman played with his son, Gregory. And she was with him every step at the British Open last year at Royal Birkdale.
Norman had a two-shot lead going into the final round and was still leading until he faltered on the back nine.
The Shark spoke then of how energized he felt with his marriage to Evert.
"It just revitalized my life," Norman said. "When you're more relaxed and you're happier, then everything else kind of comes a little bit easier, too. I would say it's a rub-off effect on the golf, no question, but my life in general is much more in balance than it has ever been."
Norman and Evert were most recently seen together at the U.S. Open tennis championship in New York. He said Friday in Naples that it was his favorite event he had attended with his wife.
"I've been a big tennis nut for my whole life," Norman said.