News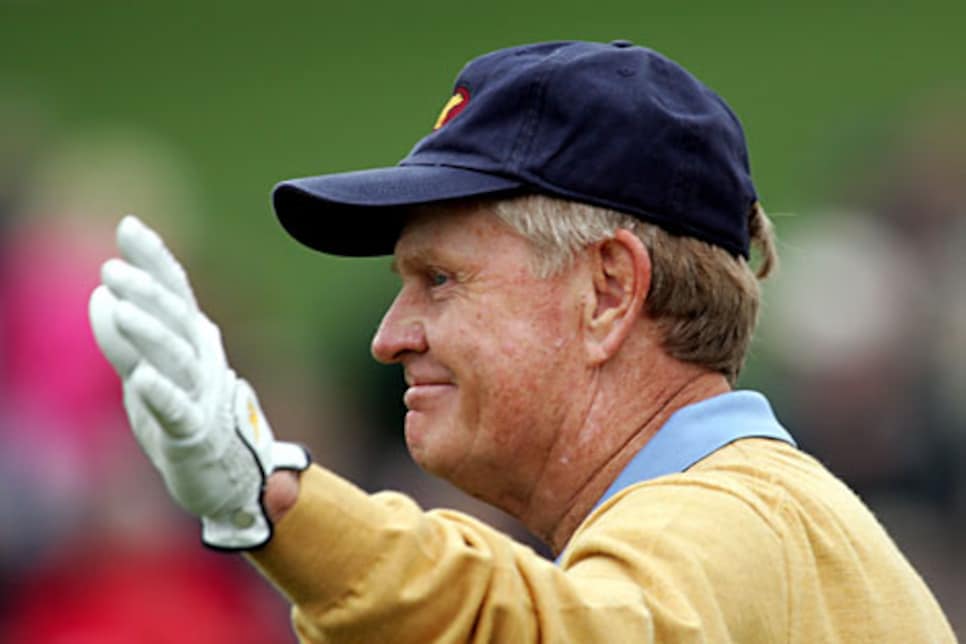 Approaching his 70th birthday, Jack Nicklaus is apparently reconsidering his stance against becoming a ceremonial golfer.
Jack Nicklaus, honorary Masters starter? Did someone inform Mr. Anti-Ceremonial Golfer that he won't be playing the final 17 1/2 holes? Nicklaus hitting a shot that doesn't count is like asking Sinatra to cut a demo tape. I'm thinking the Olden Bear will stride to Augusta National's first tee a few minutes early, toss a few blades of grass in the air and ask Jackie how far to that fairway bunker on the right.
"Uh, it's 290 to the front, 322 to clear it, dad."
"Really? You know, son, I used to fly that sand with a 3-wood and a bellyful of scrambled eggs."
Don't get me wrong, folks. I rather like the idea of Nicklaus, who turns 70 in January, striking a golf ball on behalf of the tournament's most valued virtues: nostalgia, tradition, perpetuity. I'm even thinking we could throw a fiver down on who wins long drive in the Super Geezer Legends category. I know Arnie has lost a bit of distance over the decades, but if Mr. Palmer can whip out a little hook and send it tumbling down the hill ...
... Oh, never mind. Arnold wasn't the same after Jack came along and stole his thunder and his lunch money, then started sliding those Popeye forearms into green jackets that were all but loaded on the next plane to Latrobe. Palmer has always been a good sport about it, and if this were a popularity contest. Arnie would need to give Jack two a side, which is one of a hundred reasons Nicklaus picked off 18 major titles, most recently at age 46.
Everybody wants to win. Some guys have to win, and from that select group, there might be one guy who can actually do something about it. Nicklaus was born with the perfect championship mentality, the ideal blend of confidence, caution and courage. Physical skill is one thing; lots of pro golfers look unbeatable on the range. Precious few can shake hands with pressure, invite it over to dinner and look it square in the eye long after the last bite of banana cream pie.
We call it willpower, but that's too easy, and besides, the will to win comes with certain limitations. You need self-belief and steady nerves, obviously, but you also need the healthy version of a divine right. Sorry to bring this up, but if Jack had stood over a 7-footer on Turnberry's 18th green this summer, one stroke away from a claret jug, you think he would have missed it?
Nicklaus could turn it up. The Dude in the Red Shirt has been turning it up for 15 years, but as the sun sets on the Summer of '09, Tiger is losing to Y.E. Yang and Heath Slocum, and Nicklaus is sticking a peg into hallowed ground without a scorecard in his back pocket.
It just makes me sad, but it's a beautiful sadness, if you know what I mean. Time waits for no one. Not for you, not for me, not even for the big kid with the blond flattop. Now if you'll excuse me, I need to go trim my eyebrows.