News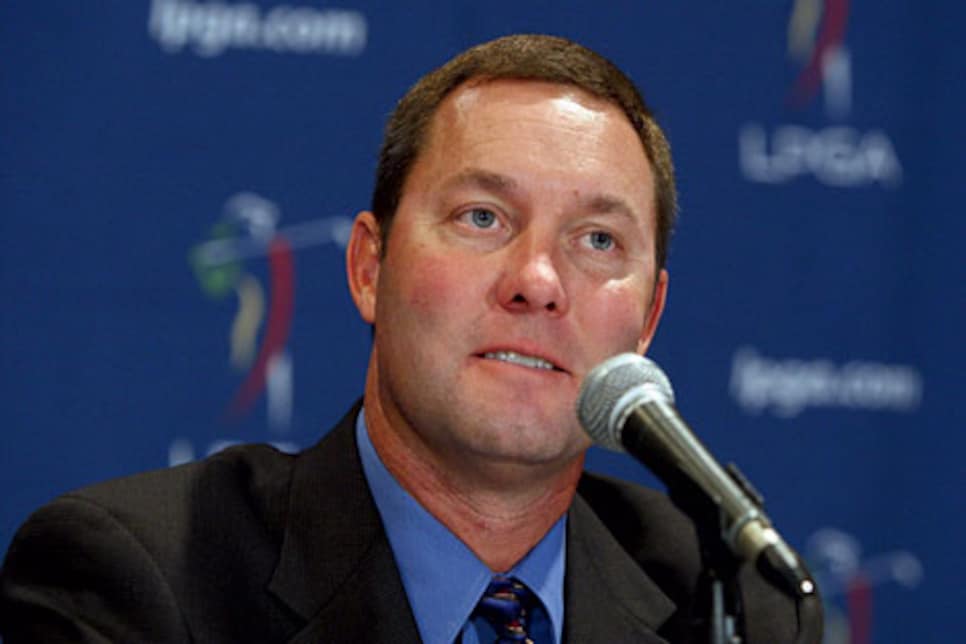 New LPGA Commissioner Michael Whan inherits a tour that will have only 24 events in 2010.
January: Bobby Ginn, who had already bailed on the PGA Tour's Ginn sur Mer Classic and the LPGA's Ginn Tribute, pulls out of the LPGA's Ginn Open, the tour's only stop in Florida. The USGA says its investments declined in value by $84 million because of the stock-market slide.
February: Bernard Madoff Ponzi scheme impacts clubs. U.S. Bank pulls out of Milwaukee stop. LPGA signs 10-year Golf Channel deal. Rep. Barney Frank rips Northern Trust for entertaining at PGA Tour's Northern Trust Open.
March: Stanford Financial stiffs PGA Tour's St. Jude event for $15 million. TARP firms scale back golf presence. Tiger Woods hosts CEO outing in support of PGA Tour.
April: Crowne Plaza drops PGA Tour event. Corning Classic to leave LPGA after 31 years. PGA Tour brass weighs impact of proposed federal budget on charitable giving.
May: Zurich renews with PGA Tour in New Orleans through 2014. Korean TV giant SBS signs 10-year deal to sponsor PGA Tour season-opener. Skins Game put on hold.
June: Corporate sales off 20 pecent at U.S. Open in Farmingdale, N.Y. Masters says it gave $3.4 million to charity. Tiger Woods' Dubai project put on hold. McDonald's drops out as host of LPGA Championship.
July: LPGA loses Kapalua event. Player revolt leads to ouster of commissioner Carolyn Bivens. LPGA adds tourney in Acapulco. USGA announces $1.35 million in grants.
August: Buick Open, PGA Tour stop in Michigan since 1958, replaced by event at the Greenbrier for 2010. LPGA tournament in China postponed. Record 120,100 attend Solheim Cup in Illinois.
September: PGA Tour investments off 27 percent. LPGA loses Michelob Ultra Open, cuts purse for two '09 events, signs two others for '10 at lower purses. Race to Dubai purse cut 25 percent.
October: Golf voted into 2016 Olympics. LPGA lays off eight, including deputy commissioner Libba Galloway. Mike Whan hired as LPGA commissioner. True Temper files for bankruptcy.
November: 2010 PGA Tour schedule has 37 regular-season events and four FedEx Cup playoff events. LPGA releases '10 schedule with 24 events, down from 34 in '08.