News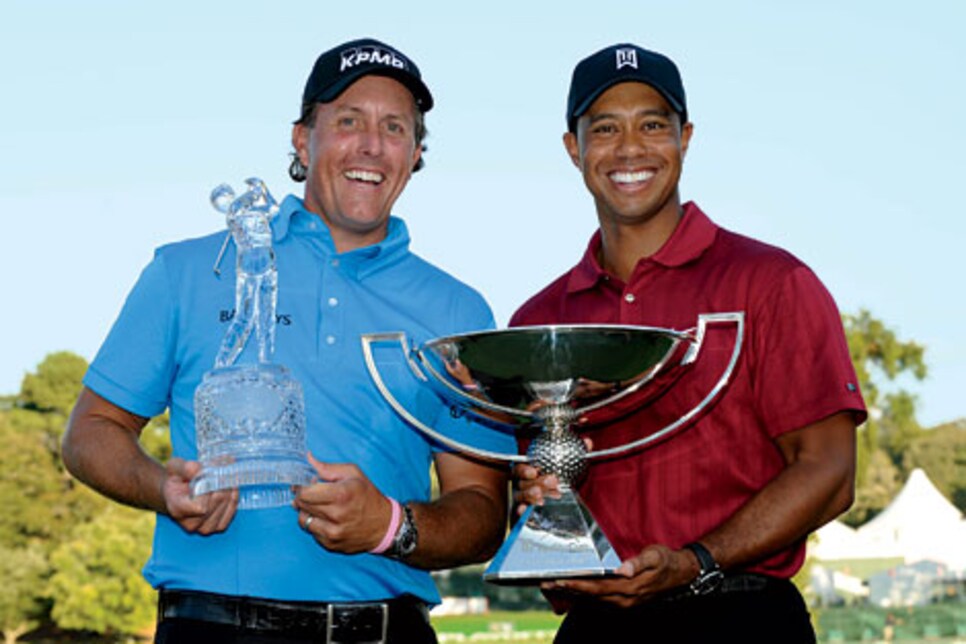 Mickelson won the Tour Championship, but Woods claimed the FedEx Cup.
Competitions for cherished cups had a decidedly U.S. bent. A group of European male collegians used some late heroics to edge their American counterparts, 13-11, for the Palmer Cup at Cherry Hills in early June, but after that the story lines were red, white and blue.
The U.S. Solheim Cup team, aided by a breakthrough performance from Michelle Wie, handled the Euros at Rich Harvest Farms outside Chicago in late August.
Three weeks later Uncle Sam's Walker Cuppers blitzed Great Britain & Ireland on captain Buddy Marucci's home course, Merion GC. That was followed by U.S. club pros' scoring a lopsided PGA Cup win over GB&I in Scotland.
Cups involving the game's best players continued the trend. Tiger Woods won the FedEx Cup, lifting both the winner's trophy and hopes Tim Finchem's pet project was gaining traction among fans. In early October the star-spangled run peaked with Woods, Phil Mickelson and Steve Stricker delivering a Presidents Cup victory to Captain Fred Couples at Harding Park.