News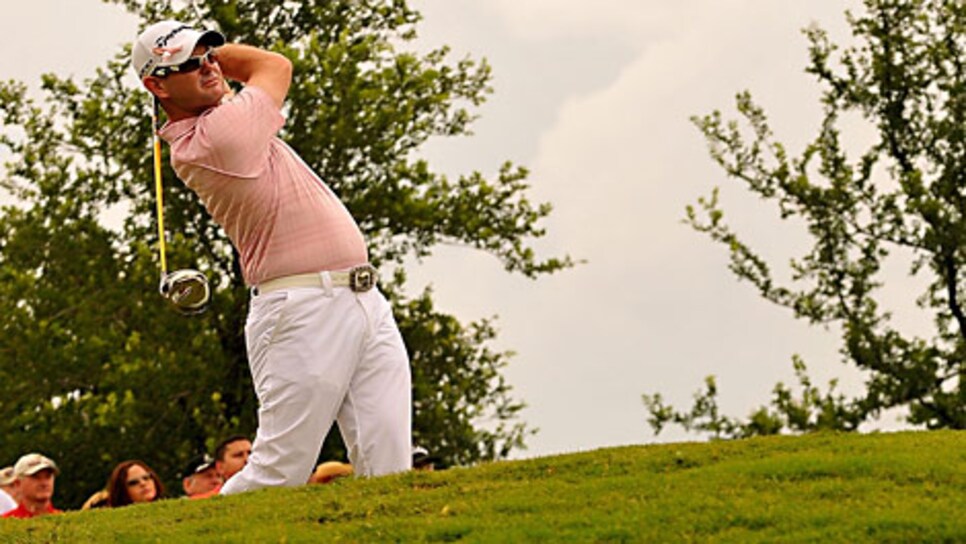 Sabbatini's victory comes almost two years to the day after he won the Colonial.
IRVING, Texas (AP) -- Rory Sabbatini won the Byron Nelson Championship on Sunday, holding on for a two-stroke victory over late-charging Brian Davis.
Davis, whose closing 64 gave him his third career runner-up finish, made a 26-foot eagle putt at the 546-yard No. 16 to get to 17 under. Sabbatini, coming off a birdie, was standing on the 16th tee box at the time, and could only shake his head when his lead suddenly shrunk from three to one.
But Sabbatini responded with a tap-in birdie on the same hole, after his 21-foot eagle try slid just past and sent him crouching in disbelief when it didn't go in the hole.
It was the first win for Sabbatini since 2007 at Colonial, and he will return to Hogan's Alley next week as that tournament's most recent champion. Phil Mickelson withdrew from the Nelson and Colonial, suspending his playing schedule indefinitely, after wife Amy was diagnosed with breast cancer.
Sabbatini wore a pink shirt and, like most players and caddies, had a pink ribbon attached to his cap as a show of support for the Mickelson family.
Walking down the No. 16 fairway after hitting his approach shot to the back edge of the green, Sabbatini waved when he turned to a television camera and sent out greetings to "Phil and Amy."
D.A. Points (65) was 16 under for his career-best finish of third. Scott McCarron (62) and Dustin Johnson (66) tied for fourth at 15 under.
Davis began his bogey-free round with six consecutive pars before four birdies in a five-hole stretch. Then came the eagle at No. 16, though he had to make a 13-footer to save par at the 198-yard 17th when his tee shot landed 56 feet from the pin and his first putt caught up on a ridge.
While Davis hasn't won in his 143 career tournaments, the 34-year-old Englishman has three consecutive top-five finishes. He was coming off fifth-place ties at The Players Championship and the Texas Open.
Sabbatini put his tee shot at No. 17 within 8 feet, made the birdie and then got to enjoy the champion's walk up No. 18, where it didn't matter that his 7-foot par putt slid past the hole and he had to tap in for bogey.
Once the final putt dropped, Sabbatini's 5-year-old son and 3-year old daughter -- both with "Team Sabo" inscribed on their clothing -- ran out to greet him with hugs and kisses. He shared an embrace with his wife and then Peggy Nelson, the widow of Byron Nelson.
Sabbatini hit his approach at the 431-yard No. 4 hole to 3 feet, and made the same length birdie putt on the par 3 that followed. After a bogey at No. 6, where he missed the fairway with his tee shot, he got that stroke back with a 7-foot birdie putt at the 542-yard No. 7.
After birdie attempts lipped out at Nos. 8 and 9 to make the turn at 15 under, Sabbatini had five birdies in the seven-hole stretch before the ending bogey that didn't matter.
McCarron, who hasn't won on the PGA Tour since 2001, had birdies on the final three holes and matched the lowest closing round ever at the Nelson. That was one stroke off the TPC Four Seasons record.
After rolling in a 13-footer on the 17th, McCarron hit his approach from the rough right of the 18th fairway within 7 feet.
McCarron's 62 included a bogey at the 323-yard 11th hole, where he tried to drive over the water to the inviting green. The ball instead got wet, then he hit the next shot into a greenside bunker before blasting to 3 feet.
John Mallinger entered the final round tied with Sabbatini for the lead, but shot 70 to finish sixth. Mallinger had two bogeys and two birdies in the first five holes. But after he made a 30-foot birdie at the 174-yard No. 5 hole, he finished with 13 consecutive pars.
John Seden (64) finished seventh at 12 under. Fred Couples (67), Jeff Maggert (67), Marc Leishman (68) and Briny Baird (69) tied for eighth at 11 under.
Divots: The third-round leader or co-leader has won 16 of 21 events on the PGA Tour this season. Last year, only 22 of 46 tournaments were won by the third-round leader. ... Jimmy Walker had seven birdies his first 10 holes Sunday, but didn't have another. He bogeyed Nos. 11 and 13 after hitting into greenside bunkers. He shot 65, with a front-nine 29, and finished 7-under 273.