News
Sabbatini And Mallinger Still Tied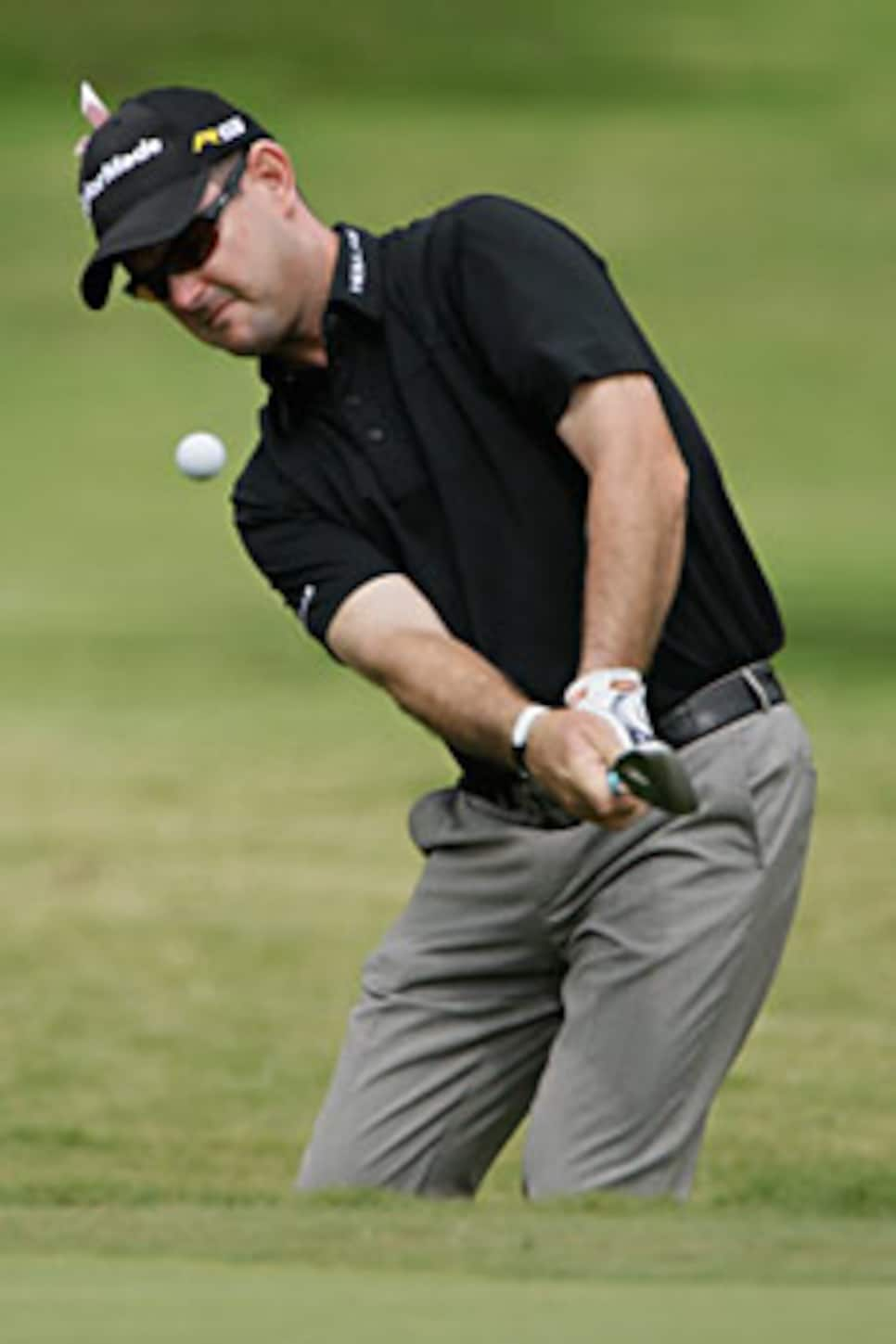 Although Sabbatini has four PGA Tout titles, his last win was two years ago at the Colonial.
IRVING, Texas (AP) -- Rory Sabbatini has already won at Hogan's Alley. Now he shares the lead going into the final round at Byron Nelson's tournament.
"Anything associated with his name would be an absolute honor," Sabbatini said after a 5-under 65 Saturday to keep a share of the lead at the Byron Nelson Championship.
Two years after his last victory, at the Colonial where Ben Hogan's larger-than-life statue is prominent, Sabbatini is in position to win again after five birdies in a seven-hole stretch midway through his third round.
Sabbatini and John Mallinger, who entered the third round tied as co-leaders, both shot 65 to get to 13-under 197. That is two strokes ahead of three other players.
"Obviously got off to a good start, just putting the ball in the right spots, putting it on the greens, hitting some good putts," Sabbatini said. "And then never really got anything going until No. 5."
Even for the day until he got to the 174-yard fifth hole, Sabbatini's pin-high tee shot rolled back and lipped the cup to set up a 3-foot birdie. He also had three consecutive birdies before making the turn, capped by a 41-footer on the 427-yard ninth hole.
Mallinger, without a win in his first 76 PGA Tour events, had his second consecutive 65. The bogey-free round was much different from Friday, when he had two eagles, four birdies and three bogeys.
"Today was the type of golf that I like to play. Normally, that's my game," Mallinger said. "I kind of had a game plan going in and I stuck with it. I executed, and that was the biggest thing. Being the leader, it was always a little different feeling."
Dustin Johnson struggled after going 6 under through eight holes. He shot 66 to get in at 11 under with D.A. Points (65) and Brian Davis (66). At 10 under were Kevin Streelman (64), Glen Day (65) and Briny Baird (67), who was 5 under through seven holes before three bogeys in a five-hole stretch.
Sabbatini, playing only a few miles from his home this week and next at the Colonial, had a season-low round of 64 Friday. Now he has the best two-round stretch of the season.
After his only bogey, when he missed fairway at No. 14 and had to punch out short of the water, Sabbatini got that stroke back with an 11-foot birdie at No. 15.
Sabbatini wore a pink ribbon atop his cap, the symbol for breast cancer awareness. Phil Mickelson this week indefinitely suspended his golfing schedule following wife Amy's diagnosis.
"Phil and Amy Mickelson are definitely forefront in everyone's thoughts out here," Sabbatini said. "We all know that she's a strong and determined person, and she'll pull through it."
Mallinger made a 9-foot birdie at the 528-yard third, and tapped in for par on the next hole after missing an 8-footer. Consecutive birdies followed, and his only other birdies after that came at Nos. 14 and 15.
Sabbatini had supporters wearing black T-shirts that read "Rory's Rowdy Roadies" on the front and "Team Sabo" on the back. One of the supporters in Mallinger's gallery was his tennis-playing buddy Mark Knowles, who delayed his trip to Paris for doubles competition at the French Open.
"He was supposed to take off (Saturday), and we had a bet if I got in the leader group he had to change his flight," said Mallinger, who has to go to Paris if Knowles makes the finals.
Because of the threat of thunderstorms, players teed off in threesomes off Nos. 1 and 10 and everyone was done by mid-afternoon without any delays or rain. There will be normal tee times with twosomes off No. 1 in the final round.
Davis (66) was in the last-group threesome that included the leaders. He had two birdies the first three holes before the first of his four bogeys.
Johnson was 13 under when he capped a streak of four consecutive birdies with a 9-footer at the 461-yard No. 8 after hitting his approach from the rough.
But Johnson then went right and then left on consecutive wayward tee shots, taking penalty strokes on both. The tee shot at the 427-yard ninth hole went into the water and his 33-foot par putt slid just right of the cup.
After hitting his drive at the 435-yard 10th way left into an unplayable lie near more water, Johnson momentarily stood on the box staring ahead. Once he got to his ball, he took a drop in an adjacent fairway and knocked the approach to 3 feet to save par.
He had three bogeys the final six holes, including the par-5 16th.
"Turning on the back I struggled with my tee balls a lot," Johnson said. "I ended up with 66, so that's never bad. I'm right there in it."
Divots: PGA Tour rookie Marc Leishman had a career-low round of 63, the best of the day. Starting on the back nine, Leishman had three consecutive birdies, back-to-back bogeys and then three more birdies before his first par came on No. 18. ... There are four defending Nelson champions still playing. The closest to the leaders is 1987 winner Fred Couples at 8-under 202 after his three rounds in the 60s./p>