News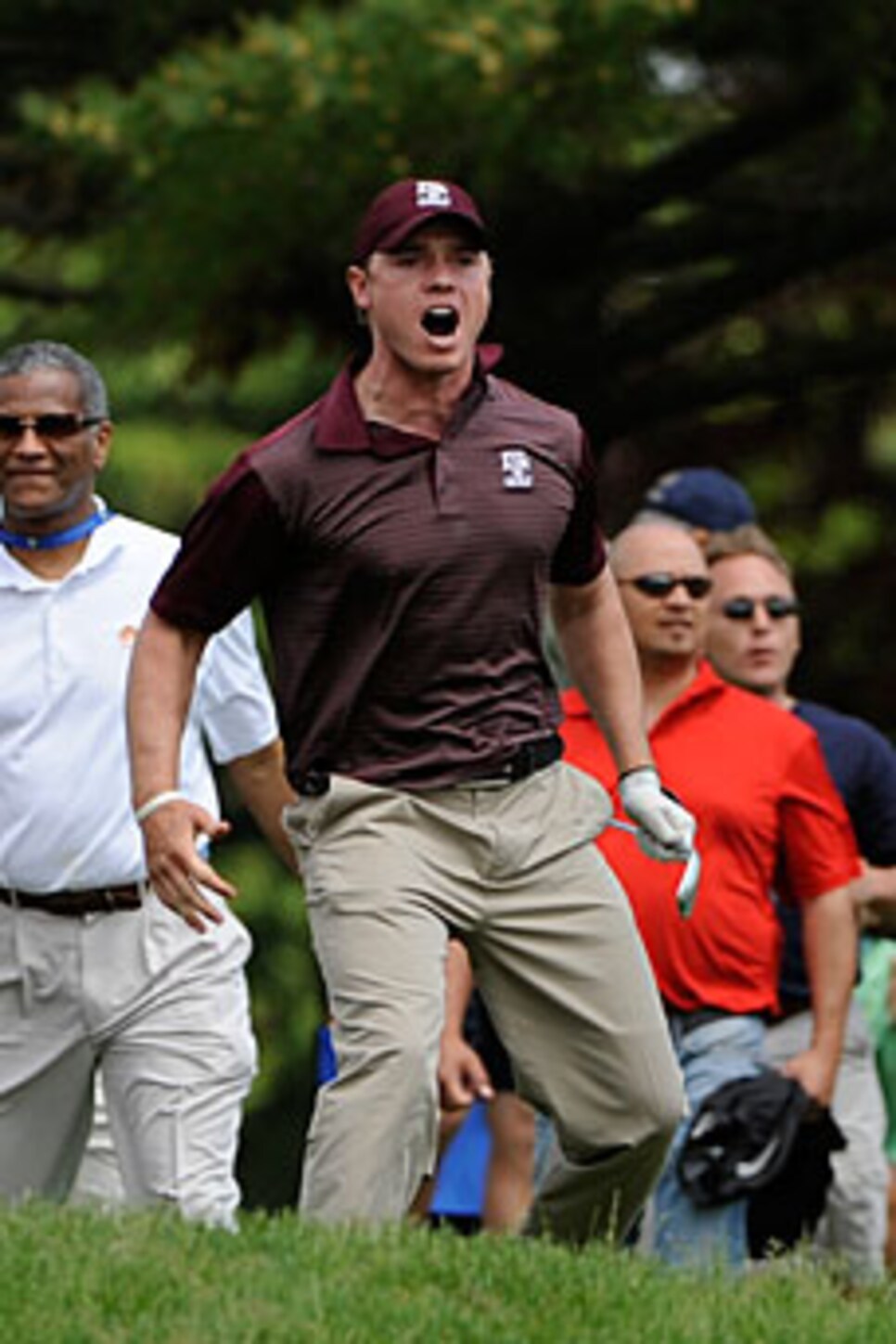 shot for the ages: Burgoon had lost four straight holes, but his 125-yard approach on No. 18 finished three inches from the cup, setting up a victory for Texas A&M and a bear hug from assistant coach Jonathan Dismuke.
Even before the first ball was hit at Inverness Club, there was never any doubt the 112th NCAA Championship would be historic, a fact made certain not by anything the 156 players in the field did but rather the action of six coaches and administrators taken some 22 months earlier.
But by the time the penultimate shot was struck May 30, essentially deciding the outcome of the first championship using match play to determine the winner of the NCAA title, the tournament had qualified for an upgrade in the moniker department.
How does remarkable sound? What about incredible? Would thrilling suffice?
Truth is Bronson Burgoon actually predicted the ultimate result the night before. Eating dinner with his Texas AM teammates as they prepared to face Arkansas for the right to call themselves national champions, the 21-year-old senior from The Woodlands, Texas, openly talked about wanting to hit the shot on the last hole to win the title and close out his career with the Aggies.
Eighteen hours later, the two-time All-American was all square through 17 holes in the deciding match against Razorback senior Andrew Landry. With his tee shot sitting in the right rough 125 yards from the flagstick and his opponent's ball on the green 35 feet below the hole, Burgoon took a gap wedge and punched an approach shot into a breeze. Between the time the ball hit the green 15 feet right of the hole, then rolled to its final destination—three inches from the cup—the cheers of the AM faithful left no one guessing what was at stake.
Even Landry had to acknowledge the clutch shot, giving Burgoon a fist bump as the Aggie got to the green while conceding him the birdie. In a last-gasp effort to extend the match, Landry missed his birdie putt left of the hole, giving Burgoon a 1-up win and Texas AM a 3-2 team victory.
"It was the most nervous I've ever been before in my life … times 100," Burgoon said afterward.
Perhaps that is because in his premonition the night before, Burgoon never once imagined the part where he squandered a 4-up lead with five holes to play to ultimately set up the winning shot.
With the four other matches in the championship round decided— Texas AM's John Hurley and Andrea Pavan winning big over Ethan Tracy (6 and 4) and David Lingmerth (7 and 6), while Arkansas' Jamie Marshall and Jason Cuthbertson were knocking off Conrad Shindler (3 and 2) and Matt Van Zandt (3 and 1) —Burgoon looked to be moments away from giving coach J.T. Higgins the school's first NCAA title. Yet as the couple hundred spectators at the Toledo, Ohio, course descended on the final match (a team needed three points to be victorious), its tenor changed dramatically.
Having made only one bogey through 13 holes, Burgoon admittedly began to press, missing four straight fairways and greens while Landry hit steady shots to grab the momentum.
On the 18th tee Higgins offered a few words of encouragement to get Burgoon to relax. "I told him, 'I wouldn't have anyone else in the world playing this hole than you right now,' and that was even after losing four straight," Higgins said.
Still, Burgoon hit his tee shot right, yelling "Fore" as if he really meant to say "Help." Not until he stood over his approach shot did Burgoon turn what looked to be a crushing collapse into a momentous win.
"I started thinking, 'I got myself in this mess, I've got to get myself out,' " he said. "And I kind of composed myself enough to hit a golf shot that I'm capable of hitting. Because the others before that were horrible."
After months of preparation, college golf entered its Brave New World in Toledo and darned if the earth didn't stay on its axis. Granted the Aggies, ranked 14th in the Golf World/Nike Golf coaches' poll with three victories during the 2008-09 season but none since February, weren't the first squad many figured to win the national title, but it wasn't as if they were the Washington Generals.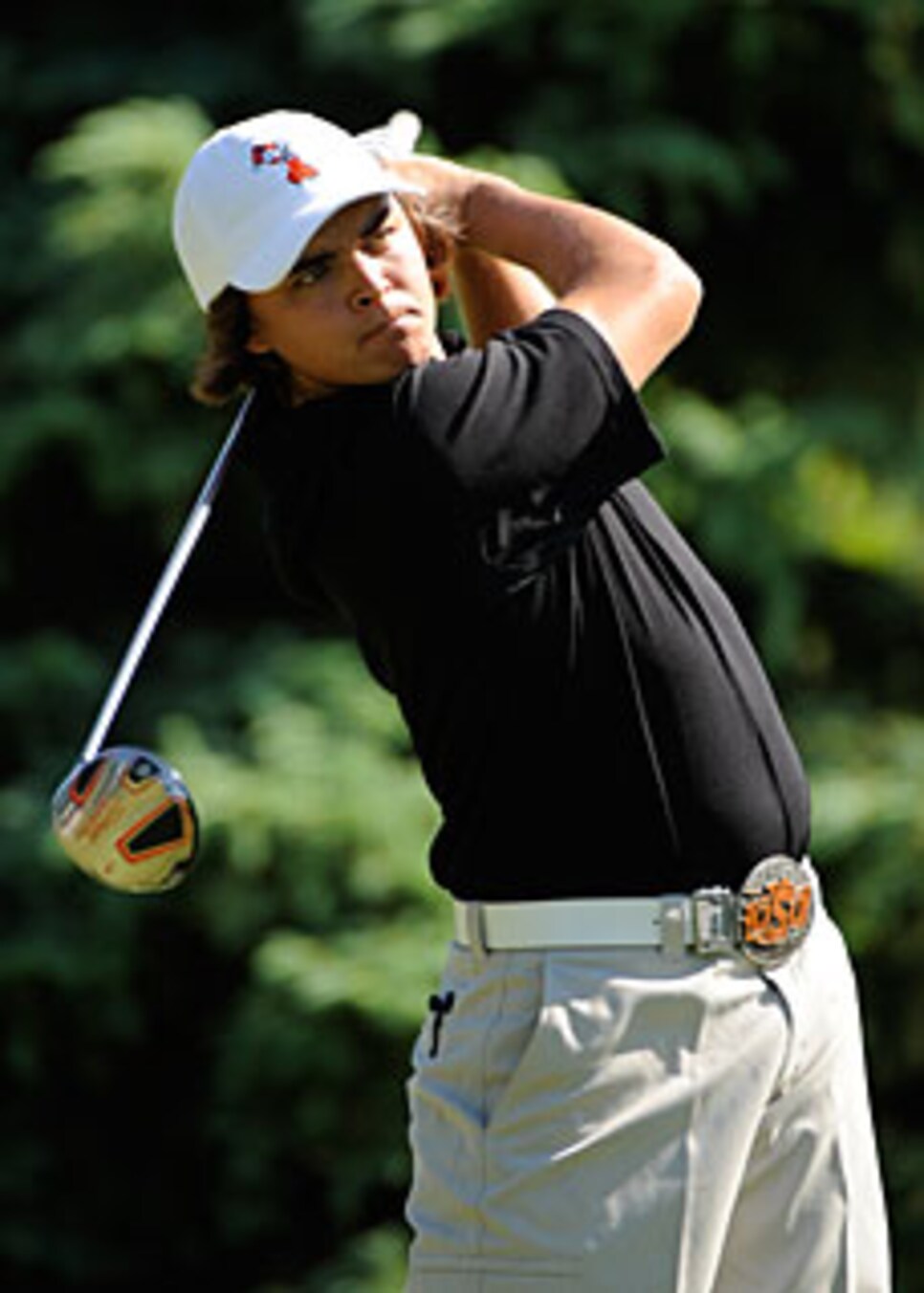 "We don't have the five best guys in the country," admitted Van Zandt, a senior who rather than turn pro will go to work at PricewaterhouseCoopers in the fall. "But I would not want to go to battle against us. We believe in each other. That's what counts."
When the six-member Division I golf committee decided to change the championship format in July 2007, having 30 schools play three stroke-play rounds with the top eight moving on to match-play competition, it created a scenario whereby any program that reached nationals could rightfully offer the same rallying cry.
With that, the inaugural "Great Eight" included not only perennial powers (Oklahoma State, Georgia, USC, Arizona State) but programs on the rise (Texas AM, Arkansas and Washington) and even a Cinderella (unranked Michigan, playing in the championship for the first time in 12 years).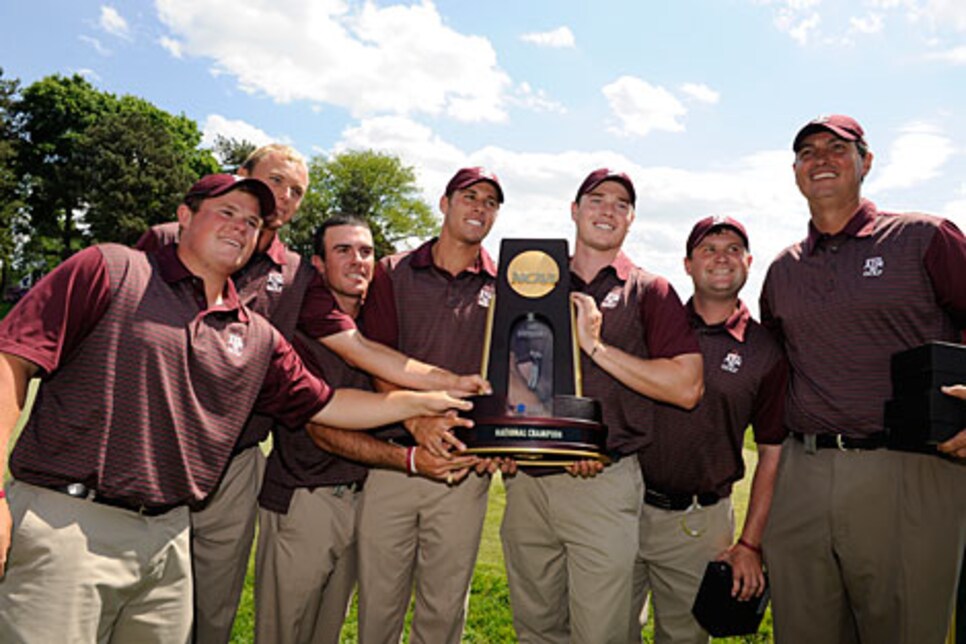 Critics argued match play was too likely to produce a "fluke" champion, forgetting there were a few "unexpected" winners crowned via stroke play as well (Pepperdine, 1997; California, 2004). Meanwhile, how much grousing do you hear about, say, underdog Villanova's NCAA hoops win over heavy favorite Georgetown in 1985? Most describe it as memorable, not lucky.
Supporters of the new format couldn't have asked for a better christening than Friday morning's quarterfinal clash between the nation's two top-ranked teams, Georgia and Oklahoma State, a tilt that came down to the final hole of the fifth match. Sure, most hoped the Bulldogs (who struggled during the final 18 holes of qualifying, hanging on to the eighth spot) and Cowboys (who cruised to the top seed with a three-under 849) would be battling in the championship match. Still, the heavyweight face-off had all the drama everyone had anticipated.
As if foreshadowing Burgoon's heroics, Georgia senior Brian Harman rolled in a five-foot birdie putt on the home hole (after birdies on 16 and 17) to clinch a 1-up win over Oklahoma State All-American Rickie Fowler and push the Bulldogs past the Cowboys, 3-2.
"Probably the most fun I've had in college golf, that head-to-head aspect, coming down the stretch, having your whole team out there." And that was from the losing player, Fowler, his voice cracking with emotion on each word.
"A couple of coaches who have been detractors of this format, if they had been here today, they would understand why this format is better," said OSU coach Mike McGraw, who might have claimed the school's 11th NCAA title had the tournament remained all stroke play, since his Cowboys held an impressive 13-stroke lead after 54 holes.
"You can't hide [in match play]," said Washington coach Matt Thurmond, whose Huskies fell to Arkansas in the quarterfinals, 3-2. "You are what you are. You have to hit those big shots over and over again. … There's golf, and then there's competing. There are a lot of golfers out here. But real competitors come out in a match-play format."
Arkansas coach Brad McMakin acknowledged Georgia's quick turnaround from its emotional victory versus OSU likely helped the Razorbacks defeat the Bulldogs, 3-1-1, in their semifinal match (next year match-play rounds will be held over three days rather than two). The Aggies, 3-1-1 quarterfinal winners over Arizona State, ended Michigan's underdog bid in the afternoon semifinal by the same margin, Burgoon winning his matches against both opponents.
"It's been a long road," noted Higgins, who took over the program in fall 2001. "When we started eight years ago, we were a long way from being national champs. It's a long process, getting great players like Bronson and John and Andrea and Conrad and Matt, just putting together a team that has a chance to compete."
Burgoon's time in College Station wasn't always rosy, either. He sat out a semester due to academics and tried PGA Tour Q school one fall. During his senior season, however, he had a 72.0 average and claimed six top-10s.
"I love this team," he said moments after being mobbed by his fellow Aggies. "They battled their butts off all day. I just tried to bring it home for them. That was the hardest thing when it was slipping away. I was more discouraged for the other guys on the team than myself."
As his dream became a reality, Burgoon ultimately had nothing to worry about, which is more than the D-I golf committee can say. After a thrilling match-play debut, what can it do for an encore?