News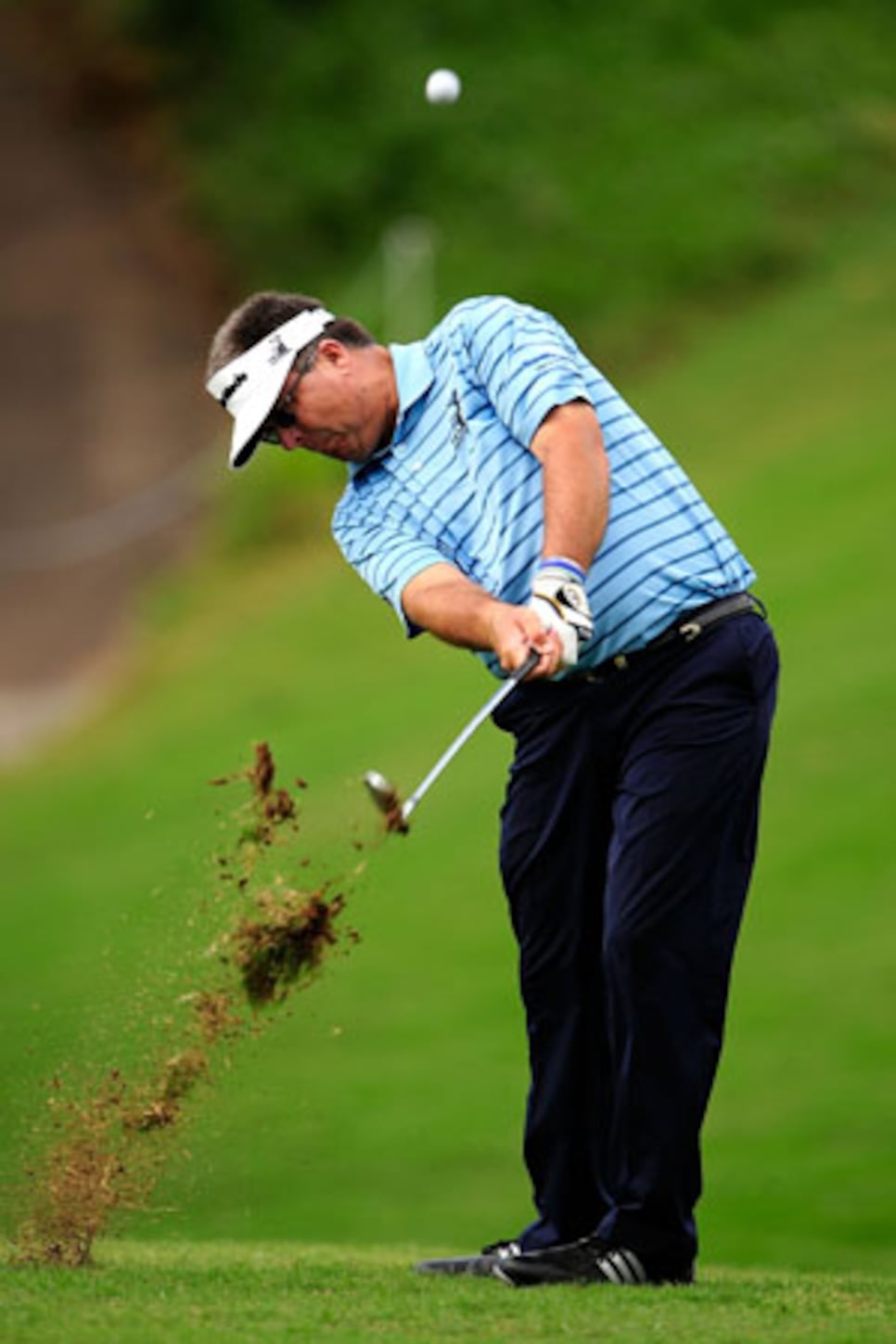 Players like Kenny Perry who have opted for events overseas instead of on the PGA Tour have drawn criticism from tournament directors.
Its Olympic Games lobbying effort last year underscored the PGA Tour's commitment to further globalizing a game that already is played with an international flare, as the first two weeks of the tour schedule so vividly demonstrated.
The SBS Championship was sponsored by a Korean company and won by an Australian, Geoff Ogilvy. The Sony Open in Hawaii was sponsored by a Japanese company and won on Sunday by an American, Ryan Palmer, who held off challenges from a South African, Retief Goosen, and an Australian, Robert Allenby.
What could be better? Glad you asked. The PGA Tour should temporarily do away with conflicting events releases that grant permission to its tour members to play overseas events opposite PGA Tour events (they're allowed three releases for every 15 tour events they play).
This idea was advocated last week by Michael Milthorpe, long-time tournament director of the Bob Hope Classic. "I'd personally like to see the tour do a moratorium on them, until things pick up," Milthorpe said, citing a difficult economy. "Support our events here."
The Hope, a Southern California desert tradition since 1960, will be played in La Quinta this week sans a sponsor. The tournament is footing the bill. It also is sans a headliner. For a tournament hosted so many years by an entertainment icon, the notion that it won't have a marquee name in the field is a particular affront.
No players ranked in the top 25 in the world are entered in the Hope. Only six from the top 50 will play. The most conspicuous absentee is Anthony Kim, a La Quinta High graduate, whose address during his prep years was PGA West. The Hope even gave him a sponsor exemption his rookie year.
Kim, who also is a European Tour member, has opted to accept an appearance fee to play in the Abu Dhabi Golf Championship in the United Arab Emirates, forgoing an opportunity to play what is tantamount to a home game in La Quinta. Kim is one of 11 PGA Tour members to have been granted conflicting events releases, Milthorpe said. All are entered at Abu Dhabi.
"We wish we had a few more players," Milthorpe said. "That's why the tour should have looked at it hard and just did something for this year and said, 'We're not going to grant any conflicting events releases, stay in the states and support what we have here.' You might have a few guys buck the system, but overall the media would applaud it, the fans would applaud it and the sponsors would certainly applaud it."
Or potential sponsors. How do you convince a company to pony up several million dollars when the best player in your field is ranked 37th in the world (Mike Weir)? It isn't a problem unique to the Hope, either.
Kenny Perry, a past champion of the Hope, isn't playing there, either, or in the San Diego Open a week later. He is preparing to head to the Middle East for the Commercialbank Qatar Masters the following week.
"I used to play the Hope, but it has changed," he told the Arizona Republic last week. "Used to be, you played the desert courses like Indian Wells and Bermuda Dunes. They've completely left the desert out, and now it's all big, long, 7,600-yard courses.
"They've really changed the complexion of that tournament, which I don't like. So those (Middle East) tournaments fall in the schedule where I wasn't going to play anyway, and I want to stay sharp."
Perry also needed a conflicting event release; the San Diego Open, another tournament without a sponsor, is scheduled opposite Qatar.
Incidentally, Perry once eschewed playing the British Open, choosing to play the U.S. Bank Championship in Milwaukee instead. He got that one wrong. Now he's criticizing a PGA Tour event experiencing economic hardship and using it to defend his going to Qatar, for which, of course, he is receiving an appearance fee.
This is global golf in the 21st century.
The loophole that John Daly and Dean Wilson exploited in using wedges with square grooves at the Sony Open apparently was not amusing to Dick Rugge, the USGA's senior technical director and architect of the new groove rule.
Daly and Wilson each used old Ping Eye2 wedges that have been grandfathered by virtue of a 1990 settlement of a lawsuit filed by Ping against the USGA. Rugge was asked whether he considered their using the wedges a violation of the spirit of the rule.
"Those Ping Eye2 wedges made before March of 1990 are considered conforming to rules of golf," he said brusquely. "I have no opinion on strategies tour players might be using."
Rugge declined to comment on whether the USGA had any recourse. "I'm not going to express an opinion on that," he said. "As far as the rules of golf are concerned, those are conforming clubs."
The groove issue is a touchy subject for the USGA, which is relying on the rule change to help restore the importance of accuracy from the tee by increasing the difficulty of controlling shots from the rough, particularly with wedges. In short, it is an attempt to counter distances tour players hit the ball.
Exceedingly early returns suggest that players will adjust and it won't significantly alter scoring or strategy. "I didn't see a whole lot of difference," Palmer said Sunday. "I did see a lot of shots where I hit some 70 or 80 yard wedges that took a skip and stopped, instead of skip, stop and spin back. So I felt myself controlling my wedges a little bit more that way."
As Golf World equipment editor Mike Johnson concluded (albeit with the caveat that it's early in the evaluation process) in the Bomb & Gouge blog last week, "The new grooves aren't going to make the game any more difficult. It's just going to make it different."
Charl Schwartzel of South Africa has leaped into the top 50 in the World Ranking, doing so while no one was paying attention. He won the Joburg Open by six strokes on Sunday, a week after winning the Africa Open, two nondescript South African tournaments, notwithstanding the fact they're both European Tour events.
Schwartzel was ranked 66th before winning the Africa Open, a victory that moved him to 51st in the World Ranking. A second straight win has carried him to 35th in the World Ranking and probably earned him a Masters invitation, too.
The rumor mill continued to churn unabated, speculating largely on Tiger Woods' whereabouts. A more pressing concern from golf's standpoint is when he'll resurface. It remains anyone's guess. A benchmark in his seclusion is Friday, 5 p.m. (EST). That's the deadline for players to commit to the San Diego Open next week.
The indefinite leave he announced last month doesn't officially begin until he misses the San Diego Open, which since 2006 has been the tournament at which he started his season. That again would have been the case in 2010.
No one expects him to commit to playing San Diego, but it's still worth noting should he decide to pass on a tournament he's won six times, including the last four he played (2005 to 2008), on a course on which he also won the U.S. Open (in '08).
...performances from old men at the Sony Open in Hawaii:
1.Tom Lehman, 50. Lehman was tied for seventh heading into the fourth round and slipped to a tie for 16th, which needn't suggest he now is better suited to three-round tournaments offered on the Champions Tour. He's got a 6-year-old at home. He's still young.
2.Davis Love III, 45. A seventh Ryder Cup team is on Love's radar, and toward that end, he finished tied for fifth.
3.Michael Allen, 50. The journey continues to pay dividends for this career journeyman, a Champions Tour winner still capable of top-25 finishes on the PGA Tour (he tied for 25th at Sony).
4.Mark Calcavecchia, 49. Five months shy of Champions Tour eligibility, Calcavecchia began his landmark year with a T-52.
5.Corey Pavin, 50. This week, Pavin makes his Champions Tour debut. Last week, he made the cut on the PGA Tour and tied for 52nd.
... performances from young men at the Sony Open:
The victorious U.S. Solheim Cup team visited the White House last week, which brought together the two most famous alumni of Honolulu's Punahou High School -- President Obama and Michelle Wie.
"He's a total local boy!" Wie wrote on Twitter. "He said, hey howzit, and gave me a shaka!!!!!!"
A shaka is the pinky-and-thumb salute common among Hawaiians. Obama also regaled the golfers with a story they weren't buying.
"He was telling us he just had his career best shot in Hawaii, but I think he might have been exaggerating an ounce," Nicole Castrale told the Desert Sun newspaper. "A 250-yard shot with a 2-iron to set up a birdie, but we were all wondering why he didn't hit a hybrid. Who hits a 2-iron?"
At 45 (46 in April), time is no longer an ally for Love, whose goals in 2010 include a return to the Ryder Cup. A six-time member of the U.S. team, Love hasn't played in a Ryder Cup since 2004. His T-5 in the Sony Open has started moving him in the right direction.
"I'm going to give him (U.S. captain Corey Pavin) a lot to think about," Love said Sunday. "I would like to be in the top eight. I got a long way to go to get there. I've been aiming for a lot of things this year. If I can just go out and play like this and not think about it, I will be in good shape in October."
England's Oliver Wilson, responding to a follower asking who he thinks will be the world No. 1 this year: "Absolutely no question -- Tiger Woods"
Former PGA Tour player and still an inveterate baseball fan David Ogrin: "In ten years when HGH is legal and sold over the counter will the hypocrites crucifying McGwire reconsider? No. Big Mac for HOF!"
PGA Tour: Bob Hope Classic, at the Arnold Palmer Private and Jack Nicklaus Private courses at PGA West, La Quinta Country Club, and SilverRock Resort, in La Quinta. Defending champion Pat Perez.
Champions Tour: The Mitsubishi Electric Championship at Hualalai. Golf Course, Ka'upulehu-Kona, Hawaii. Defending champion Bernhard Langer.
European Tour: Abu Dhabi Golf Championship at Abu Dhabi Golf Club, Abu Dhabi, United Arab Emirates. Defending champion Paul Casey.
Abu Dhabi has eight of the top 14 in the World Ranking: Lee Westwood, Paul Casey, Geoff Ogilvy, Henrik Stenson, Rory McIlroy, Ian Poulter, Sergia Garcia and Martin Kaymer. McIlroy, incidentally, arrived a week early to prepare.
For the first time in its history, the Bob Hope Classic will be played entirely in the same city, all four courses falling within La Quinta city limits. Two of them (the Palmer Course and SilverRock Resort) were designed by Arnold Palmer, whose grandson, Sam Saunders, has been given an exemption into the tournament.
Fred Couples and Corey Pavin officially make their Champions Tour debuts at the Mitsubishi Electric Championship. Couples played in the Wendy's Champions Tour Skins Game over the weekend.
Paul Goydos on heralded PGA Tour rookie Rickie Fowler: "I think there is going to be something to this kid, the way he walked out and the way he played. Not just that he finished second (in the Fry's.com Open last fall), but the way he did it. He made a hole-in-one. He does all of these things that are in a sense Tiger-esque. I think it bodes well for his career. I think he is going to be a very, very good player out here for a very long time. He looks about eight years old. I saw him in the locker room, whose kid is this?"
Speaking of moratoriums, here's one by which we all should abide: Not to criticize Skins Games for a year.
The Wendy's Champions Skins Game was played over the weekend and was won by the team of Jack Nicklaus and Tom Watson. How do you knock a competition in which Nicklaus and Watson are the winners?
Nicklaus, incidentally, turns 70 on Thursday. As the game goes through a period of uncertainty, it's reassuring to know that the greatest player in history is still winning.