News
Watson Wins In Dramatic Fashion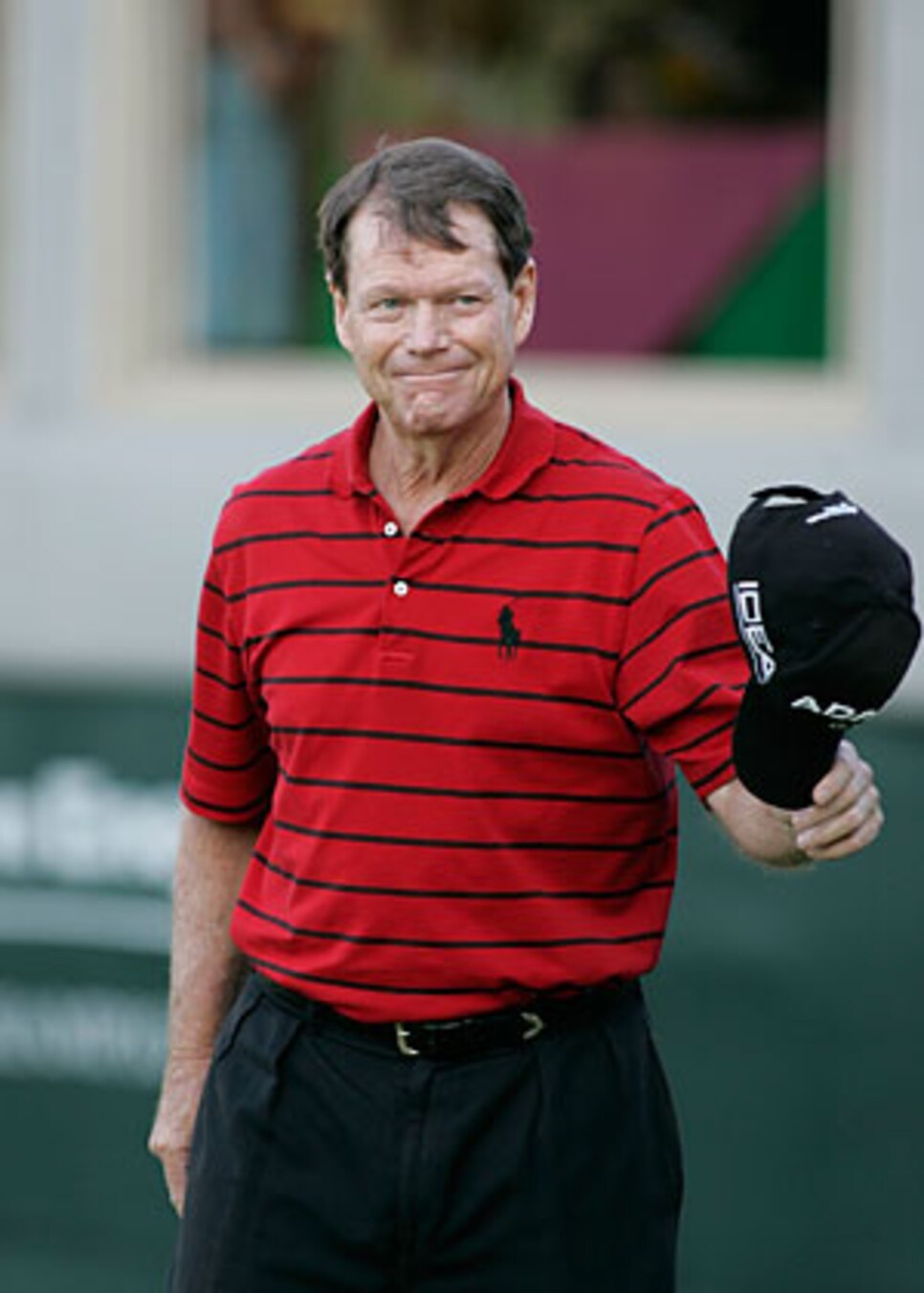 Watson became the 13th oldest winner in Champions Tour history.
KAUPULEHU-KONA, Hawaii (AP) -- Tom Watson had flashbacks of his painful British Open loss while standing over his birdie putt on the 18th green with his younger opponent hoping for a playoff and the gallery watching in suspense.
"I was thinking, 'Don't make a stroke like I made at Turnberry,'" Watson said. "'Make a good stroke like I thought I was going to do at Turnberry and didn't do. ... I can make this.'"
Watson made sure history would not repeat itself by making the 4-footer to win the season-opening Mitsubishi Electric Championship on Sunday.
"This is what I live for in my career -- to do what I did today," he said. "I don't think I'll have too many more, but I had this one."
The 60-year-old Watson became the 13th oldest player to win on the Champions Tour, birdieing the final two holes for one-stroke victory over senior newcomer Fred Couples.
Coming off a win with Jack Nicklaus in the Champions Skins at Kaanapali, Watson closed with a 7-under 65 to finish at 22-under 194 for his 13th Champions Tour title.
"It wasn't over until he said it was," Couples said.
After pushing his drive into the right rough, Watson hit a spectacular second shot with a pitching wedge from 147 yards that rolled 20 feet on the 18th green and stopped 4 feet from the hole.
Couples just missed his 15-foot birdie putt to the left on the final hole. Watson calmly sank the winner and waved his cap to the roaring crowd.
The big-hitting Couples, who led all players with a 314-yard average drive, closed with a bogey-free 64, the lowest round of the day. He turned 50 in October.
"I was giving up 10 years and 50 yards off the tee," Watson said.
It was a sweet victory for Watson, who made a magical run last year at the British Open before losing to Stewart Cink in a playoff. Watson wasn't in the mood for another playoff.
Watson said he's received many heartfelt letters from fans who were encouraged by his performance at Turnberry.
"It was humbling. It was unexpected for a guy that finished in second place at a golf tournament," he said.
He could get a few more after Sunday.
The 39-time PGA Tour winner is the oldest Champions Tour winner since Gil Morgan in the 2007 Wal-Mart First-Tee Open at Pebble Beach. Last year, there were no winners older than 55, something Watson early in the week said he hoped to "rectify."
Again, Watson torched the back nine with five birdies. He had six on each of the first two days.
"I started the back nine the way I started all week," Watson said. "I birdied the first three holes on the back nine and the game was on."
Couples called it "ridiculous."
Couples birdied the par-4 16th for a one-stroke lead over Watson at 21 under. After a big drive, he hit a wedge from 118 yards to 12 feet.
But Watson tied Couples for the lead on No. 17 by sinking a 6-foot birdie putt.
It was Watson's first victory in 34 career starts in Hawaii on the two tours.
"It's something that I've always wanted to do, is to win in Hawaii," said Watson, whose father died here 10 years ago. "He loved it over here. My mom loved it over here. I've always loved Hawaii."
Couples didn't seem too upset with the runner-up finish. His first question walking off the green was, "Who won the football game?"
"I had a wonderful time. I think I was 21-under par and didn't win a tournament. That hasn't happened too many times," said Couples, who was trying to become the 16th player to win his Champions Tour debut.
The 21-under par equaled the second-lowest score on the Champions Tour not to win a 54-hole event.
The 15-time PGA Tour winner hasn't hoisted a trophy since the 2003 Shell Houston Open. Last year, he had four top-10 finishes in 16 starts on the regular tour and finished 75th on the money list.
Couples took his first lead by eagling the 566-yard 10th to reach 18 under. He hit an iron from the first cut of rough, setting up his 6-foot putt.
While the fans came to see Couples, Watson may have had a slight homefield advantage.
Watson purchased one of the sprawling homes at Hualalai about a year ago. He was also teammates with the course designer, Nicklaus, a week ago at the Skins Game. They finished with 10 skins and $350,000 for their second victory in four years.
For his Mitsubishi victory, Watson takes home $315,000 and hook-shaped trophy. It was his first official win since teaming with Andy North to win the 2008 Liberty Mutual Legends of Golf.
Michael Allen birdied the final hole for a 66 to finish third at 18 under, a stroke ahead of Tom Lehman (68). Both men played last week in the PGA Tour's Sony Open, with Lehman tying for 16th and Allen tying for 25th.
The 64-year-old Hale Irwin, a two-time champion at Hualalai, closed with a 64 to finish fifth at 14 under. It was his second top-10 finish in a row after going 41 straight tournaments without one.