News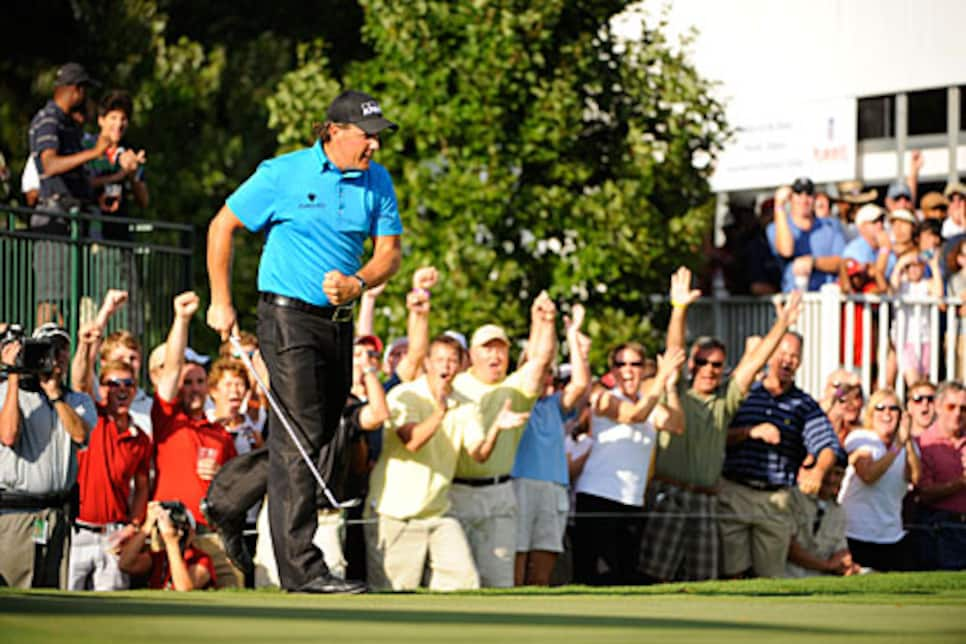 Phil the thrill: Not only was Mickelson's putting first-rate after he got a lesson from Stockton, he chipped in for birdie at No. 16 en route to a closing 65 and three-shot win.
Call the FedEx Cup what you will, but strike "bogus" from your vocabulary. It would be difficult to imagine the PGA Tour, after juggling numbers and dodging harpoons for three years, could have choreographed a more telegenic playoff conclusion than what unfolded at East Lake GC on golf's oft-edited version of Super Sunday. There stood the two stars who drive the bus—Tiger Woods holding the FedEx Cup for overall postseason excellence and Phil Mickelson clutching his trophy for winning the Tour Championship after a brilliant fourth-round 65—with not a flat tire in sight. Whoa, critics might say. Not so fast. It still isn't legit if the guy who finishes second for the week finishes first for the month, but no less a big-picture thinker than the always ethereal Mickelson smothered that notion.
"I didn't deserve to win the entire FedEx Cup, just based on one tournament," announced the left-hander, collector of $1.35 million for his first victory since March, plus a $3 million consolation prize as runner-up in the points derby to Woods, who snagged the $10 million jackpot. If there's a flaw in the system—if—Tiger exploited it fair and square, as Mickelson explained. "The best player won," he said, "the guy who played the best in all four events won."
As golf's dual stimulus packages stood beside each other on the 18th green, waiting for the next wave of flashbulbs and photo ops with corporate wonks donning blue blazers, one could use the pause to ponder levels of interest in play here.
There are a pair of those, too. Golfers will tell you, just in case you didn't hear it the first hundred times, that there are four majors, and everything else is background music. Golf fans, and marginal fans, also know this, but that does not preclude them attending, watching or following other events, especially when the world's most famous athlete is involved. Playoff TV ratings clearly indicate people care about September golf with Tiger, not as a substitute for majors but as additional entertainment. This is show biz, and even if $10 million doesn't ring your bell, leader boards such as Sunday's will. After three years the FedEx Cup is not perfect, because no playoff formula is. But there is life to the concept.
Mickelson did not envision having much of a role in this script, not after walking away from the BMW Championship in Chicago last month with little to show for his effort but a hotel bill. He sought ideas from veteran caddie Jim Mackay, who was also frustrated.
"Phil had maybe his best ball-striking round of the year at the first playoff event, Barclays, and where did he wind up?" said Mackay. (Answer: T-52.) "It was my putting," Mickelson recalled. "It's been my putting for two years out here, basically. So Bones came up with Dave Stockton. Great putter all of his career, similar style to me, right down to the style of the putter he used. I wound up phoning him, and luckily, he winds up being near my home in San Diego during my week off."
Mackay marvels at how quickly and thoroughly his boss assimilates information, but Mickelson asserts this crash course was different because it felt like riding the bicycle he used to ride when he was young and carefree. Mickelson made 416 feet of putts over 72 holes—half of which he one-putted—justifying the buzz he felt even after Thursday's 73, which included a quadruple-bogey 8 on the 14th hole.
Sunday's masterpiece was all about his new/old stroke, even when he wasn't sinking a 12-footer for birdie on No. 9 to polish off a front-nine 31. As Mickelson says, as they all say, when you have confidence on the greens, pressure is reduced exponentially elsewhere. Indeed, just like Phil the Thrill of yore, he almost holed his wedge on No. 8 and then chipped in from the fringe at No. 16—his 20th birdie of the week—before calmly closing with a couple of pars for a nine-under 271, three fewer than Woods.
Tiger, meanwhile, endured the quietest Sunday possible this side of watching football on his couch at home. He was in the lead twosome with Kenny Perry, and if they were feeding off each other, the meal was cold porridge. Perry did not have it and took 74 whacks, 10 more than he required Saturday. Woods was the 30th and last man Sunday to record a birdie, at the 15th, but his 5 o'clock lightning was too little and too tardy.
Tiger talked occasionally about his troubles judging slope versus grain on a set of East Lake's greens that were so firm, Mickelson thought the Sub-Air coordinator might have forgotten to turn off that big sucker. With 70, Tiger was runner-up by a stroke, his ninth first- or second-place finish of 2009. "It means I was consistent," said Woods, who projected that he would feel better about not winning in a few days, when the $10 million showed up in his bank account.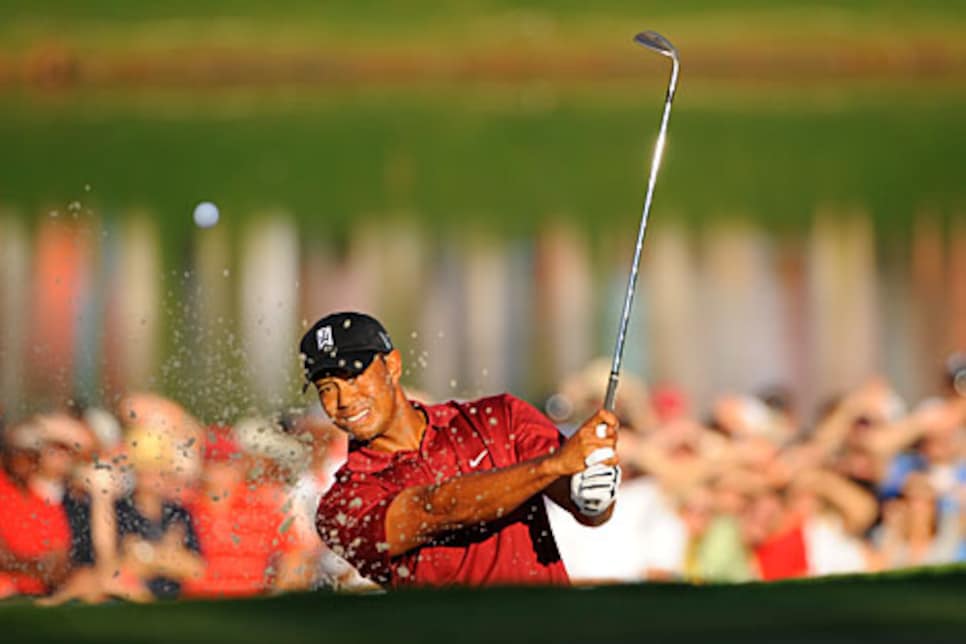 Woods was amused to learn that he could have arrived at the Tour Championship in fourth place on the FedEx Cup points list even had he skipped all three playoff preambles. But his presence was welcome, though there is never a guarantee that next year's series will proceed as smoothly. The schedule is snug, and here's an advance warning: Mickelson left the BMW Championship without imparting any love on Rees Jones' re-creation of Cog Hill GCC. Mickelson enjoys East Lake, which was pelted by 15 or so inches of rain the previous week, only a fraction of what hit some neighboring areas. With death and destruction rampant throughout the Southeast, there would have been scant sympathy for golfers complaining about soggy conditions, even if there had been something to complain about. The course played long because it was damp, but otherwise held up remarkably well considering serial deluges.
Mickelson was not the only beneficiary of putting tutorials. Sean O'Hair, who took third Sunday, played a practice round with Woods and absorbed a tip that was in effect an extension of what O'Hair's coach, Sean Foley, has been teaching. "I tend to deloft the putter taking it back, and he was kind of trying to get me to add loft so I can release through," said O'Hair, who made a 55-footer Thursday en route to a 66 that provided a one-stroke advantage over three others, including Woods.
Tiger said he shared knowledge with O'Hair for a good reason—"he's my friend"—but it was Woods who missed consecutive putts from about five feet Friday (for eagle on No. 15, and birdie on No. 16). Although more accomodating than he intended to be, Woods still posted 68 to lead by one over O'Hair and Padraig Harrington. Woods' 69 Saturday was just unspectacular enough to allow Perry a passing lane, which he pounced on with a start of four consecutive birdies and seven in all for 64.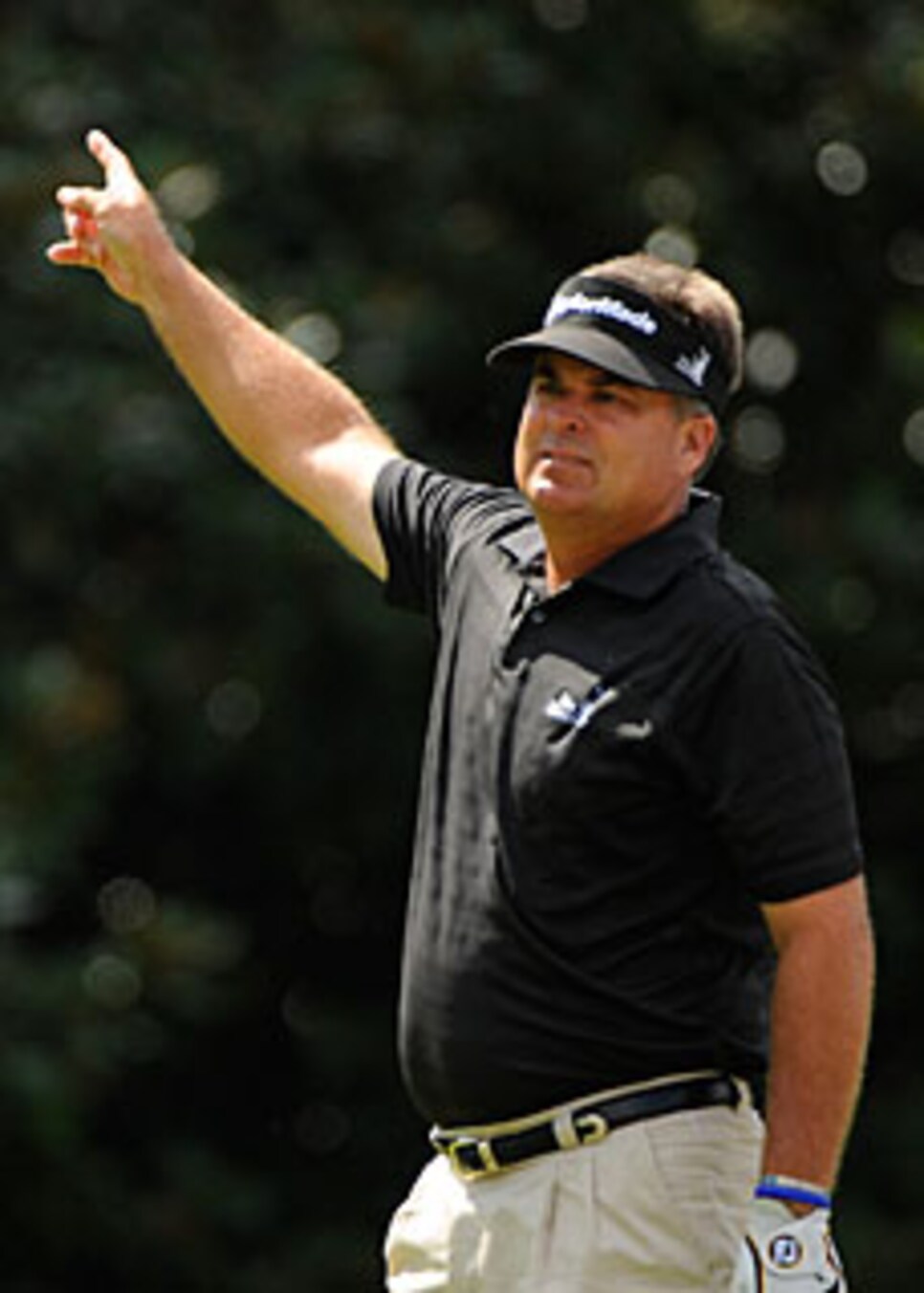 Mickelson, who will play abroad after the Presidents Cup, looked visibly different over his putts as soon as he showed up at East Lake. He was also quite perky about his sessions with Stockton, sheik of the short stick who was in Mickelson's backyard with the LPGA the week before the Tour Championship. Stockton has worked with Michelle Wie, among others.
"I wound up seeing him for two days, and I'm very excited about the results," said Mickelson, who appeared to be less erect and lower in his stance. "Actually, I think it looks that way maybe because my feet are wider. He also had me dwelling on getting my hands ahead of the ball, and going through it lower. How many times have I heard I forward press too much? He said other guys can putt other ways, but this is the way we putt. It's more feel, more visual, less mechanical than I had been, and more like I used to putt when I was a kid."
Mickelson was chipper, especially when inclement weather forecasts caused early tee times Saturday—all the better for him to watch alma mater Arizona State play (and lose) that night at nearby Georgia. And a good call it was by PGA Tour rules/weather cog-noscenti. Shortly after players finished an uninterrupted third round at 2:30 p.m., another epic rainfall doused Atlanta. Mickelson seems pumped about the upcoming Presidents Cup and says all arrows are pointing up for wife Amy and mother Mary, both of whom are fighting breast cancer. Phil is noncommital about whether wife Amy might pay a short visit to the team in San Francisco. If she does show, it almost certainly will not be on the course.
"I'm looking forward to the offseason," said the left-hander, "and now that I feel like I have some direction with my putting, I'm looking forward to next season."