News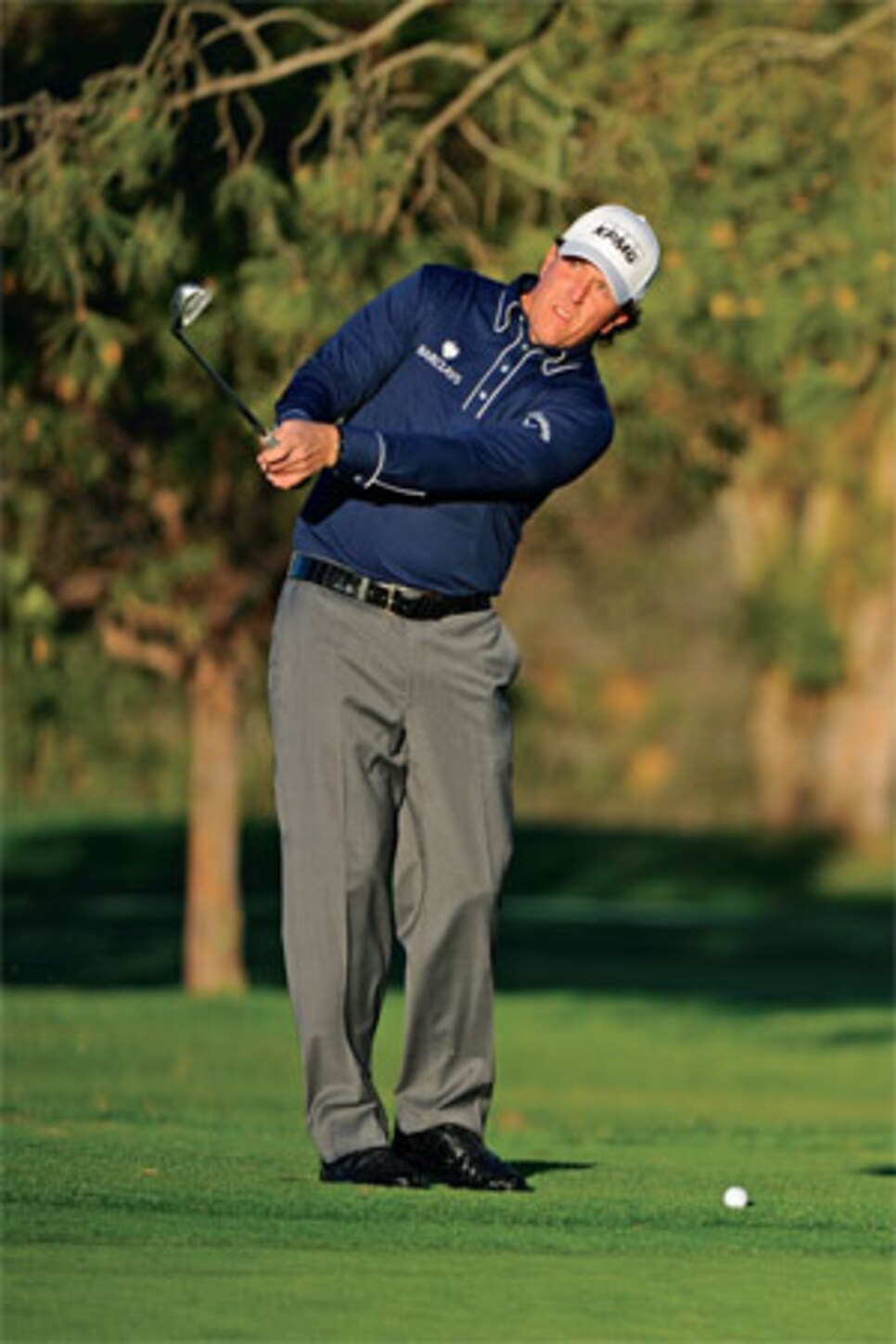 Happy New Year: Mickelson, who tuned up with Dave Stockton at Torrey Pines Jan. 24, is bullish about 2010.
Phil Mickelson is usually good about responding to text messages, and that was the case Jan. 5, when he replied to an interview request for this story. But this answer was different. There was no back and forth, no acknowledgement of the holidays, none of the usual banter, just a dodge: "In hibernation. Checked out 'til 23rd."
That day would be the Saturday before the Farmers Insurance Open, when Mickelson would visit with Dave Stockton at The Bridges in Rancho Santa Fe, Calif. It would be one of the final tuneups for the world's second-ranked player before his return to the PGA Tour at Torrey Pines five days later. That's when Mickelson would flip the switch, illuminating a public spotlight that had dimmed since he won the WGC-HSBC Champions in China in November. It would be the beginning of an extensive West Coast swing for Mickelson, who hopes to celebrate not just his 40th birthday (June 16), but also his 40th tour win (he has 37) in 2010.
Flush with confidence thanks to Stockton's work on his short game, Mickelson is anxious to return. "It's the most juiced to play I've ever seen Phil," says Butch Harmon. "First of all, he couldn't have finished [2009] any better. He won his last two [starts] against great fields, and he could have won the first two majors if he made a putt here and there. He's so hyped-up that I'm a little worried. He's sitting on 'G,' waiting on 'O.' ''
When the curtain went down on the 2009 season, Mickelson had very clearly sent a message he was ready for '10. In two head-to-head battles to close out the year, Mickelson blew by Tiger Woods with a 66-65 weekend at the Tour Championship and held him off -- along with a late-faltering Ernie Els -- in China. That win was Mickelson's first while paired with Woods in the last group. "High expectations" were the words Mickelson used for the upcoming season.
The Woods scandal tempered but couldn't dampen Mickelson's enthusiasm. Their rivalry won't resume at Torrey Pines, where either Woods or Mickelson has won eight of the last 11 years, because Woods remains on hiatus. "I appreciate all Tiger has done for the PGA Tour and myself and Amy," said Mickelson, who, true to his word, answered questions on Jan. 23. "I think a lot of Tiger and Elin, and hope [they are] able to get on with their lives together. I hope Tiger can come back and be a part of the PGA Tour soon."
Totally overlooked now in the heightened anticipation of Mickelson's return is that he wouldn't be in this frame of mind had his wife, Amy, and mother, Mary, who were diagnosed with breast cancer within six weeks last year, not been treated successfully and given good prognoses. "I've had a great off-season, a great few months to be with Amy and the kids," Mickelson said. "I expect [2010] to be one of the best years I've had. In the last three years with Butch, I've taken a weakness, which is driving, and turned it into a strength. I'm driving it longer and straighter than I've ever hit it. That sets up the entire golf course for me. Now [I'm] starting to capitalize on it with my putter, and scores are starting to reflect it."
Already believing poor putting cost him the Masters and the U.S. Open, Mickelson's frustration was exacerbated by playoff showings in New York, Boston and Chicago, which, cumulatively, left him open to suggestions. Fortunately, caddie Jim (Bones) Mackay had one: Call Stockton. "My take on Stockton was that he used a forward press, he putted like an old-school putter, made a big name for himself in the game as a putter, and I always heard he was a down-to-earth guy," says Mackay. Not knowing where Stockton lived, but that like Phil, he was a Southern California resident, Mackay found the number.
Conveniently, Stockton was five miles away from Mickelson's home when the call was placed, working with Yani Tseng at Torrey Pines during the LPGA's Samsung World Championship.
Extremely loyal -- as evidenced by the way he agonized about leaving Rick Smith for Harmon in 2007 -- Mickelson had a hard time choosing Stockton over his long-time short-game coach Dave Pelz. But after a T-30 at the BMW Championship, it was time to make a change.
"In the [first] conversation over the phone, he said he was 'lost,' " Stockton says. "That was his opening salvo to me."
For some members of Mickelson's camp, the call to Stockton was long overdue. The consensus is that while Pelz's statistical breakdowns were good for Phil's anaytical mind, the overall result was too much clutter -- and fatal decisions like not using his driver during the first two rounds of the 2008 U.S. Open at Torrey Pines, the longest course in Open history.
Mickelson and Stockton spent two days together at The Bridges last September. Stockton widened Mickelson's stance and got him to look at the hole while he was going into his pre-shot routine. He also had Mickelson return to triggering his stroke with a forward press, which he used in his youth. "One of the things that always confused me a little bit is that Phil always putted open and closed [with the blade]," says Pete Coe, the head pro at La Jolla CC and a friend of Phil's since he was a teenager. "The way he putted with Dave Pelz was more of a straight-back-and-through motion. I always felt it was quite contrary to what Phil had done naturally, and to what Dave Stockton has done. It took Stockton to get through the stubborn part of Phil's head."
Four days later in Atlanta, prior to the Tour Championship, Mackay went to dinner with Steve Loy, Mickelson's long-time manager. Loy, who has been through the highs and lows of Mickelson's career since coaching him at Arizona State, was ecstatic as they drove to the restaurant. "He could not believe how good Phil was putting," Mackay says. "That has always been the amazing thing about Phil. He puts things into play very, very quickly whether it's swing or short game."
For the year, Mickelson had made only 13 putts longer than 20 feet. In four rounds at East Lake, he made six from beyond that distance, finished first in putts per GIR and won by three strokes over Woods. Returning from his post-round TV interview with NBC, Mickelson walked past Mackay and, without breaking stride, said loud enough for all the reporters to hear, "Best call you ever made."
After winning at East Lake, Mickelson explained why the Stockton technique resonated with him. "How many times have I heard 'You forward press too much?'" he asked. "[Stockton said] 'Nobody will putt as well as you and I with our hands like that because we're leading with the back of our hand. Other guys can putt other ways, but this is the best way to putt.' Once he said that, I said, 'Yeah, that's right.' I've always believed that. So I went back to it, and it has been a night-and-day difference for me."
It was clear not only in his gait but his execution that Mickelson had been transformed. "It made him look at the golf course differently, so he didn't have to try so many phenomenal shots and go at dumb pins," says Stockton. "When we worked the first time, I realized he was very open, very analytical and he picks things up so quick."
Six weeks later during the final round in China, Mickelson made the biggest putt of his year on the 16th hole, a 15-footer that required a difficult blend of break and speed to drop into the cup for a momentum-saving par. Watching from his home east of Los Angeles, Stockton, who had become a putting instructor only because shoulder surgery halted his playing career, had just been given a 68th birthday present. "It hasn't even been ingrained yet," he said at the time.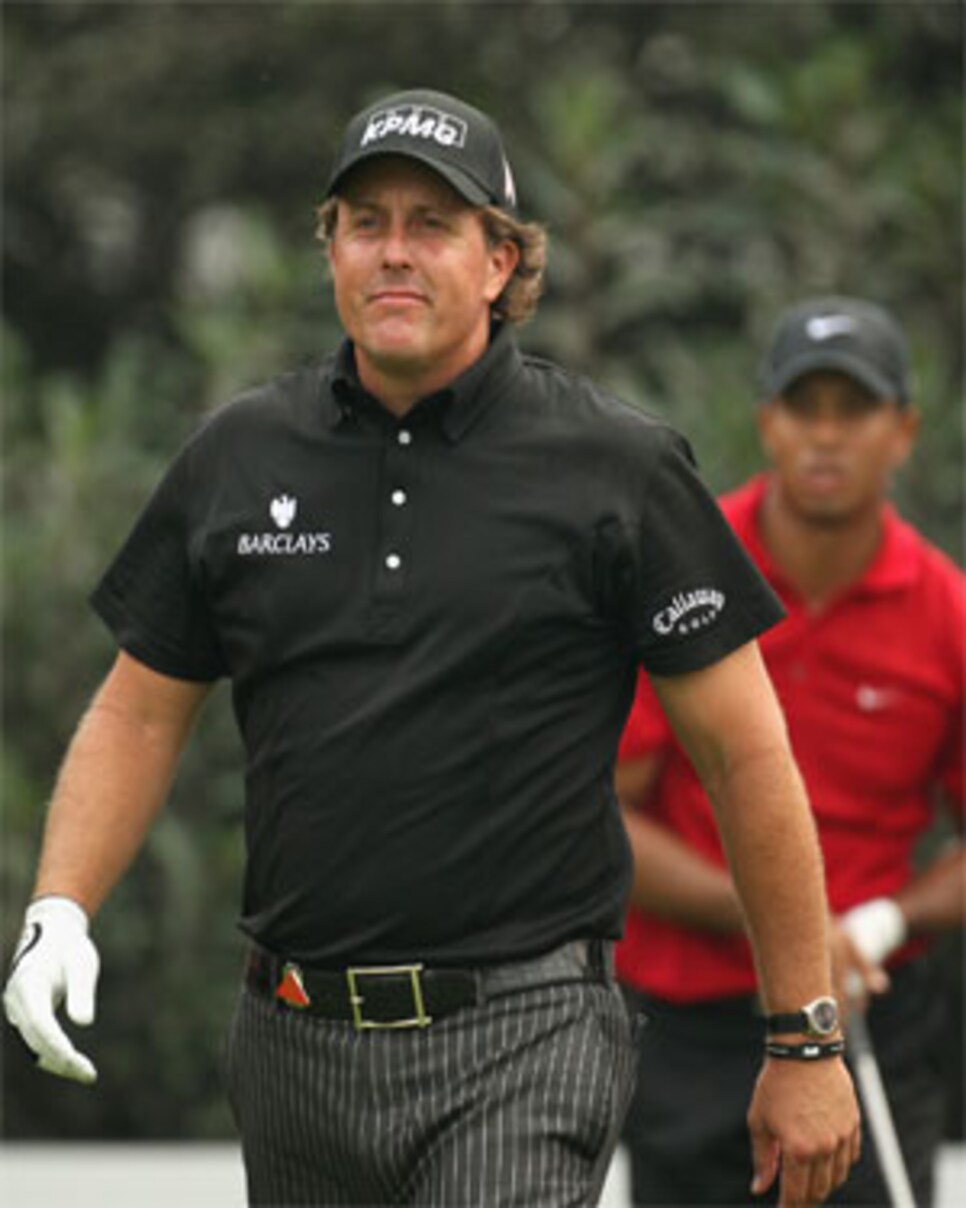 Why the Stockton-Mickelson connection? There are many reasons, starting with their Southern California roots. From Stockton's perspective, he could see a little of himself in Phil. Mickelson's three major titles take a back seat to Tiger's 14, and Stockton, who won two majors in the Jack Nicklaus era, could relate. But what really drew Stockton close was the way Mickelson played to the fans.
"I admire his enthusiasm," Stockton says. "To me he's a guy who wears a white hat with the gallery. They're glad he's there, he's glad they're there. He gives [of] himself, much like Arnold Palmer did."
The bond between Stockton and Mickelson began at the 2008 Ryder Cup in Louisville, when they were seated with their wives for a dinner at the Muhammad Ali Center prior to the matches. Stockton, captain of the "War By The Shore" victory by the United States in 1991, sensed Mickelson's lack of passion for the event and predicted he would feel differently at the end of the week.
"I told him, 'You're going to see a totally different Ryder Cup at Valhalla,' " Stockton recalls. "On Sunday night [after the 16½-11½ U.S. victory] he said, 'Yeah, I can see what you are talking about.'" Stockton said he could see Mickelson's leadership qualities come through in the 2009 Presidents Cup at Harding Park. Phil went 4-0-1, taking on three struggling partners in Anthony Kim, Justin Leonard and Sean O'Hair, counseling Kim behind the scenes about his behavior and making O'Hair feel comfortable by offering to use his brand of ball in foursomes. "That's exactly who Phil is," Stockton says.
As for this winter's hibernation, that was just from the media. One day after sending his text message, Mickelson visited Stockton at the Madison Club in La Quinta, Calif. Among the tour pros gathered to work on their games was Peter Jacobsen.
"You're the man now!" Jacobsen said. Woods was very much the topic of conversation, but Mickelson wouldn't be drawn into it.
"I'm not the man," he said.
As Woods remains off camera for an indefinite time, Mickelson will be a prominent figure on the West Coast, skip the Honda Classic, and then defend his title at the WGC-CA Championship in Miami. Prior to Woods' absence there was talk of a Tiger Slam, with majors on three of his favorite courses. But little was made of the fact that Mickelson has two green jackets and three wins at Pebble Beach, site of this year's U.S. Open. In addition, Stockton believes the chipping technique Mickelson has been working on will make him a factor at St. Andrews (British Open) and Whistling Straits (PGA Championship) as well.
During the three-hour session at the Madison Club, they worked mostly on chipping. Stockton showed Mickelson a low chip that will make the ball bite and convinced him that his trademark flop shot has too much risk. "He's so good [at the flop shot] that he uses it when it's not advantageous," says Stockton.
He talked about a shot Mickelson played in the Presidents Cup, where he stood close to the ball, with just the toe of the club on the ground, and got it up-and-down on a drivable par 4. "Guess what the British Open requires?" Stockton asks. "It's going to play right into his hands, once he discovers that's how you play."
The January session at The Bridges was the teacher and pupil's first opportunity for a short-game showcase since Stockton's hospitalization in December for blood clots in his lungs. Trash talk via text messaging gave way to a real live test. Phil won in putting. Stockton won in chipping and pitching. "He got me in overtime," Mickelson said, proud that his instructor had that much skill.
The next day Stockton walked 12 holes with Mickelson at Torrey Pines South. Carrying his bag, Mickelson was walking to the 12th hole when the grounds crew, working in a washed-out bunker, shouted encouragment. Phil stopped for a chat. "He's a hometown favorite, and he seems like a cool guy," said crew member Lamont Pargo, who stopped raking as Mickelson and Stockton went to work against a cloudless blue sky.
Stockton's easygoing nature will make it easier for him to interact with Pelz, who remains part of Mickelson's inner circle. Mickelson had just returned from Austin for a one-day session with the former scientist."[All this work] wouldn't mean anything without the foundation I built with Pelz in my practice routine and drills," Mickelson said. "Where Stockton has helped me is getting back to the feel and the touch and the vision [I had when] I was a kid."
According to Harmon, Stockton has been a welcome addition to Team Mickelson.
"Dave has a good way of saying things, has really hit Phil beautifully," says Harmon. "It's the most confidence I've seen Phil have. Now, having said that, you have to go deliver, you have to step up and play."
Mickelson's hiatus included a round at Riviera where he has won consecutive Northern Trust Opens. He has been dedicated in his work with Sean Cochran, his trainer, but shows no anxiety about turning 40. "Nowadays guys are playing such good golf well into their 40s," Mickelson says, referencing Kenny Perry and Vijay Singh. "The biggest thing for me, the difference in my game from where it was, [is my] confidence level is at an all-time high."
Could this be Mickelson's best year ever? That's for others to determine. "It's totally sad that Tiger is not playing a normal schedule, because there are always going to be questions," says Stockton. "In my heart, I wish nothing changed, Phil could take on Tiger and we could see who does what."