News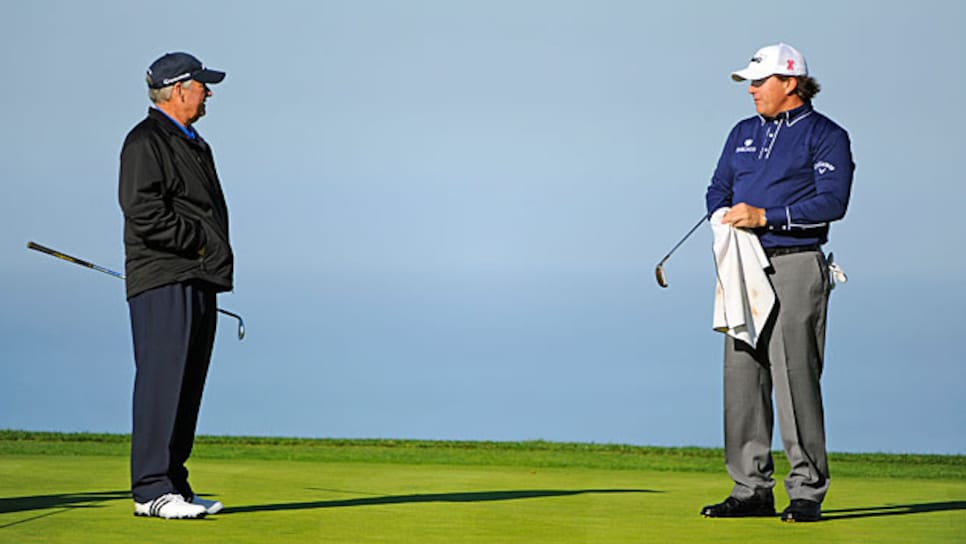 Phil Mickelson's work with Dave Stockton has been integral to his recent resurgence.
LA JOLLA, Calif. -- Lamont Pargo was applying his rake to a washed-out bunker face on the 12th green at Torrey Pines Sunday morning when into the scene walked none other than Phil Mickelson. Carrying his own bag, as he did as a kid on this property three decades ago, Mickelson stopped to give Pargo and his crew some face time, before resuming his work with short-game instructor Dave Stockton.
There was a connection. Even if it were just for a couple of minutes, Phil stopped what he was doing to acknowledge the words of encouragement coming out of Pargo's mouth and echoed by the chorus of workers who recognized Mickelson as well.
"He seems like a cool guy," Pargo said. "Like somebody you want to hang out with."
Part of the bond in this part of the world has to do with the Chargers. Two weeks ago their season came to an end about 15 miles from Torrey Pines, when the New York Jets came to San Diego and pulled off an upset. So in the wake of that, Mickelson has become their only team playing right now.
But beyond the hometown hero part is the part that Mickelson showed in his early morning tune-up with Dave Stockton, the 68-year-old two-time PGA champion. It was the interaction with the maintenance crew, the guys in the 6:45 a.m. pro-am, and the head of the Century Club, who came out for a photo on his Blackberry.
As Stockton told me for a piece that will run in this week's Golf World, "To me he's a guy who wears a white hat with the gallery. They're glad he's there, he's glad they're there. He gives himself, much like Arnold Palmer did."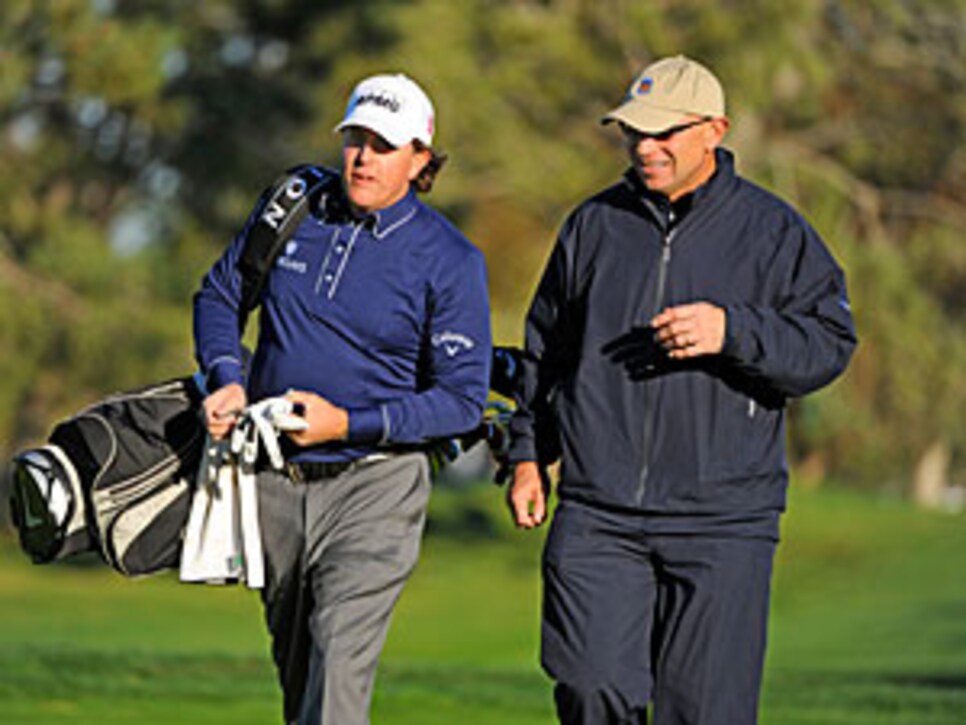 Golf needs that right now. On Wednesday, Mickelson is going to be in the media tent at Torrey Pines to talk about this upcoming season, a season in which he turns 40, with his 40th career victory only three wins away. The U.S. Open is at Pebble Beach, where he's won three times. The Masters is only eight weeks away, and as Phil said and showed in those 12 holes with Stockton, his confidence has never been higher.
Now, we all know golf. As soon as you get cocky, it knocks you down. I wouldn't call Phil cocky at this point, because if anybody in the game knows about being knocked down, it's Phil. There's a difference between cocky and confident.
I was talking to Butch Harmon about this at a party hosted by his brother, Billy, Sunday night back in La Quinta. Harmon indicated that the only thing he's worried about is that Phil may be too amped up coming out of the blocks. He has never seen Phil this "juiced up."
But the part about it that Phil also gets is the need to keep the game alive, or at least keep it humming until Tiger Woods returns and the U.S. corporate economy straightens itself out. He wishes more than anybody that Woods wouldn't be where he is right now; at the end of 2009, he actually had Tiger's number, beating him at the Tour Championship and HSBC Champions event in China, bombing it – yes, bombing it -- past Woods when paired together.
Phil has this six-degree Callaway driver working. He took a half degree off last year's loft because of a golf ball he's using that spins more than last year's model. At heart, Phil is a real techie, and with the Callaway Test Center just up the freeway from his home in Rancho Santa Fe, he's been in there all winter not only working on a new set of irons, but also a set of Ping Eye 2 lob wedges that he's bent from 60 to 64 degrees.
As we worked our way around the back nine, Phil asked me to drop down a ball in the rough with a flyer lie. We were 145 yards away, his 9-iron yardage. "Watch this, the ball will come out dead," he said. His shot landed 10 inches behind the hole and spun back to seven feet. So much for the flyer.
"I'll have more spin this year than last year," he said, eyebrows raised, along with the corners of his mouth.
The Pings may or may not see time in his golf bag on Thursday. He's going to take some temperatures, see how the use of these clubs, grandfathered into the new groove rule, is going down among other pros, and whether he's comfortable going forward with them. He confessed that after seeing stories from the Sony Open about John Daly using them, he went down to his garage. "I've got a boatload of them" he said. "Pitching wedges, sand wedges, lob wedges. I've got whole sets."
One of the things we talked about at Torrey is how I felt he was underrated when it comes to smart or strategic work. Phil offered that he has always tried to work on what he was weakest at, and driving the ball (see: Winged Foot '06) was why he went to Harmon three years ago.
Guys on tour don't do that, Phil said. He mentioned a top player who is awful at chipping, yet how he never sees him chipping, only hitting his driver. As long as that's going on, he feels like he's got an edge. He also talked on background about what he did to improve his bunker play, allowing him to shoot up over 100 spots in the PGA Tour rankings. Mickelson spoke only in generalities because he didn't want to give up one of Pelz's statistical nuggets. While we were going through this, he was playing holes like a kid, with the whole golf course to himself.
Stockton was obviously the last and perhaps the most important piece to the puzzle, because by getting Mickelson back to putting like he did walking these grounds in the old days is what triggered this exuberance last September.
What's good about the Mickelson-Stockton relationship is that it's like the Mickelson-Harmon relationship. There's a lot of respect there, and neither Butch nor Dave suffer from being yes men. Mickelson is listening, but he's his own man, and like all the great ones, is guilty of being extremely stubborn. As you'll read in Golf World, that's why Pete Coe, the pro over at La Jolla, was one of Phil's friends glad to see him make the move over to Stockton.
Where Pelz got sideways with the Mickelson camp was over his philosophy in putting style. Instead of blocking putts, as he did for the last two years, Phil is forward pressing and his ball is releasing end over end in these bullets toward the hole. But what's apparent is that Pelz still has value to Mickelson, and hearing about some of the drills and stats he has laid on Phil, I can understand why.
So it's one beautiful cosmically aligned passage in time as 2010 approaches for Mickelson. There's even a Farmer's Insurance logo already up over the clubhouse at Torrey and believe me, Phil has done his research. He knows the CEO's name, his background, the relationship between Farmer's and another tour sponsor, Zurich, and how much they all put into Katrina Relief.
So, yes, Phil has been doing his homework this off-season, in many ways. And whether it's the guy raking the bunker or sitting in front of a board of directors, he's got a way of making everybody feel important. That's a gift, like Mickelson's talent, that you can't fake.