News
Mickelson To Return Next Week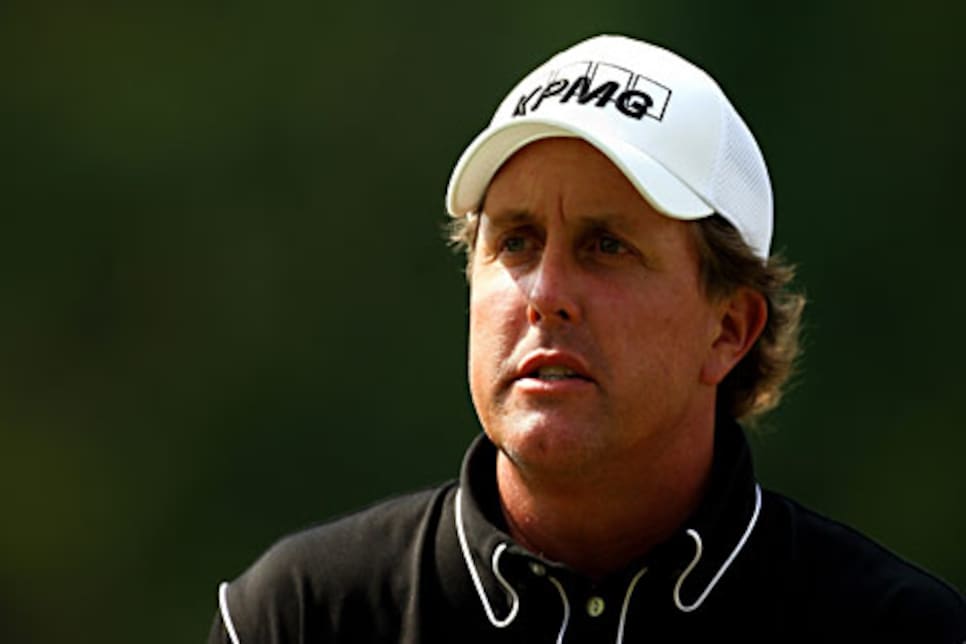 Although set to play Memphis and Bethpage, Phil Mickelson's schedule is up in the air after that.
Phil Mickelson emerged as the people's choice of the People's Open at Bethpage in 2002. Imagine what the reception will be like when he returns in two weeks while wife Amy awaits breast cancer surgery. Golf World has learned that Mickelson will be back in competition next week at the St. Jude Classic in Memphis as a tune-up for the U.S. Open.
According to sources, Mickelson is basing his schedule on Amy's latest tests and an anticipated surgical date of late June or early July. Beyond a return to Bethpage, where Mickelson finished second in '02, the schedule is day-to-day and will be based on Amy's surgery, treatment and recovery. In other words, the British Open is still up in the air.
The Mickelsons received encouraging news last week that doctors believe they discovered Amy's cancer early, and were uplifted by the "Pink Out" on Saturday at the Crowne Plaza Invitational, where Phil was unable to defend.
Mickelson teeing it up at Bethpage in the midst of a family crisis will add another chapter to his curious history in the national championship. Ten years ago at Pinehurst No. 2, Mickelson was in contention while Amy was expecting their first child, and he insisted he was prepared to leave the moment she went into labor. He ended up making it to the 72nd hole on Sunday, only to lose by a stroke when Payne Stewart rolled in a 15-foot par putt.
At Bethpage three years later, Mickelson forged an unlikely bond with the New York crowd as he attempted to chase down Tiger Woods on the weekend, but wound up the runner-up by three shots. Despite capturing the 2005 PGA Championship down the road at Baltusrol in New Jersey, the trend of Open near-misses would continue in New York -- at Shinnecock on eastern Long Island in '04, when a double bogey on 17 on Sunday opened the door for Retief Goosen; and then in most heartbreaking fashion at Winged Foot in '06. Needing a par on 18 on Sunday to capture his first Open, Mickelson instead made another double bogey to lose to Geoff Ogilvy by one.
That evening during the awards ceremony, Mickelson proclaimed himself an "idiot" to the crowd for his 72nd hole misadventures. When he returns to the metropolitan area in two weeks, presumably preoccupied with much more than golf, he is likely to be seen as anything but.