News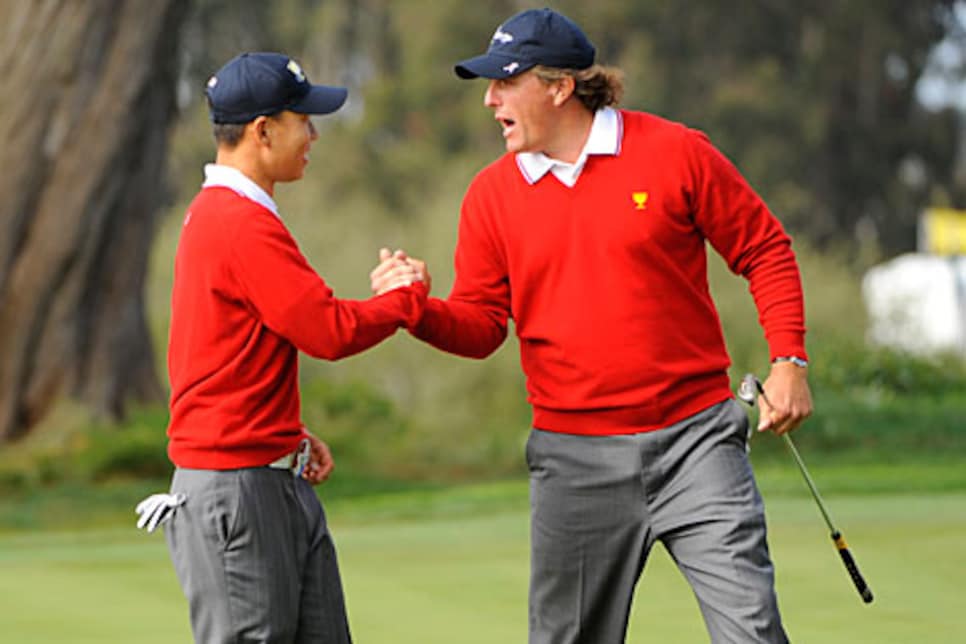 attitude adjuster: While Anthony Kim hopes to be a staple of U.S. teams for years to come, Kenny Perry could be looking ahead to a role as captain.
Early last week at the Fairmont Hotel in San Francisco, Phil Mickelson knocked on the door of Anthony Kim's room for a heart-to-heart talk. The details shall remain private, but it was no secret behind the scenes that Kim, struggling for much of 2009 after his breakout 2008 season, brought a bad attitude with him to the Presidents Cup. Plenty of people in the U.S. entourage noticed Kim was in a funk, but it was Mickelson who decided to address it.
"He's a more sincere guy than most people think," Kim said outside the team cabin at Harding Park Sunday night. "It was almost like having a big brother when he came into my room and asked me how I was doing, what was going on with my game and everything else in my life. It was something he didn't need to do, and I'm appreciative of that."
Kim's game showed signs of life, and he ended up going 3-1-0 in another lopsided cup victory for Team USA. But the straightening out of a mixed-up 24-year-old was only one example of how Mickelson—whose "know-it-all" attitude has in the past rubbed peers the wrong way—earned him honorary assistant captain Michael Jordan's vote as the American team's MVP.
Sean O'Hair became Mickelson's next patient. From the start Mickelson went out of his way to make the 27-year-old Cup rookie feel comfortable, from agreeing to use O'Hair's TaylorMade ball in their foursomes match (Mickelson plays Callaway), to including O'Hair when he and caddie Jim Mackay read putts. This attention from such a respected veteran appeared to ignite O'Hair. After starting a disappointing 0-2, he earned 2½ points on the weekend, including a 6-and-4 dismantling of Ernie Els in singles. By then O'Hair's high-stakes losses to Jordan in their early-week practice rounds were a distant memory.
And it wasn't just the young kids on whom Mickelson had an effect. He teamed with Justin Leonard in Friday's four-balls (surprisingly, the veterans' first-ever Cup pairing), one day after Leonard's missed three-footer at the 18th hole cost him and Jim Furyk a win in their foursomes match against Retief Goosen and Y.E. Yang. Mickelson, the eternal optimist Leonard needed whispering in his ear, turned his partner's attentions forward instead of backward, and the Texan responded with a birdie on the match's opening hole.
In short, Mickelson played the exact role Jordan did for the six-time NBA champion Chicago Bulls. No coincidence there—long known as one of Tiger's closest friends and guideposts, Jordan spent the week bonding with Mickelson. At night the two legends would sit up playing gin rummy and talking a little trash, and Jordan came away impressed.
"He did a great job with all of that," Jordan said, talking about the way Mickelson led. "He could easily be the MVP of the whole team. He took guys who weren't playing well and basically gave them the confidence to play well, and obviously he played great and helped [his partners] get on the winning track. That's what leaders do. Leaders take guys who need the confidence, need the lift for the benefit of the team, give them the motivation, the confidence that they're important factors. He exhibited that all week long, verbally as well as in his actions. As a leader, that's what you do."
As Jordan pointed out, Mickelson walked the walk as well, turning in a 4-0-1 record (his best in 15 career Ryder and Presidents Cup appearances), continuing the sizzling play that began with his victory at the Tour Championship. Since receiving a putting lesson from Dave Stockton before that tournament, in which Stockton widened Mickelson's stance and exaggerated his forward press, the left-hander has been putting with the bold effectiveness he showed in his college career at Arizona State.
Gone is the tentative stroke that cost him the U.S. Open in June—and the disinterested demeanor that only recently was such a drag on American Cup teams. Perhaps the reason Mickelson can easily counsel players like Kim and O'Hair is because he experienced his own growing pains playing for Uncle Sam. Between 2003 and 2006, Mickelson went a combined 4-12-3 in the Ryder and Presidents Cups, including the memorably disastrous first-day pairing with Woods at the 2004 Ryder Cup at Oakland Hills. But that was before the introduction of the FedEx Cup. One of the benefits to the PGA Tour's season-ending playoffs is that it has kept players engaged later into the season, but the effect on Mickelson seems particularly pronounced. He no longer shows up for team competitions having not touched his clubs for a month, and it shows: He is 7-3-5 since the 2007 Presidents Cup.
"One of the things that's consistent with Phil, is that he's quite happy to take the odd man out," said Frank Nobilo, assistant captain of the International team. "In the past he didn't deliver at the same time he was doing it. This week he really did take that role, and plus he played well. So yeah, I see a maturity in Phil. I'd like to think that's part of being a parent and growing up, and all that."
Mickelson will still have his much-cherished family time. Wife Amy, continuing treatments for breast cancer, surprised him Saturday night by flying up the coast from their Southern California home. (U.S. assistant Jay Haas said it was like a "little angel dropping in" for a visit.) Now Mickelson will go into his annual off-season hibernation, to help care for Amy, their children and his mother Mary (who also was diagnosed with breast cancer this year), not to be seen on the PGA Tour until early in 2010.
The difference? Unlike some recent seasons, he leaves riding the high of one of the most fulfilling weeks of his career.