News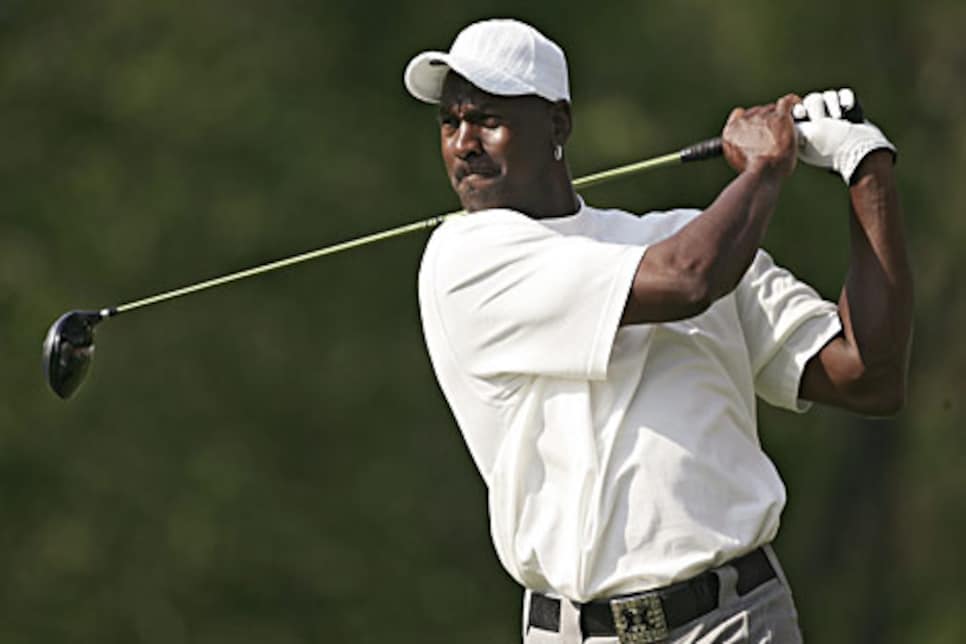 Couples knows Jordan isn't going to teach his team much about golf, but he might teach them more about how to win.
SAN FRANCISCO -- What's the over-under on how many cigars Michael Jordan goes through when he's playing golf?
About three, judging from the Presidents Cup practice round he played Monday at Harding Park with U.S. captain Fred Couples, along with Lucas Glover, Hunter Mahan and Sean O'Hair.
Couples said he lost track.
"He said the more nervous he gets he starts chewing them and they go quicker, but he's always got one," Couples said.
Glover said he hadn't met Jordan until Sunday night, but was impressed with how Jordan handled himself and what he may have to offer.
"He's a pretty easy fellow to be around," Glover said.  "He talked with each of us equally and we had a big time.
"He's been there in the highest pressure situations and he's going to be able to lend some advice about competing.  We picked his brain a little bit today about what he used to do under pressure and if nothing else, he'll be somebody to bounce some ideas off of, or ask, 'If you were nervous, what'd you do?' You can't beat that."
Couples said he's been close with Jordan for awhile and they've played a lot of golf together, but there's something greater than familiarity for choosing him as an assistant captain.
"There're certainly not going to ask me questions, because they all know me.  When I try and get serious, they all laugh at me . . . Tiger and Phil.  Michael said 'What am I supposed to do?' and I said 'You just wait.  When they get here, they'll be eating out of your hand.'  That's why he's here.  He's not here to be a show, he's not here to get in the way.  He's here because I respect him."
It seemed to be a stress-free practice round.  Jordan made a long putt and picked up some money that had been placed in the cup.   O'Hair ate a peanut butter sandwich for lunch at the 11th tee.  Mahan wore a red cap and Glover jokingly told him to get out of his way in the tee box, "Tomato top."
If this is the best way to get ready for prime time international match play, it sure seems like it is to Couples.  For sure, it's the only way Couples knows.  As a captain, he is so low-key, he's nearly off the charts.  He wouldn't have it any other way, though. Couples was in a relaxed mood as he walked up a fairway on the back nine and revealed that his game plan is already in motion.
For instance, he knows how to team up his players.
"I'm going to get a big chalkboard and they can just fill it out themselves," he said. "I've got an easy job, this is simple.  I'm not going to over-think it.  I'm just going to let them play.  Like today, Lucas asked me about the 11th hole.  I said 'I don't know.'  He said 'What do you mean you don't know?' and I said 'We'll see it when we get there.'"
Meanwhile, assistant captain Jay Haas gave Harding Park an unconditional vote of approval for its conditions.  Harding's greens, at least nine of them, have been under scrutiny since they were damaged in a fertilizer accident in late July.  Re-sodding patches of developed into a careful restoration process.
Glover said he took no exception to the condition of the greens.
"They roll a little better than they look," he  said.  "There's nothing wrong with them, they're pretty smooth and all in all pretty good . . . from what I was hearing, they were nightmares, what they were saying."