News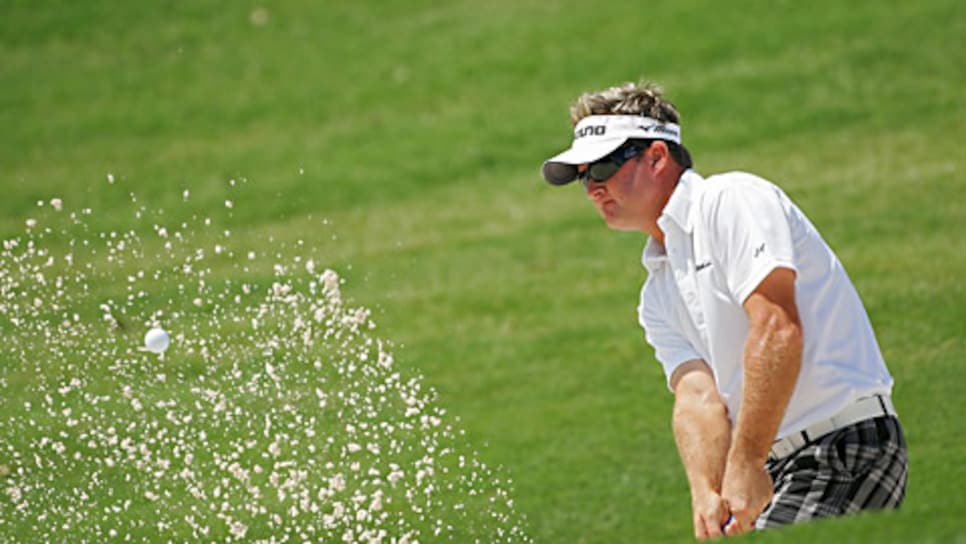 Gay's putter was the key to his win. He needed only 100 putts for 72 holes.
MEMPHIS, Tenn. (AP) -- Brian Gay played his way into the U.S. Open in his last possible chance, completing a wire-to-wire victory Sunday in the St. Jude Classic.
Gay earned his berth at Bethpage Black with his second win in his last five events and third of his career. He beat David Toms and Bryce Molder by five strokes to grab the Open exemption as a multiple winner in the last calendar year.
He grabbed the $1,008,000 winner's check at TPC Southwind in runaway style, too.
Gay led by only a stroke after each of the first three rounds, then shot a third straight 4-under 66 to pull away. He birdied three of the first six holes to take all the suspense out of the final round, and birdied the 18th to finish at 18-under 262.
Phil Mickelson, in his first event since announcing wife Amy has breast cancer, and John Daly, returning from a six-month PGA Tour suspension, tied for 59th at 1 over. Mickelson closed with a 75, and Daly shot a 70.
Toms finished with a 65, and Molder had a 70. John Senden (64), Paul Goydos (68) and Robert Allenby (69) tied for fourth at 12 under.
"It was a pretty good golf tournament except for one guy stealing the show," said Toms, the tournament winner in 2003 and 2004.
It wasn't as large a victory as April when Gay won by 10 at Hilton Head. It just felt like that on a day where no one could get close enough on wet fairways that stopped balls with almost no roll. Officials had moved up the start by four hours hoping to beat incoming storms that popped up in the morning to delay the start of the final round -- by four hours. It didn't rain again.
And Gay put away the win with his putter.
He needed only 100 putts to become only the fourth wire-to-wire winner in the tournament's 52-year history and the first since Justin Leonard in 2005. The others include Bob Estes in 2001 and Dave Hill in 1967 -- back when the event was played at old Colonial.
Gay originally planned to be off during the Open after he failed by three strokes in qualifying. Now he has become the fifth with two wins on tour this year, joining Mickelson, Zach Johnson, Geoff Ogilvy and Tiger Woods.
Gay started moving away on the par-3 fourth. After his tee shot landed near the pin and rolled 20 feet past, he rolled in the birdie putt to reach 16 under. Molder hit into a bunker and bogeyed -- a swing that gave Gay a four-stroke lead. Gay rolled in a 30-footer on No. 6 and a 17-footer on No. 9 for birdies.
The club let him down on his two bogeys.
He found a greenside bunker pin-high on No. 7 and blasted out to 15 feet but two-putted. He missed a 9-footer for par on No. 10.
But Gay made up for that by sticking an iron a foot away for birdie on the par-3 11th -- the island green -- for birdie to go back to 17 under.
From there on, Gay parred six straight holes before finishing in style. He stuck an iron 163 yards from the fairway to 5 feet of the pin on No. 18, then stroked in his 27th putt of the round for birdie. He celebrated with a fist pump, a high-five with his caddie and hugs and kisses from his young daughters.
Mickelson spent the week trying to figure out how to play golf and deal with all the emotions resulting from his wife's illness. He accomplished that even if the results on course didn't. He started the final round 10 strokes and shot the 75 that featured a triple bogey, three bogeys and three birdies.
"I needed to get a little bit of play in, see where my game was at and get back on the golf course in a competitive frame of mind if I was going to have a chance next week," Mickelson said. "I'm looking forward to next week's U.S. Open.
Now he wants to focus on his putting after needing 120 putts here.
Six children treated at St. Jude Children's Research Hospital met him coming off the 18th green wearing shirts and a banner that read "Thinking of Amy." The hospital is this event's lone charity.
Mickelson talked with the children and signed their shirts.
"These are some pretty cool kids going through something we're going to go through ourselves here in a few weeks," he said.