News
Gay Holds Lead For Third Straight Day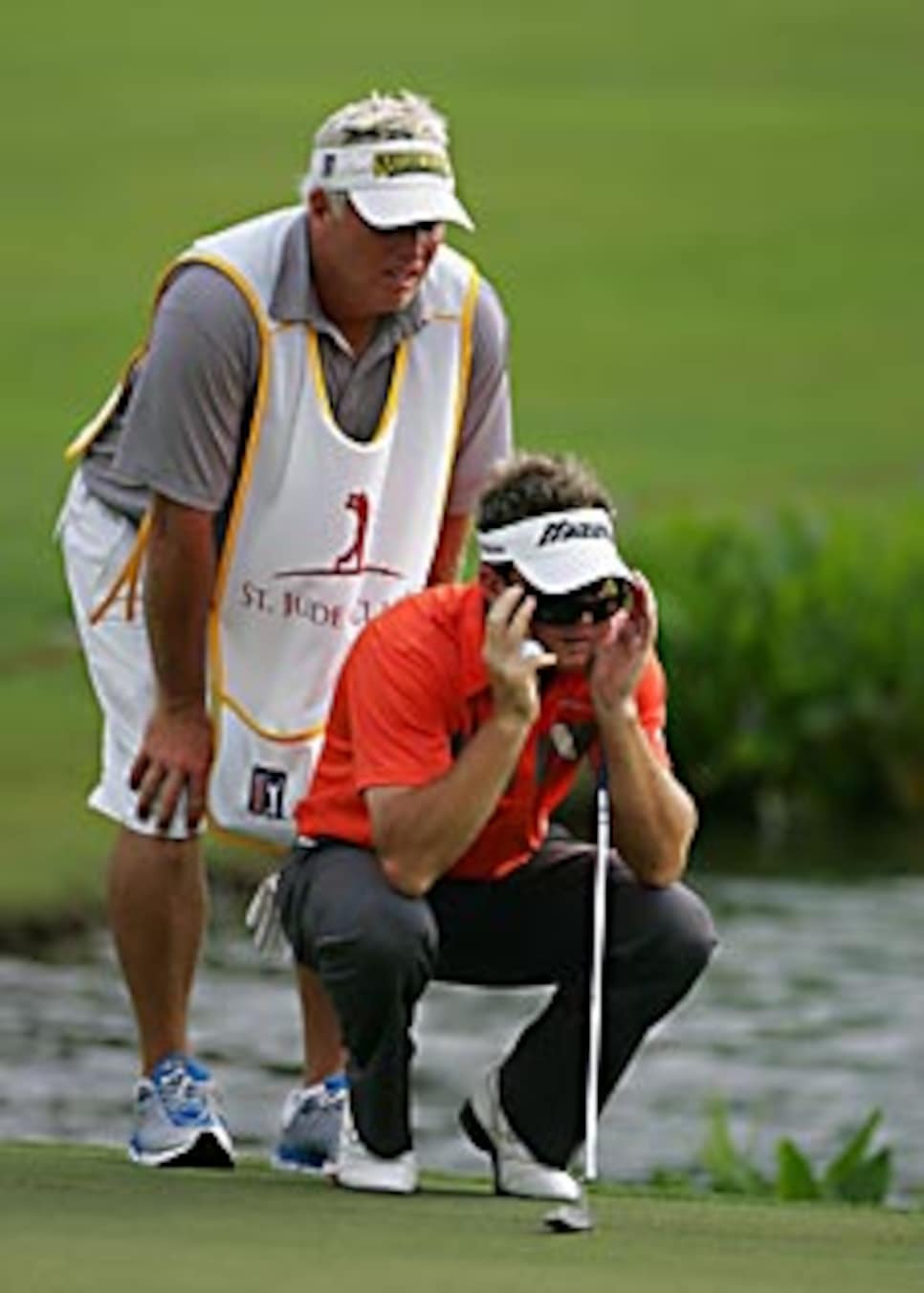 Gay, who is looking for his second win on Tour this season, shot a 4-under 66 in the third round to maintain the lead.
MEMPHIS, Tenn. (AP) -- The encouragement came at Phil Mickelson as he spent nearly 30 minutes signing autographs for fans after a steamy day that featured 21 holes.
"We're praying for you," one fan offered.
"We're praying for your wife," another said.
And Mickelson, his eyes red, kept signing even as he moved away from a shady tree to take care of people waiting patiently in the baking sun. He didn't escape to the air-conditioned clubhouse until everyone still nearby was satisfied.
It's nothing new for Mickelson, even after a long day where his putter remained balky in shooting a 2-under 68 Saturday. That put him 10 strokes behind Brian Gay -- who can punch his ticket to Bethpage Black and the U.S. Open if he finishes off a wire-to-wire victory Sunday in the St. Jude Classic.
Gay shot a second consecutive 4-under 66 to keep the lead by a stroke, this time over Bryce Molder (65) after the third round at TPC Southwind.
But it's Mickelson almost everyone here is following, the world's No. 2 drawing the biggest crowds in only his second visit to TPC Southwind. With this his first event since announcing wife Amy's diagnosis of breast cancer, those fans seem to be trying to will Mickelson to birdies that might distract him from what the couple is dealing with, if even for a moment.
"It's pretty flattering. The people here have been terrific," Mickelson said.
Mickelson started by finishing his last three holes of the second round because storms stopped play Friday, causing damage including a tree partialy downed near the 15th hole. He went birdie, bogey and double bogey. Then he had five birdies and three bogeys in the third.
"I haven't putted well the first three days. I feel like I've struck the ball well but have not been able to get it in the hole and shoot a number, a good low number and mostly because of the putter," Mickelson said. "I'll spend sometime on that in the next few days and should be able to get it ironed out for next week."
Gay came into this event among seven who had a chance to earn a trip to Bethpage Black with a win. The man who won Hilton Head by 10 strokes in April insists that wasn't his goal here. He expected to be off next week after he missed qualifying by three strokes and wasn't thinking about the Open.
"Not till you mention it. Not really. Not when I'm out there, I don't think about it. I mean it's a major. I'd love to play in it. I expected to be off next week ... I've got enough work to do here to not have to worry about that. Nothing I need to think about," Gay said.
Gay was at 14-under 196. Robert Allenby (68) was alone in third at 11 under, Paul Goydos (64) was 10 under, and Woody Austin (68), Heath Slocum (67) and Vaughn Taylor (69) were 9 under.
In this comeback tournament, John Daly made the cut on the line at even par in his first PGA Tour event back from a six-month suspension. He shot a 68 that had him 1 over.
Mickelson's goal here was to work on his game and sharpen his competitive attitude and steal a few hours respite from the whirlwind of emotions he and his wife have been dealing with over the past month.
He is hitting the ball well. His putter? Well, he needed 33 putts to finish off the second round and 29 in the third. He missed a par-saving putt on No. 18, his ninth hole, as it rolled over the left edge, and he had the perfect line on a 35-footer on No. 9 for birdie that stopped just inches short.
Mickelson said the putter will be the club he focuses on most before the Open begins Thursday. Not that he's finished just yet in Memphis.
"May come out tomorrow and see if I can get a hot putter and shoot something low," he said.
Players were pleasantly surprised at the conditions after rain soaked a course that has seen plenty of rain in recent weeks. That allowed them to attack pins.
"The job that the superintendent and his staff did, and the field staff, getting the golf course ready, pretty remarkable," Goydos said.
Even with officials sending threesomes off both tees in an attempt to get back on schedule, fans still found their way out to watch Mickelson start the third round on No. 10, yelling encouragement to him as he walked up to the tee. He looked relaxed and was smiling.
The fans stayed with Mickelson even with Gay putting on his own show on the other side of the course. He rewarded them with three birdies on his back nine, including a 13-footer he rolled in on No. 8.
It won't be easy to catch Gay.
He has carded only five bogeys this week, and his lone mistake Saturday came on 18 when his second shot from a fairway bunker hit the water. With Molder getting his sixth birdie on the same hole, a lead that had been as much as three strokes was trimmed back to one.
Gay had five birdies and was at 15 under, up by as much as three strokes during the round. His putting has been the key as he followed up 23 putts in the second round with 24. Gay has had 73 putts through 54 holes. But Molder and Allenby played almost as well.
"So I was making a comment to my caddy I couldn't get the tee box from like, seemed like nine holes," Gay said.
DIVOTS: Gay will try to become just the fourth in tournament history to win wire-to-wire. Justin Leonard was the last in 2005. This is the fourth time Gay has led or had a share of the 54-hole lead. On tour this year, 16 of 23 leaders or co-leaders after 54 have won. ... Tee times were being moved to Sunday morning with threesomes going off both tees to avoid storms expected Sunday afternoon.