News
Phil's Return: Good, But Not Great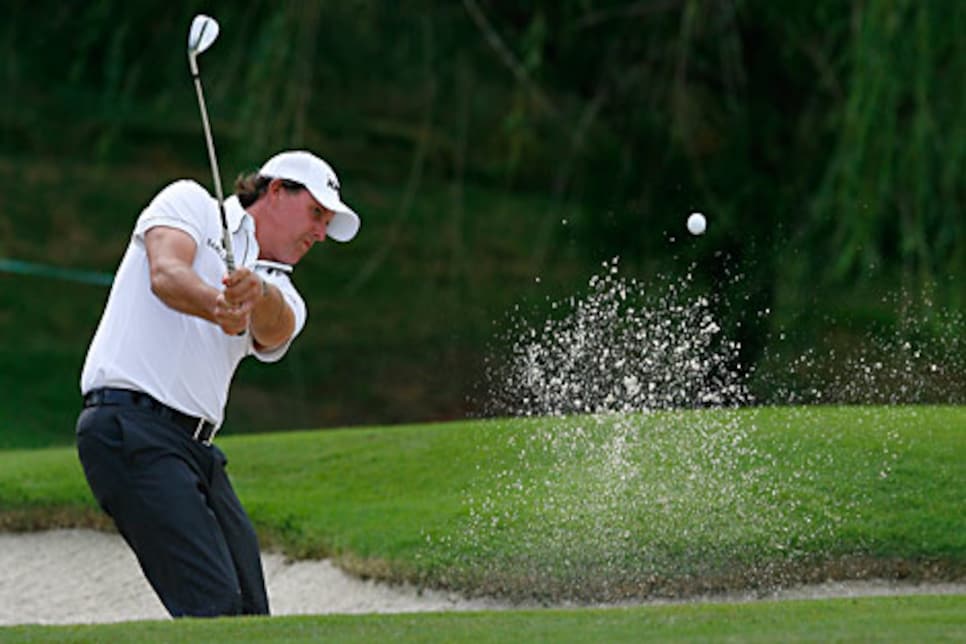 Thursday was Mickelson's first competitive round since disclosing last month that his wife had been diagnosed with breast cancer.
MEMPHIS, Tenn. (AP) -- Phil Mickelson wasted no time firing up fans with birdies on the opening two holes. Then came a sliced tee shot into the water and a nearly four-putt green. He birdied two of the last three holes.
A typical round for one of golf's most unpredictable stars.
Returning to work for the first time since disclosing last month that his wife has breast cancer, Mickelson got off to a solid start in the St. Jude Classic with a 2-under 68 that left him four shots behind Brian Gay.
Mickelson wore a pink ribbon stitched into the side of his white cap and at times looked fatigued.
Jose Maria Olazabal, a two-time Masters champion recently elected to the World Golf Hall of Fame, was the day's surprise. Still coping with arthritis pain, the Spaniard shot a 66 to finish in a group that included Rich Beem and Graeme McDowell.
Under heavy clouds that brought brief showers midway through his round, Mickelson was easy to spot because of the some 750 fans following him - one man dressed all in pink.
John Daly's comeback was for vastly different reasons, and the result not quite the same.
He played on the PGA Tour for the first time since a six-month suspension for off-course activities that brought unwanted publicity. Daly opened with eight straight pars and a birdie, but his putter failed him miserably. He followed with three straight bogeys for a 72.
"Probably the worst I've putted in five years," Daly said, wearing a neon green shirt that matched his argyle pants of green and yellow.
He offered little in how it felt to be playing before fans near his hometown in Arkansas, who followed him around the TPC Southwind and were treated to a round with few highlights, good or bad.
Gay has narrowly missed out on qualifying for the first two majors, although he has one chance left. Having won at Hilton Head last month, a victory this week would get him into the U.S. Open. He led by one shot over Jimmy Walker.
Mickelson openly shared his emotions and fears before the tournament. He was more guarded after his round Thursday, sticking mainly to his golf and the tropical vacation after the U.S. Open a week before Amy has surgery and begins treatment.
"It wasn't a great round, but it was a good start," Mickelson said. "It was fun to play a little bit."
He was particularly pleased with his group - three-time major winner Padraig Harrington and Cameron Beckman. They chatted between shots, although his talk with Harrington before the round might have been the most meaningful.
Harrington won his first two PGA Tour events in 2005 while his father battled cancer. He missed the British Open that summer at St. Andrews when his father died.
"I know when my dad had cancer, the easiest time was on the golf course because you don't have to answer any questions," Harrington said. "You don't have to explain yourself on the golf course. You've got to remember - we're quite proficient at dealing with that little white golf ball, not quite as good about explaining our emotions."
Mickelson spent seven hours practicing at Bethpage on Tuesday, then flew to Memphis for a news conference and a pro-am round. He rose at dawn Thursday for his first round on a course he has not played in eight years. But he said he felt fine, and had all afternoon and Friday morning to rest.
He could not have scripted a better start to his round, opening with an approach to 5 feet for birdie and holing a 25-foot birdie putt on the next hole, the par-3 11th.
Asked if it felt like a typical round, he replied, "Once we got going."
"I felt a little rusty, but I made a couple of birdies early, and that made it more relaxed," he said.
He made a bogey from a bunker was among the leaders until his only poor shot of the day at the worst spot, from the 18th tee. His ball went left into the pond, and Mickelson took double bogey.
He excited his following with a 3-iron around a tree and over the water on the par-5 third for a two-putt birdie, but gave that back when he three-putted the next green, having to make a 4-footer for his bogey.
Olazabal played four rounds at the Memorial, failed to make it through 36-hole U.S. Open qualifying on Monday and still hurts from injuries that have limited his play in recent years. He sure wasn't expecting a 66, or his name atop the leaderboard.
"But that's the game of golf," he said. "I played pretty solid today and managed to score well. I have to say that the greens were a little soft after the rain, and I think that helped a little bit."
Jerry Kelly and Richard S. Johnson were among those at 67, an important start because a victory by either would be a second over the last calendar year, earning a spot in the U.S. Open