News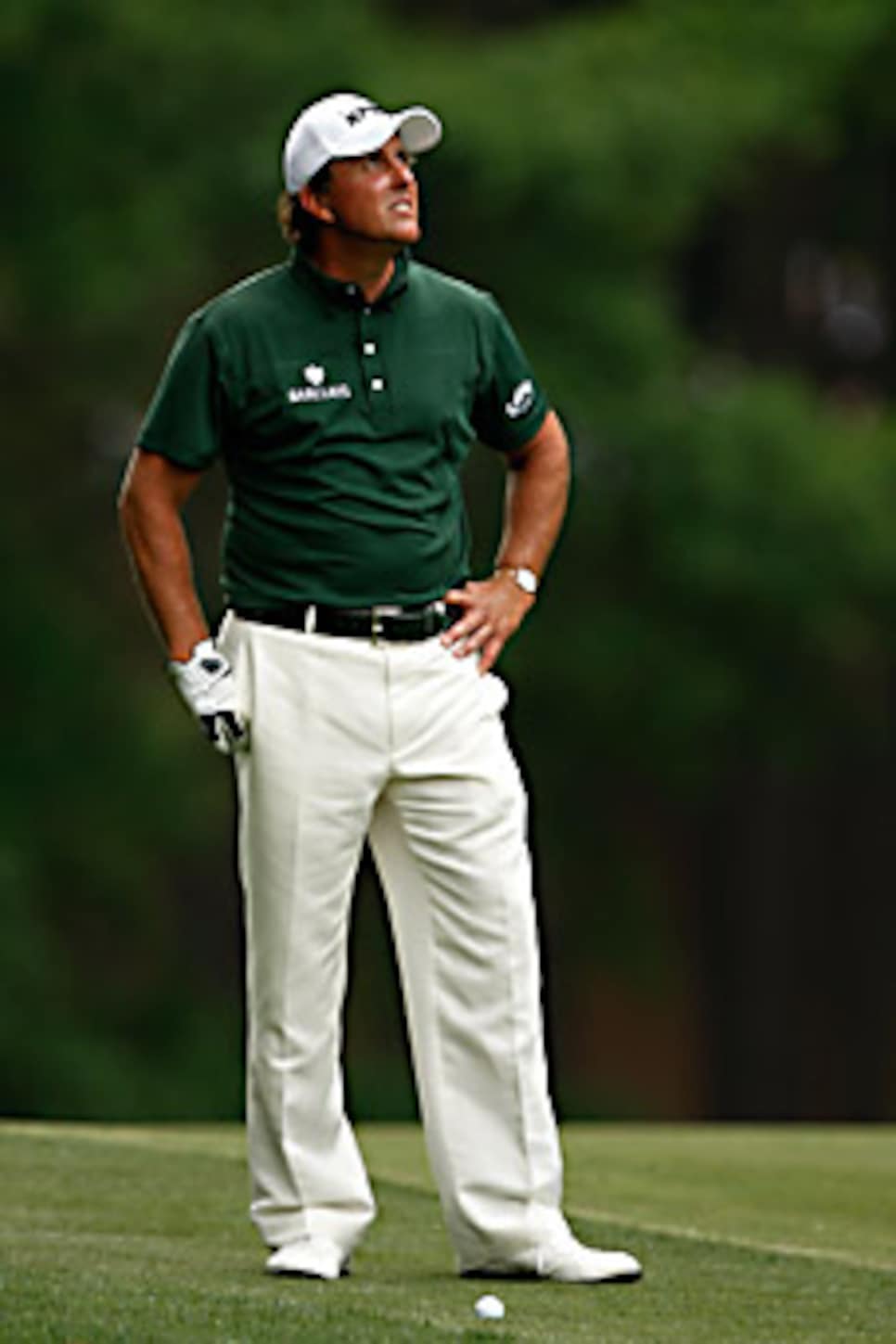 At times since his wife's breast cancer diagnosis, Phil Mickelson said he'll suddenly break into tears.
In a way, it was fitting that life would pick Memphis, the birthplace of the blues, to intersect with golf. Appearing in pants that seemed to have survived a hurricane in a Sherwin Williams plant, in patterns only the divorce attorneys of ex-wives could love, John Daly emerged from his not-so-secret double probation to resume golf's longest running reality show, having put a leash on his lifestyle with a Lap-Band. But while life's dramas can be matters of choice to some, there are others that no one would ever pick to go through if they didn't have to, which is right where Phil Mickelson and his wife, Amy, find themselves today.
Mickelson returned to the PGA Tour with a pink ribbon on his cap, a tear in his eye and a heart filled with gratitude for the outpouring of good wishes he and Amy have received since the moment her diagnosis of breast cancer arrived. "Amy and I thought that a couple of weeks ago at the Colonial is one of the nicest things we've ever seen," he said of the organized pink-out on Saturday. "It came at an incredible time for us."
"The articles that have been written, the letters that have been written, the e-mails, the texts, the correspondence has been very supportive," Mickelson said before his pro-am round Wednesday at the TPC Southwind in the St. Jude Classic. "You kind of realize, going through something like this, it really helps. I mean, I never really thought about it because at times when friends go through this, you try to be there for them, you try to give them support, communicate, so forth. You know, I didn't realize how important that stuff was until we've actually been going through it ourselves."
Mickelson intends to play this week and next in the U.S. Open at Bethpage Black but then be out of the game for an undetermined amount of time. "We won't get started on our treatment until July 1st," Mickelson said. "We're scared, yeah. I think a lot of it is the fear of the unknown. You know, we've learned a lot in the last couple of weeks. We believe we have incredible doctors. We believe that we've caught this early. We won't know until a week or two after surgery, until some more pathology tests have been done. Throughout this year, for the next 12 months, we're going to have a lot of treatment. We won't know what that is. In and amongst that, we'll try to have normal things: play golf tournaments, kids going to lessons for whatever, going to camp. I just don't know what our treatment schedule will be like after surgery. I don't know really when that will happen. I don't think it's going to be for a while but I don't know exactly what we're facing yet."
The Mickelsons are neither the first, nor will they be the last, family on the PGA Tour to be visited by one of the more unpleasant and demanding realities of life, the ones outside anyone's control. Cancer. Autism. ALS. Players fight their inner demons on a daily basis inside the ropes. The demons outside the ropes are a whole lot scarier. Going through an intensely private fight on a decidedly public stage isn't easy, either, even for someone with all the social grace of Amy Mickelson. What is known is that she will get the best care money can buy and have her biggest booster at her side. Now, he gets to root for her.
In the early '90s, when Phil and Amy were still dating, I spent a day with them doing an assignment for Golf Digest. Having been married two decades myself by then, it was obvious to the trained eye that Phil was beyond smitten. He was toast. When our work was done, I jokingly told him, "Phil, I have one word of advice for you: pre-nup." For someone who ordinarily enjoys a joke, he looked at me in utter seriousness and said, "I don't believe in that." They've been all-in from day one.
There are those who wonder how this will affect Phil's game because playing golf for yourself is tough, but playing for someone else is nearly impossible. "I'm not playing just to play," Phil says. "I think Bethpage is a golf course that suits my game, that I love playing. I'm playing here (Memphis) because I believe I can win next week. There's a lot of question marks that I'll have. But, that's the goal."
It's just not the No. 1 goal anymore.