News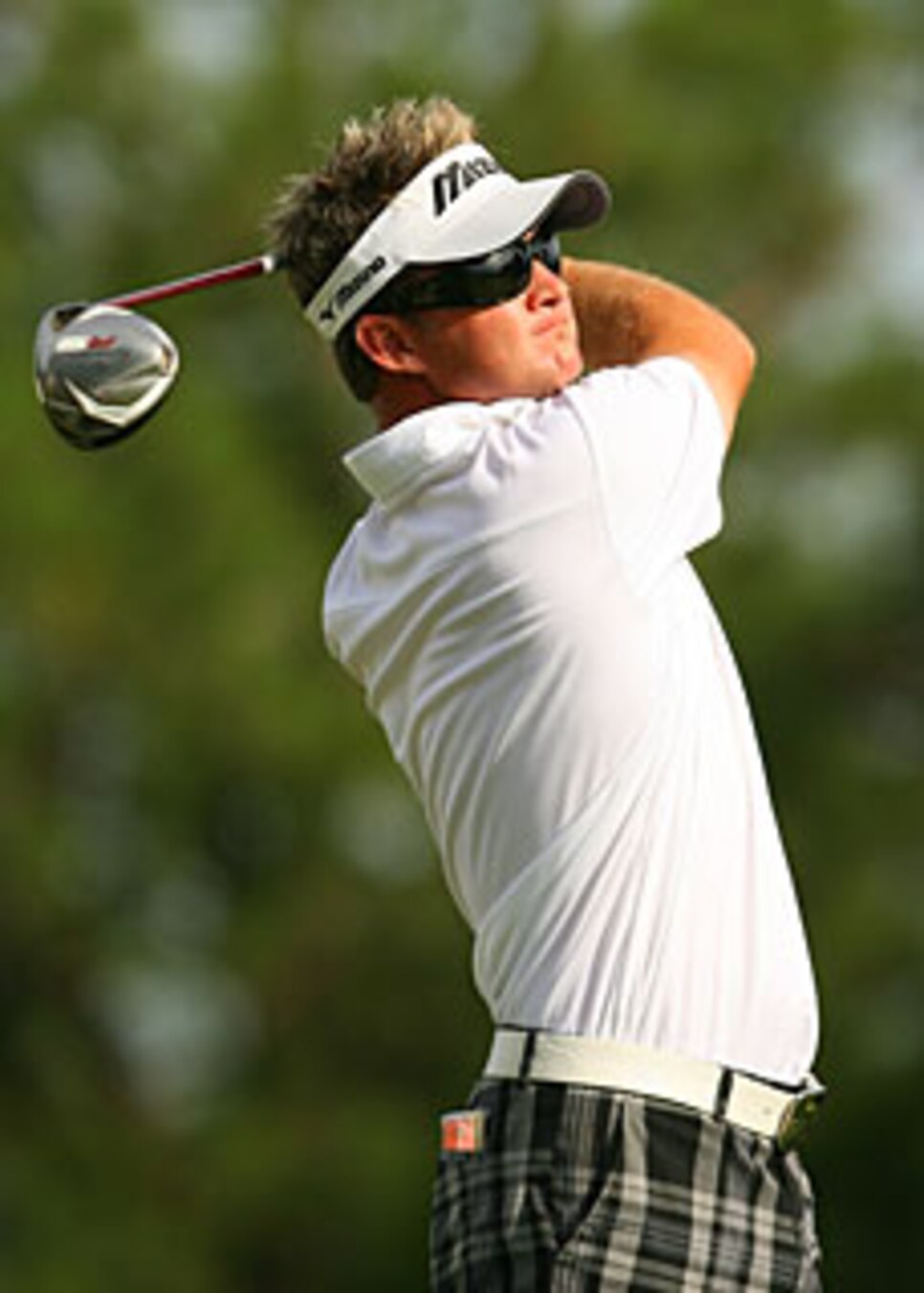 force to be reckoned with: Gay's pinpoint driving and putting skills give him an edge over less-accurate hitters, who were left in the dust for the second time in '09.
Henceforth, may he be called Li'l Eldrick.
He has the soul patch of Vijay Singh, the belt buckle of Anthony Kim and the irons of Bagger Vance. He is as garrulous as K.J. Choi (All-English Division) and steps on their throats the way Tiger Woods did back when El Tigre was just a twinkle in the eye of the Hall of Fame. Brian Gay, the Juggernaut of Hilton Head, posted his second runaway victory in eight weeks, going wire-to-wire in the St. Jude Classic in Memphis, thus claiming the undisputed title of shortest hitter you never want to get behind, in addition to snatching up the last tee time available for the U.S. Open at Bethpage Black.
Oh, you know the type. Cagey. Wiley. Shrewd. The foxy veteran. Cunning. Crafty. A little too slick for their own good. Not Brian Gay. No sir. He is not sneaky long, he is sneaky short. This guy struts right up there and lambastes that creampuff 260 or so, giving 'em a good three-club head start, and then he walks to his ball someplace very near the arithmetic center of the fairway and proceeds to annihilate whoever he is playing. The only thing he overpowers is a scoring pencil. Supposedly, in the squishy world of self-actualization, this is because he now feels comfortable with who he is. Well, isn't that just too sweet for words? I'll tell you who this guy is: He is a scorpion, an assassin, a pit viper in plaid pants. He is the worst nightmare of anyone who hits it 300 and can't figure out why he is losing by double digits.
Gay led the St. Jude Classic from the moment he pulled into the parking lot and laid an opening-round 64 on 'em. In his two previous victories, in Mexico and at Harbour Town, going into the last round he led by five and three, respectively, and won by two and 10. This time, with just a one-stroke margin over Bryce Molder, Gay produced Hilton Head II, Revenge of 100 Putts, which is exactly how many he needed for the whole week. He birdied three of the first six holes Sunday and by the time he made the turn at the TPC Southwind, he was five clear of Molder and six ahead of David Toms, Graeme McDowell and Heath Slocum. He bogeyed the 10th but then pushed his 8-iron to, oh, a foot or so of the hole on the island green, par-3 11th. Excuse me, fellas, playing through.
With a four-shot lead on the 18th tee (Gay had struggled with Southwind's two tough closing holes, playing them four over the first three days), he center-cut a driver and hit his 7-iron approach five feet from the hole. "Of course, [David] Feherty thought I was nuts," Gay said of CBS' on-course bearded one. But, Brian, surely you must realize, in Feherty's world crazy is coveted, if not outright worshipped. The closing birdie gave Gay an 18-under 262 and a five-stroke victory, the third-largest winning margin on tour this year, behind his own 10 shots at Hilton Head and Geoff Ogilvy's six in Hawaii. Which actually makes it the most lopsided victory of the year not on an island.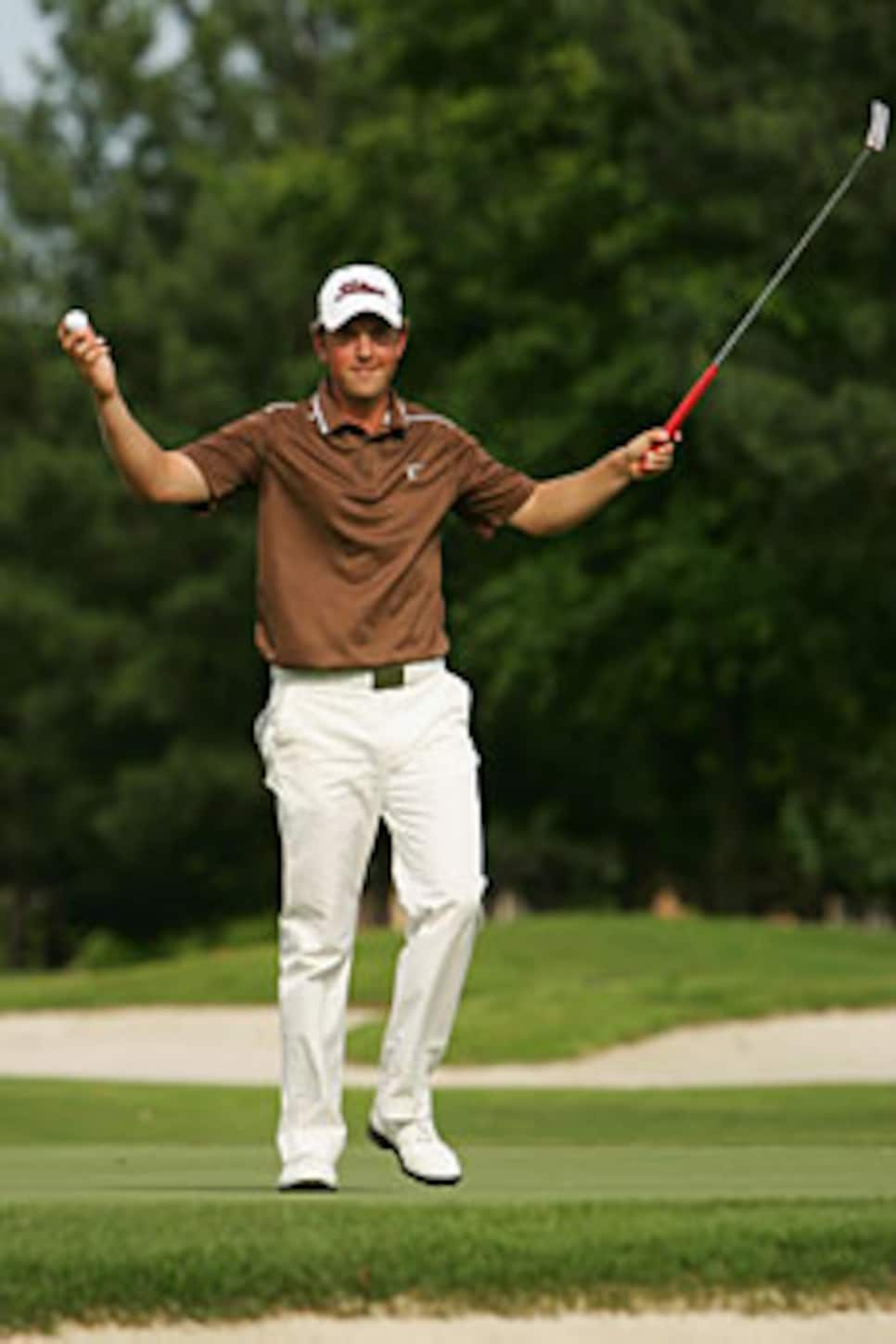 The most interesting finish of the day, however, was in the B Division. Molder hit driver, 3-wood to the fringe of the par-5 16th to make eagle, tying Toms for second at 13 under par. The former Georgia Tech All-American, born without a left pectoral muscle and with a diminished left hand and arm, needed to two-putt the 18th from 33 feet to finish T-2. His previous career best was a third in his 2001 PGA Tour debut in Reno. Molder raced his first putt nearly 4½ feet past but made the comebacker. The difference between tying for second or being in a four-way tie for third was roughly $224,000, a munificent leap and a lot of pressure for someone who was 178th on the money list coming into Memphis.
In the beginning this year's St. Jude Classic was all about the reappearance of two of the game's most popular figures, Phil Mickelson and John Daly. The former showed up Wednesday with his emotions barely in check, grateful and fearful running neck-and-neck at the microphone. His wife, Amy, is to begin her breast- cancer treatment July 1. Until then, Lefty says, they will do everything they can to just be normal. After then, they'll just do everything they can.
Daly, traveling with the wardrobe of King Lear's fool but without the ghostwriting, returned to the PGA Tour from his excellent European vacation having placed his viscera in vice grips, thus losing the equivalent weight of a couple of small basset hounds. Equipped with an internal shock collar for his habits and an external adjustment from teacher Rick Smith for his swing, Daly did, in fact, seem like a different man, playing serious, businesslike golf. Though he finished one over par, if his pants stay wilder than his nights, golf may yet get a gifted player back.
Along with Daly and Mickelson, Memphis was larded with some of Europe's best who apparently had nothing better to do between the Memorial and the U.S. Open than sweat and dodge lightning. Friday afternoon's storm was such an impressive meteorological event that, as an homage to the 70th anniversary of "The Wizard of Oz," I was pretty sure I saw Feherty fly past the third-story window of my Marriott peddling his bicycle. In any event, playing indifferent golf (see: Padraig Harrington, Sergio Garcia and Henrik Stenson, who all easily missed the cut) isn't necessarily the best tune-up for a major championship.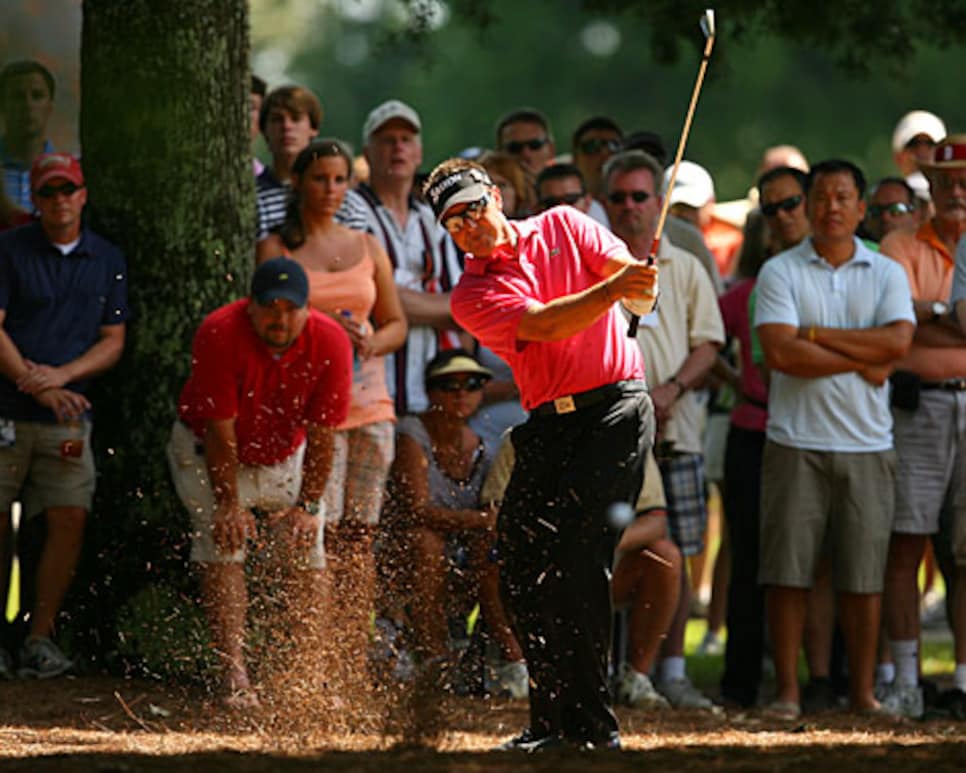 For Phil, this Open preparation was as much about corralling his emotions as his golf ball. As the week wore on, he seemed better at the former than at the latter, though in fairness, with wicked weather forecast again Sunday, many of those heading from Memphis to Bethpage were more interested in getting the round in than getting a lot out of it. Outside of visiting the water hazards five times—and Mickelson can take some solace in the fact that there's very little water at Bethpage—it was his putter that proved problematic. What will be awaiting him at the Open, however, is a big emotional out-of-bounds. If he manages to play as well as he hopes, at some point, it will inevitably become about something bigger than golf, which is a very, very hard way to play this stupid game.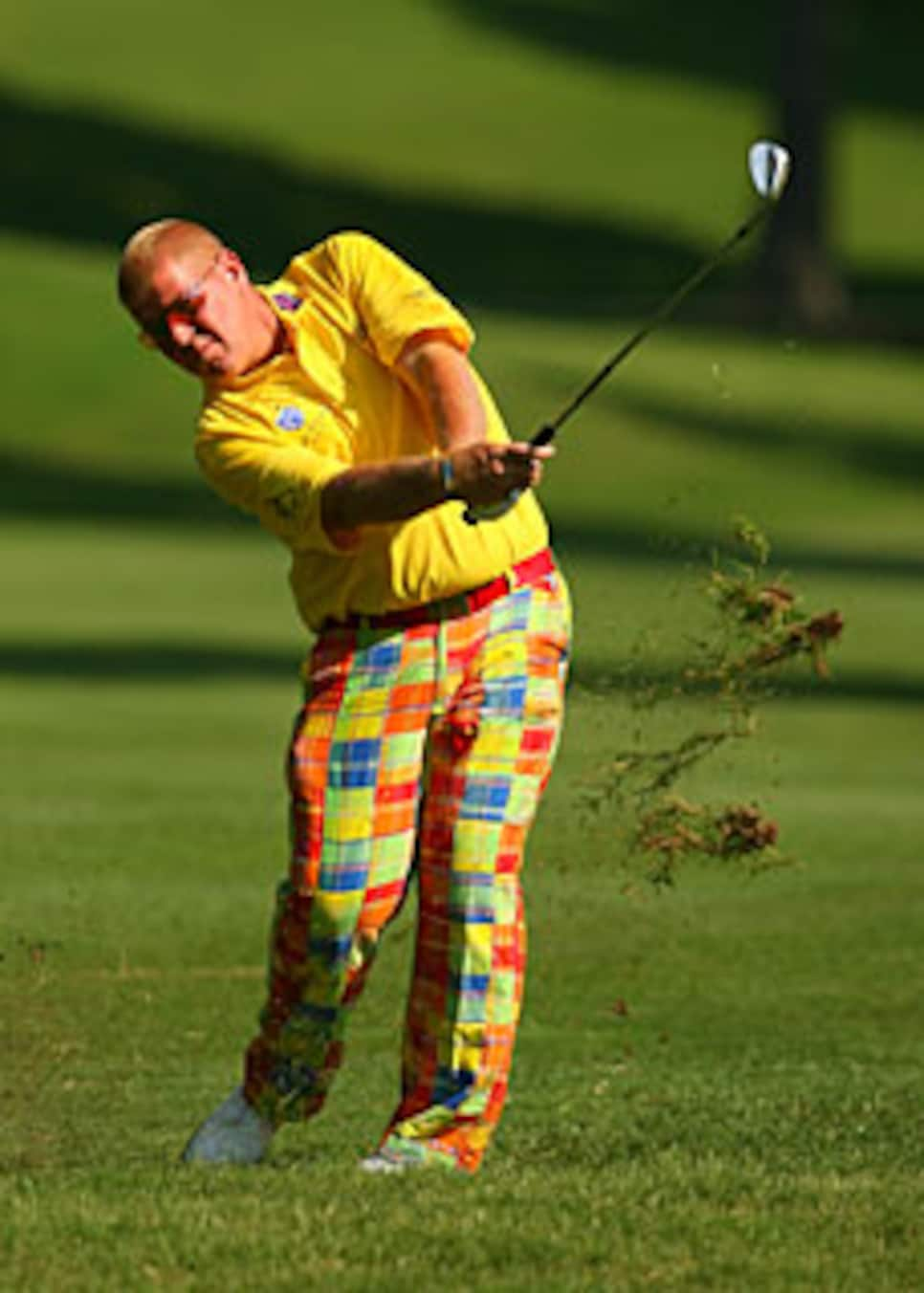 Like Daly, the St. Jude Classic seemed to have undergone its own version of Lap-Band surgery, having shed $500,000 in its purse and a bit of infrastructure here and there. In a very Southern keeping-up-appearances kind of way, they were trying hard to maintain the standard established by Stanford Financial except without Stanford Financial's money—which, if the Securities and Exchange Commission is to be believed, is pretty much what Stanford was doing all along, too. Memphis is an under-appreciated golf town with a date certain to attract idle Euros, a heart-wrenching charity and knowledgeable fans, but when an opening for a cosmologist and nail technician is listed under "Professional" in the want ads, it may be a sign that the local economy still sings the blues and a title sponsor could be hard to come by.
Gay's victory at Hilton Head earned him a berth in the Masters. The St. Jude win got him into the U.S. Open at Bethpage, even though he'd failed to qualify earlier in the week. Someone asked Gay's caddie, Kip Henley, if he made his reservations for New York the night before the last round, fully expecting his player to deliver the goods. "I've had my reservations to the Open for about a month now," Henley replied. "My guy's a horse."
It just took a while to get his ticket punched.