News
Late Charge Wins It For Tiger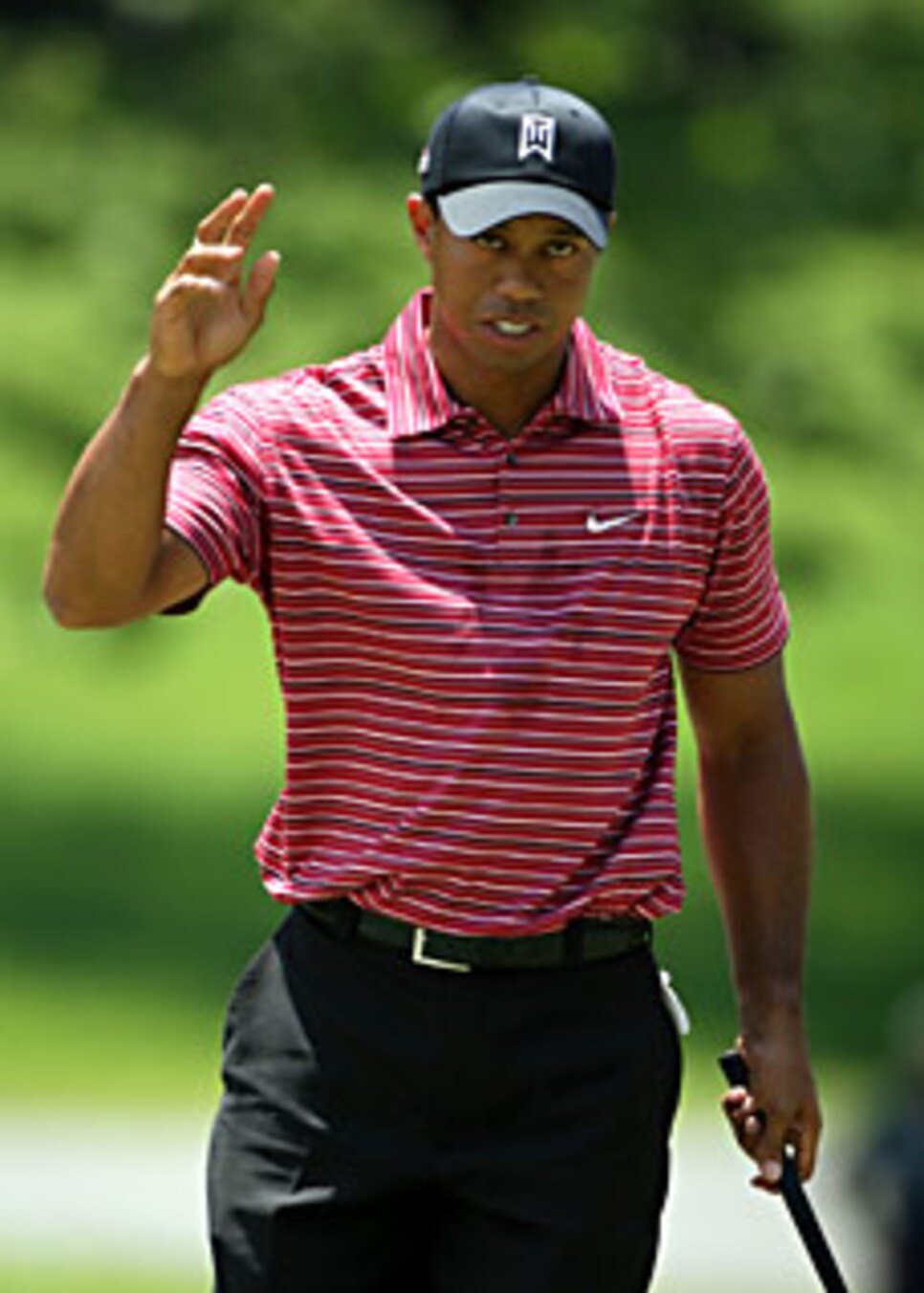 Tiger started Sunday four down to the leaders and with a seven under 65, had the low round of the day.
DUBLIN, Ohio (AP) -- No need to worry about Tiger Woods heading into the U.S. Open.
Woods broke away from a four-way tie for the lead Sunday at the Memorial with birdies on his final two holes, the last one a 7-iron that stopped a foot away from the cup for a 7-under 65 and a one-shot victory over Jim Furyk.
With a high-charged rally from a four-shot deficit, Woods revved up the crowd and silenced those who questioned his game heading into his title defense at Bethpage Black in two weeks.
He didn't miss a fairway in the final round, the first time he has done that in more than five years. He missed only five fairways all week, his most accurate tournament off the tee since the 1998 Masters.
Woods won the Memorial for a record fourth time, and tournament host Jack Nicklaus was there to greet him behind the 18th green. It was his second victory this year after missing eight months from knee surgery, and Woods figured he will only get better.
"I knew it was coming around," Woods said. "I just wasn't as consistent as I needed to be."
Furyk made a 20-foot birdie putt on the 18th hole for a 69 to finish alone in second.
"I just didn't beat one guy," Furyk said. "It (stinks) finishing second. But he played better. A 7 under on those greens and with the conditions we dealt with, that's pretty spectacular. I just wish you all would just quit (ticking) him off ... so he has to come back and keep proving stuff. I think he answered a lot of questions today."
Woods finished at 12-under 276 and won for the 67th time in his career. The timing could not have been better. He was within one shot of the lead going in to the back nine at Quail Hollow and made nothing better than par for a 72. He played in the final group at The Players Championship, couldn't find a fairway and closed with a 73.
On a firm, fast course under steamy sunshine at Muirfield Village, he was close to perfect.
Woods surged into contention with a chip-in for eagle out of gnarly rough behind the 11th green, following through with one hand and eventually using the other to pump his fist. He took his first lead with a two-putt birdie on the par-5 15th.
After a bogey from the bunker on the 16th, Woods was tied with Furyk, Jonathan Byrd and Davis Love III.
Woods hit his approach to 9 feet behind the hole on the 17th, and rolled it in for a birdie and the lead. After hitting the fairway with a 3-iron on the 18th, he hit 7-iron from 183 yards and let another raucous cheer indicate the outcome. Woods slapped hands with caddie Steve Williams and tapped in for his best closing round to win since the Dubai Desert Classic last year.
Byrd holed out from 82 yards for eagle at No. 7 to take control of the tournament, only to give it away with a double bogey from the rough and bunker on the 14th. Still, he had the best chance to catch Woods. Two shots behind, he hit his approach to 4 feet on the 17th, but missed the putt. Byrd finished with a meaningless double bogey for a 72 and tied for third with Mark Wilson (73).
Love, who could have avoided 36-hole U.S. Open qualifying Monday with a victory, got into contention with consecutive birdie putts of about 50 feet, only to miss an 8-foot birdie on the 15th.
He fell out of the hunt with a bogey from the fairway bunker on the 17th, then hitting his tee shot into the water on the 18th and closing with a triple bogey.
Matt Bettencourt, the PGA Tour rookie who started the final round tied with Wilson, held his own for seven holes until a three-putt bogey, followed by a chunked wedge into the water for a double bogey. He closed with a 75 and tied for fifth.
Woods played with Michael Letzig, who shot 75 but was treated to quite a show.
"I've never seen anyone hit irons like that," Letzig said. "I tried not to watch him, but some of those shots were unreal."
Woods' driving set up those iron shots. The fairways at Muirfield Village are among the most generous, but he wasn't close to missing them and often set himself up on the right side to attack the pins.
"I don't know why everyone talks about how bad he drives it," Letzig said. "Every drive I saw was perfect."