News
Bettencourt, Wilson Top Leader Board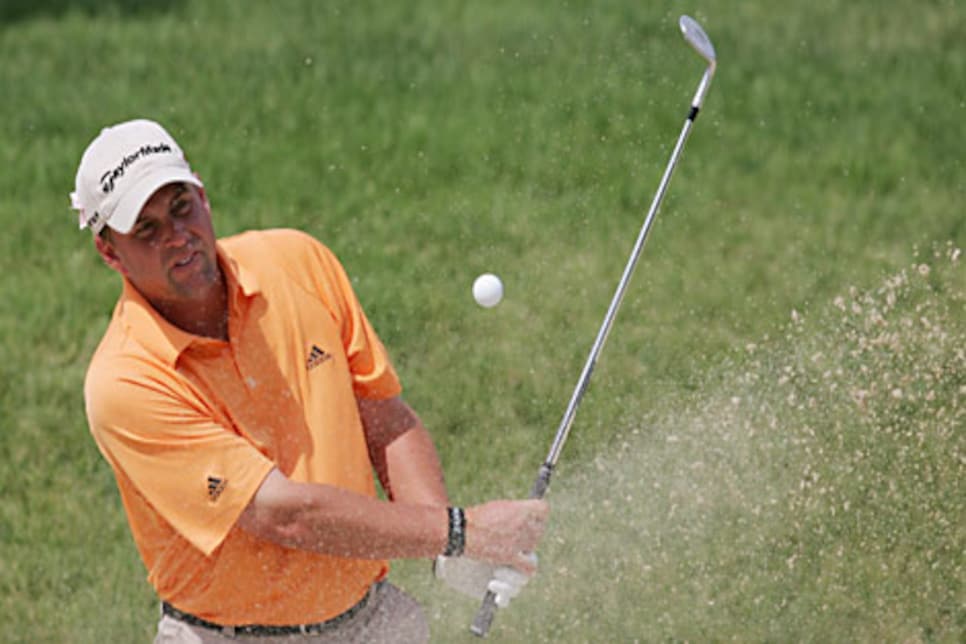 Bettencourt has made seven of 16 cuts this year with one top 25 finish.
DUBLIN, Ohio (AP) -- For most of a warm and wacky Saturday afternoon at the Memorial, the leaderboard was filled with a "Who's Who" of this golfing generation, five players with a combined 20 majors, 121 PGA Tour victories and 19 World Golf Championships.
Tiger Woods and Ernie Els. Davis Love III, Geoff Ogilvy and Jim Furyk.
It ended with a "Who's That?"
Matt Bettencourt, a 34-year-old rookie who had never played a PGA Tour event until this year, steadied himself during some nervous moments on the super slick greens of Muirfield Village for a 4-under 68 to share the lead with two-time tour winner Mark Wilson (69).
Bettencourt, who has yet to finish in the top 20 and has missed more cuts than he has made, wasn't expecting to be atop the leaderboard at the tournament Jack Nicklaus created.
The guys chasing him? That was no surprise at all.
"The field is so strong here," Bettencourt said. "Mr. Nicklaus asks you to play, you're going to play. If you expect to win, you're going to have to beat the best. And the best are up there."
No one played better than Ogilvy, who was in a tie for 57th and nine shots behind until he turned in a tournament-best 63 as the leaders were finishing up their lunch. He was atop the leaderboard for much of the day until finishing two shots behind.
Woods, a three-time winner of the Memorial, made his move on the back nine with a 5-wood into 6 feet for an eagle. Slowed by a careless three-putt bogey on the 17th, he had to settle for a 68 and was four shots behind.
Furyk was up-and-down, as were most players, until he steadied himself down the stretch and scratched out a 71, putting him one shot behind with Jonathan Byrd, who also had a 71.
Love chipped in for birdie on the 18th for a 69 and was tied for fifth with Ogilvy. Els was poised to make a move until he chopped up the par-5 15th and took double bogey, putting him in the group at 207 with Woods.
Don't get the idea that Bettencourt or Wilson, who won an opposite-field event in Mexico this year, are rattled at the moment.
"If I take care of what I do ... I will have a great chance of winning," Wilson said. "If I start thing about what everyone else is doing around me and, 'Oh my gosh, that guy's all got these major championships, he should win this, I shouldn't,' then you bet I'm going to lose. That's the big challenge tomorrow."
But not even Woods was taking anything for granted at Muirfield Village, where the greens were as fast as any on tour this year.
"I have to play well," he said. "That's the difference between being out front and trailing."
Bettencourt is a true rookie, having never played a PGA Tour event until this year. He earned his card by winning the Nationwide Tour money list, and it's a wonder he's even on any tour. The California native had intentions of a career in baseball until hurting his arm, and he didn't start playing competitive golf until after college.
Even during his seven years in the minor leagues of golf, he considered finding a new career path. But he stuck it out, made the big leagues, and gave himself a chance to prove he belongs.
"It hasn't gone as I'd hoped, but I've always stayed positive," he said of his rookie season. "I believe in myself and my ability to play and to compete against the world's best."
Wilson, who won in Mexico earlier this year when the world's best players were at a World Golf Championship, didn't figure to be in the mix when he came up short of the green on his first three holes and quickly fell behind with bogeys. He got those shots back by the turn, overcame a blunder on the tricky 14th hole with consecutive birdies and wound up in a share of the lead.
A victory for Wilson would give him the day off Monday from 36-hole U.S. Open qualifying, because it would be his second PGA Tour victory since the U.S. Open last year.
That exemption also applies to Love, who won at Disney at the end of last year. That was the furthest from his mind, however. Love has been on the bubble for majors all year and decided to concern himself only with winning a tournament that has eluded him for two decades.
"I said going into the tournament that I'm playing for this week," Love said. "I want to win."
About the only guy who didn't go backward was Ogilvy, who was disgusted with himself Friday when he shot 74. That gave him an early tee time Saturday, which worked in his favor. The greens were as pure as can be, Ogilvy was in a good frame of mind, and it helped by sticking his approach on the first hole about a foot from the cup.
He kept at it all day, zooming up the leaderboard, taking the early lead by holing out a bunker shot.
"I guess the longer you play on tour, the more you realize that you're probably going to have a lot more 74s than you're going to have 63s," Ogilvy said.