News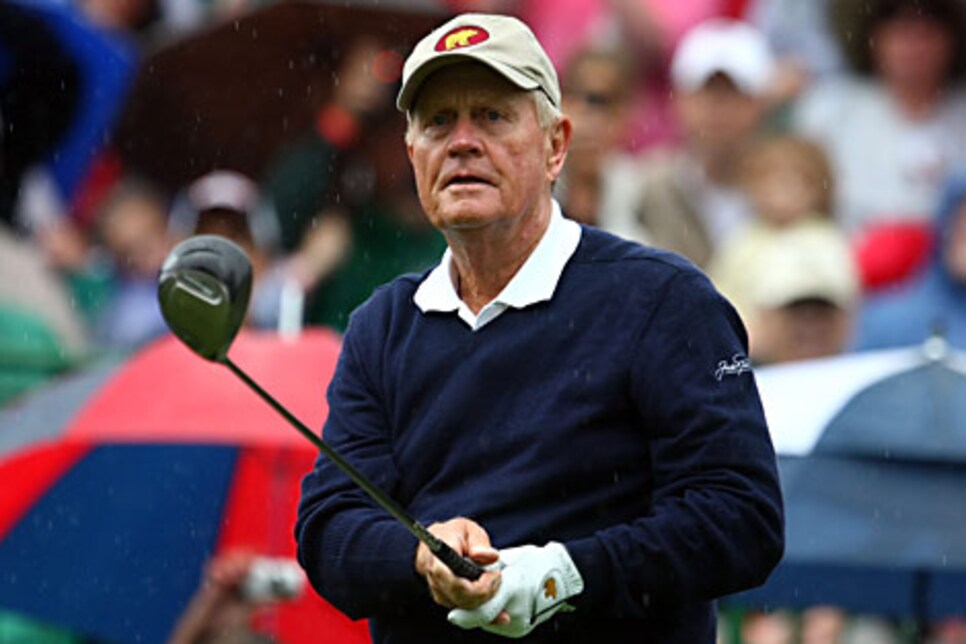 Even with eight first and second place finishes at the U.S. Open, Nicklaus questions how dominating he really was
DUBLIN, Ohio -- Who was the best player ever in the U.S. Open?  Jack Nicklaus isn't sure, but he knows it wasn't him.
Willie Anderson, Bobby Jones, Ben Hogan and Nicklaus are the only four-time Open champions and Nicklaus was second on four other occasions (the same as Jones), so that doesn't add up to overpowering in his opinion.
"That's eight times out of about [43], so that wasn't real domination," Nicklaus said in a revealing interview as he took a break in his role as host of the Memorial Tournament. "I suppose in many people's eyes it might be, but it wasn't in mind."
The U.S. Open at Bethpage Black is just around the corner and in the back of everyone's mind these days, including Nicklaus.  He calls the Open the sternest test in golf and expects Bethpage Black to live up to the same stringent standards, which he didn't always solve.
"Sometimes you get it and sometimes you don't.  And I got it a few times."
There is no greater expert on the U.S. Open than Nicklaus, who played his first at Southern Hills Country Club in 1958, when Tommy Bolt won.  Nicklaus, still three years away from turning pro, tied for 41st.  The first U.S. Open Nicklaus played as a PGA Tour pro, he won.  That was in 1962 at Oakmont Country Club, where he beat Arnold Palmer in a playoff.
Nicklaus also won in 1967 at Baltusrol Golf Club, five years later in 1972 at Pebble Beach, and also in 1980 at Baltusrol again.  With 18 years separating his first Open triumph from his last, Nicklaus said that indicated something to him. "It meant I didn't give up."
The Open, Nicklaus said, is one tough grind, and even though he won four times, he said it was a tournament that didn't always play to his strengths.
"Sometimes I couldn't grind.  When you're grinding, you need to have a short game that's going to work with you.  And the hardest thing about the U.S. Open is the short game.  It's harder to get the ball up and down in that tournament than any tournament.  The rough and the speed of the greens and the firmness of the greens.  And my short game was probably the weakest part of my game."
Nicklaus pointed to the Memorial pairing sheet and mentioned Tiger Woods. "Tiger's is not.  Tiger has a wonderful short game.  I think you'll see Tiger probably more competitive in the U.S. Open than I was because of his short game."
Woods is taking next week off and will show up at Bethpage Black, where he won in 2002, and attempt to join Nicklaus, Anderson and Jones as a four-time Open champion.  Nicklaus, who played nine holes with Woods in a charity skins game Wednesday, said he saw enough to know that Woods is on track.
"He'll do just fine.  You'll find Tiger will be there somewhere.  He'll play well.  Tiger's a different kind of player than I am.  I was probably a little straighter driver, which kept me in pretty good contention in relation to playing the U.S. Opens.  But Tiger has a better short game and I think in the U.S. Open the short game will make up for the driver.  You just have to be able to chip and putt when you play the U.S. Open, period."
Nicklaus will make only a brief appearance at Bethpage Black.  He's attending a luncheon on Thursday for one of his sponsors, the Royal Bank of Scotland, and then heading for the airport to fly to Johannesburg, South Africa, to check out some of his golf courses that he designed.  He knows he's going to be out of touch, at least geographically, with what transpires at Bethpage Black.
"But don't worry, I'll know who's winning," he said.