News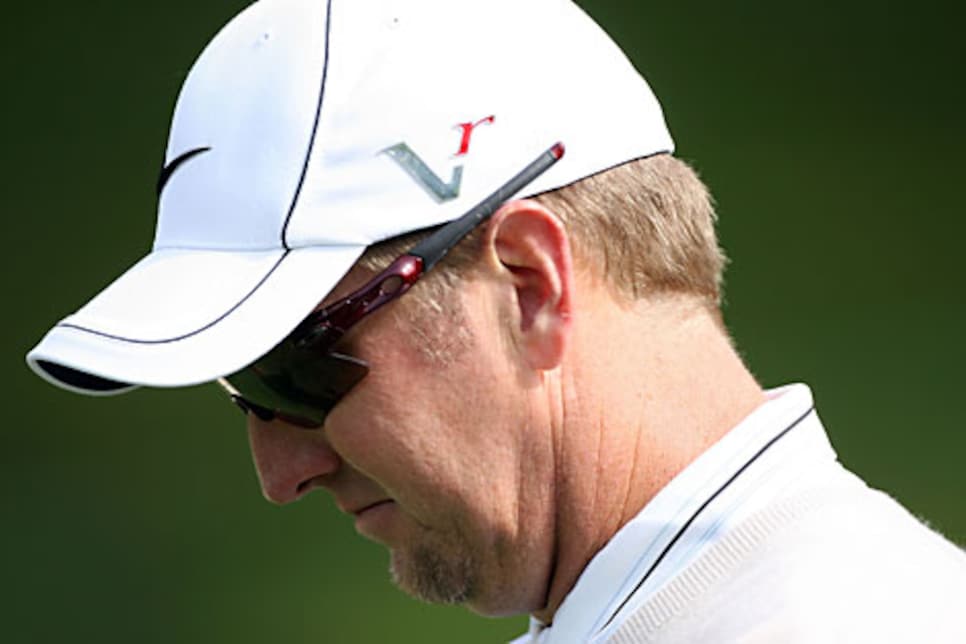 Still far from perfect, David Duval has at least revealed flashes of his old self.
DUBLIN, Ohio -- There is only one reason why David Duval is playing the Memorial Tournament: Jack Nicklaus gave him a sponsor's exemption.
"He was gracious," Duval said.
And now it's up to Duval to show Nicklaus he didn't make a mistake. For awhile Thursday at Muirfield Village, Duval held the first-round lead at 5-under with a 31 on the front. It didn't last, of course, which is what happens when you're the 867th-ranked player. There's a reason for that, too.
Anyway, Duval still turned in a one-under 71 and was encouraged by his play, even though he wasn't too pleased with conking a spectator in the head with his drive on the 10th hole. Duval sought out the man and gave him an autographed golf ball.
"I know, 'Wow, what a prize,'" Duval said. "You hit a guy in the head with a golf ball and then you give him a golf ball. I thought he might throw it right back at me. I kept an eye on him for awhile."
Duval has managed to put himself in a good place with his attitude and now he's he's close to getting his game to the same place. In fact, there's a chance that Duval may at last be in position to come full circle. He's going to try to qualify next week for the U.S. Open and punch his ticket for Bethpage Black, which is where his career first started careening in the wrong direction.
In the 2002 U.S. Open at Bethpage Black, Duval shot 78-73 and missed the cut by one shot. That was the first year that Duval didn't win a tournament since 1996. Duval's last tournament victory was the year before, at the British Open.
"I really want to go to Bethpage," he said. "I'm ready for the next stage."
The near total eclipse of Duval's game after he was once ranked No. 1 has been well documented. Last year, he missed 15 cuts in 20 events and so far this year, he's missed seven cuts in 11 events and withdrew from another. But there are signs that things may be turning around, ever so slightly. After missing six straight cuts, Duval showed up at the Texas Open and started out 66-69. He raised some eyebrows when he said he still felt like he was one of the top 10 in the world and finished tied for 63rd at two under.
When he made a 15-foot birdie putt at the third hole Thursday, Duval said he then realized that he's accomplishing some of his goals.
"I'm playing better, I've been saying that for awhile, probably since Riviera. I'm just getting the ball into the hole and getting the ball a couple of feet closer. I'm exponentially better than before and my scores are finally starting to show it."
Then again, Duval still shot four-over 40 on the back nine, with a couple of double bogeys. But he managed to save par at the 18th after hitting his drive into the right rough.
"It's been a long time since I married the comfort of playing with the confidence of playing.
There's a difference between hitting the golf ball well and then going out and playing the game. I'm starting to feel confident where I'm hitting it."
That's not a bad start for the 37-year-old who is forced to rely mainly on sponsor's exemptions like the one Nicklaus gave him in order to find places to play.
There remains some level of public fascination with Duval, even though he's years removed from his best days. A fair-sized gallery followed him around, along with playing partners Jesper Parnevik and Jeff Klauk. They saw Parnevik struggle with an 81 that included a quadruple bogey at the 18th. Parnevik drove into a bunker, hit the lip of the bunker coming out and found another bunker and then splashed it out short of the green. His chip rolled off the elevated green and back down to his feet, where Parnevik finally knocked it on and then three-putted.
It was a disaster, not unlike what has befallen Duval often the past few years. This time, it happened to somebody else. Maybe those days are over, or maybe they'll still happen, but with less frequency. Either way, Duval said he's not going to let it get to him.
"I feel good about what I'm doing."
And if he can get back to Bethpage Black, he can feel even better.