News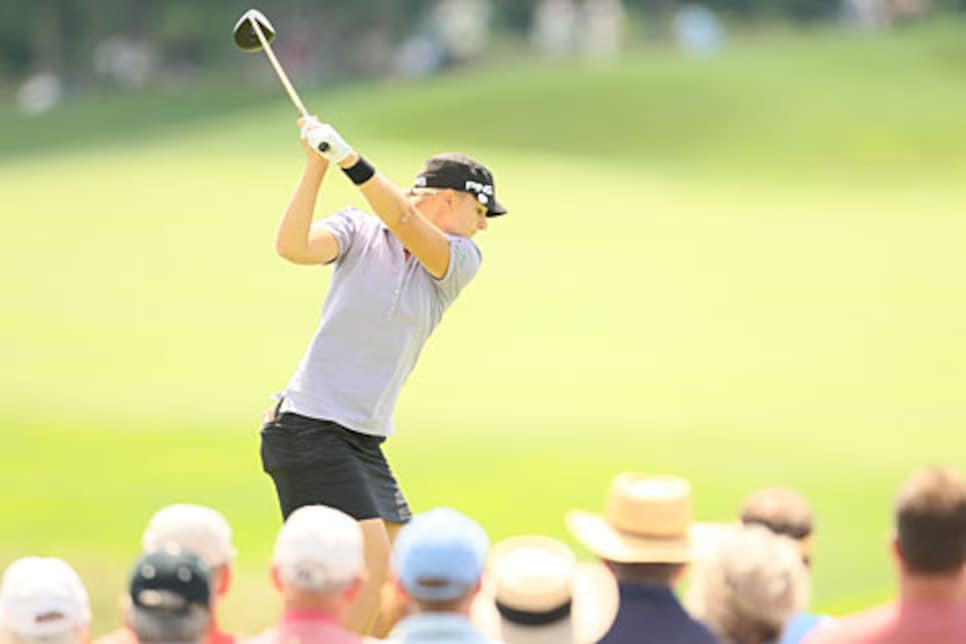 mission accomplished: Nordqvist had three birdies in the final five holes to close with a 68 and take possession of the last McDonald's LPGA trophy.
There was the sound of doors opening and closing at the last McDonald's LPGA Championship. Out one door went tradition while in another waltzed opportunity, albeit to an unfamiliar tune. Another slam followed the departure of a sponsor who generated more than $46 million in charitable contributions for Ronald McDonald House and the children it helps during 29 years as an LPGA business partner. And poised on the threshold of yet another doorway was an uncertain future for the tour's flagship event, which lacks both a golf course and funding for 2010, the result of an ambitious grab by the tour to own the tournament that carries its name.
But behind the storm clouds that darkened those doorways at an eerily subdued McDonald's last week were several silver linings, the longest and tallest being Anna Nordqvist, who just may turn out to be the right Swede at the right time. This was the first LPGA Championship played without Annika Sorenstam since 1994, the first year McDonald's moved from bankrolling a regular tour event to a major. Nordqvist, appropriately, put forth a very Sorenstam-like fairways-and-greens effort, displaying the same icy poise as her role model—the main difference being this version is stretched across a six-foot frame.
"They super-sized Annika," said Jim Murray, the genial PR man for McDonald's. Indeed they did. Nordqvist missed only three of 56 fairways at Bulle Rock GC in Havre de Grace, Md.—none over the final 36 holes—and when a lead that was five strokes after seven holes of the final round was trimmed to a single shot, she reeled off three birdies over the final five holes for a closing 68 to finish at 15-under-par 273, four strokes clear of Australian Lindsey Wright. It was a close reminiscent of Sorenstam, and just like Sorenstam, Nordqvist made her first LPGA victory a major, her mentor having taken the 1995 U.S. Women's Open. While Sorenstam's breakthrough victory came in her second season on tour, Nordqvist topped that, winning in only her fifth start as an LPGA member. Now the pupil needs just 71 more wins to tie her teacher.
"I think it's going to take a couple of days to realize I actually won," said the 22-year-old Nordqvist, possessing the shyness of the early Sorenstam, who dispensed words as if they were $100 bills. Then Nordqvist remembered something that will be a more immediate reminder of her victory. "I don't have to go off at 7:58 tomorrow morning and play 36 holes [in a U.S. Open qualifier]," she said. "That feels good."
Nordqvist took control—for the second time Sunday—with birdies on Nos. 14 and 15 on putts of 12 and 30 feet, icing the cake with a 21-degree hybrid to three feet on No. 18. For the week she needed only 101 putts, 12 fewer than Wright, who closed with a solid 70 and continued her improvement (see page 53). Jiyai Shin, the 21-year-old Korean rookie who won last year's Ricoh Women's British Open, was third at 278 after a closing 68; Kyeong Bae was next at 279. A trio of Americans—Nicole Castrale, Angela Stanford and Kristy McPherson—warmed the heart of U.S. Solheim Cup captain Beth Daniel by finishing T-5 at 280.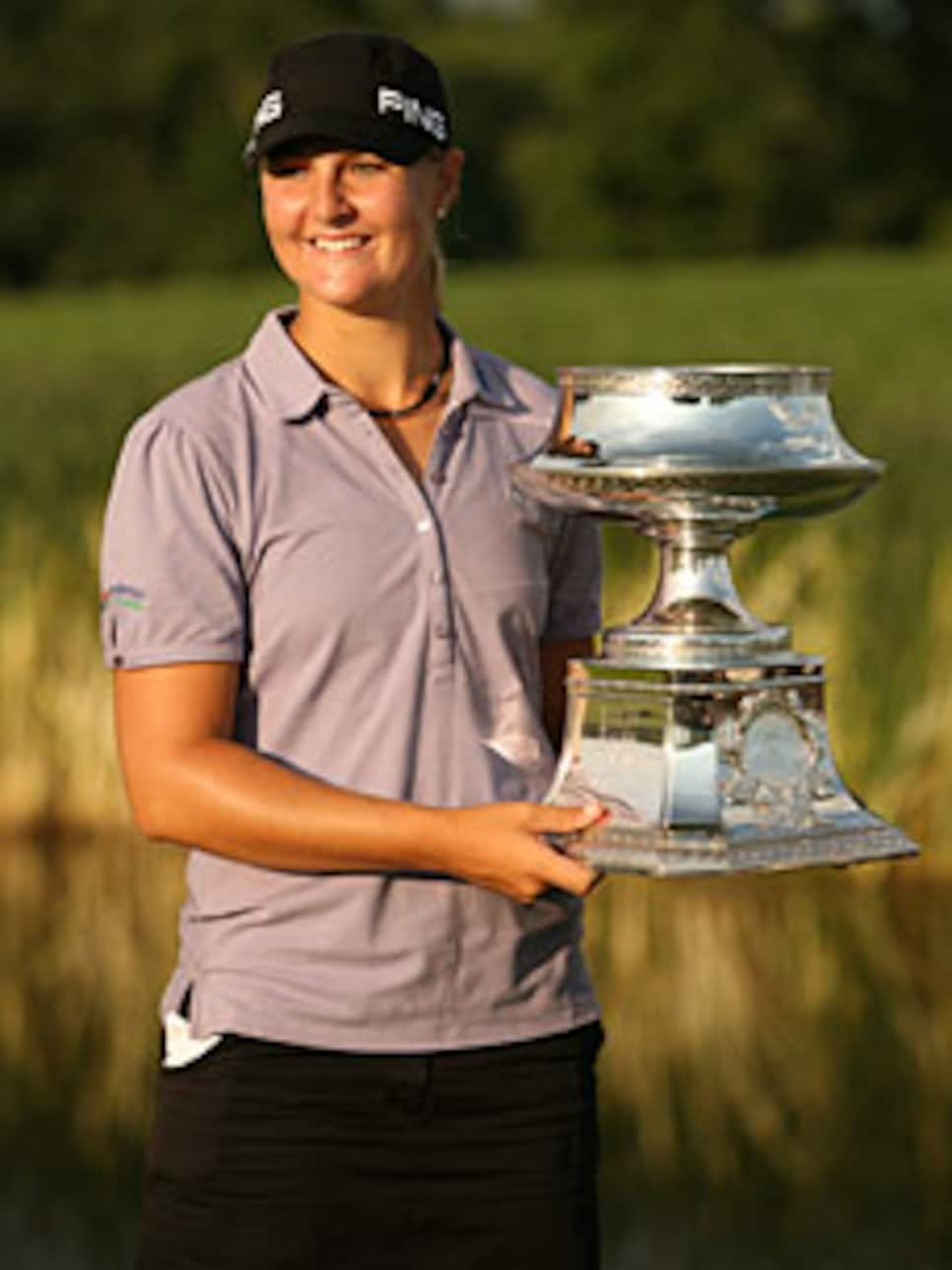 Nordqvist had three holes to finish Sunday morning from the rain-delayed third round and played them one under par. Then she headed back to her hotel to sleep and play some Yahtzee with Katarina Vangdal, a coach of the Swedish national team who has worked with Nordqvist since she was 16. Before the final round Nordqvist got a message from Sorenstam: "Just try to take one shot at a time and try to enjoy" were the words of wisdom.
Reached in Switzerland, where she was part of the delegation presenting golf's case to the International Olympic Committee to get into the 2016 Games, Sorenstam told Golf World by e-mail: "I am very happy for [Nordqvist]. She works hard, is methodical, professional and thinks about the long term. It has been great to see her develop the last few years."
As a junior golfer, Nordqvist won a scholarship to spend a week in the United States with Sorenstam, and she is part of the Annika Team, which helps young players in Sweden bridge the gap from amateur golf to professional life. The gap was bridged so seamlessly for Nordqvist it ruffled some feathers at Arizona State, where she played the fall portion of her junior season in 2008 then, after earning a conditional card at LPGA Q school and finishing first at Ladies European Tour Q school, dropped out of college and turned pro.
"It was the right decision," said Vangdal. "She had won everything she could win in Europe as an amateur," including the 2008 Ladies British Open Amateur. She was the 2007 National Golf Coaches Association freshman of the year and a two-time first-team All-American. That a person with no history in this event should win the final McDonald's was appropriate. This was a week about comings and goings, all those doors opening and closing.
The brutal thunderstorm that rattled windows Tuesday evening and soaked the already wet Bulle Rock course symbolized the tension underlying this last McDonald's. Of the 1,600 volunteers needed to stage the tournament, 30 percent had worked all 29 years McDonald's had run an LPGA event, according to tournament co-chair Herb Lotman.
"Some plan their vacation around this tournament," Lotman said. "They are going to miss it, and so am I. We had a great run." Volunteers, who barely clapped when LPGA commissioner Carolyn Bivens was introduced at the closing ceremony, were joined by players in being bitter and baffled by the event's demise.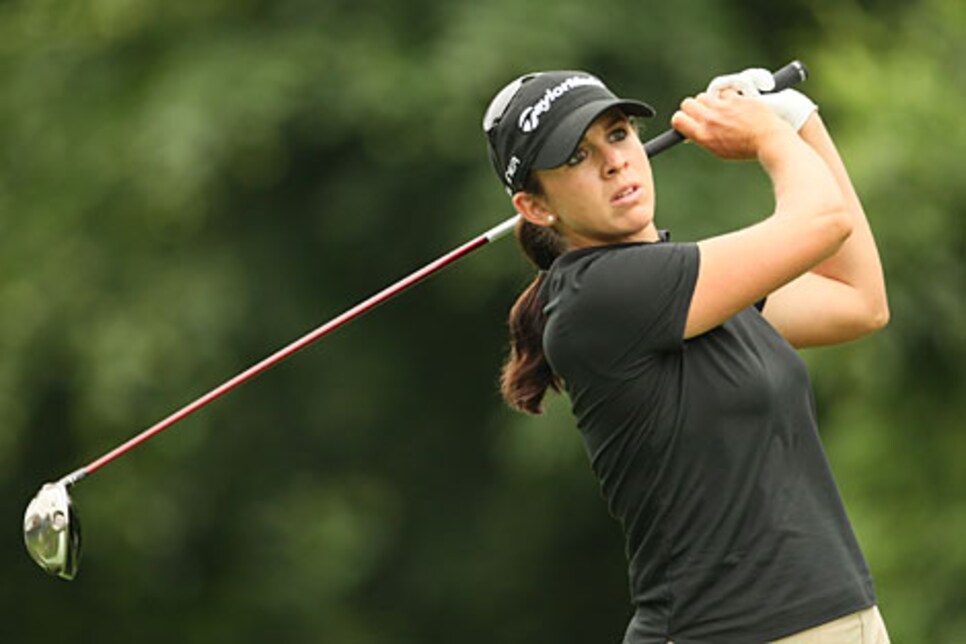 "It's a sad feeling, especially after losing Corning [in May]," said Paula Creamer. "And now we don't know where this tournament will be played and who the sponsor will be. This is a major, and Bulle Rock has been very good to us. Hopefully, we will have a good golf course and a good sponsor."
Meg Mallon, who won the LPGA Championship in 1991 and played in 14 of the 15 sponsored by McDonald's, was moved by the end of an era. "McDonald's has been an absolutely wonderful sponsor, and we are so proud of the money they have raised," she said. "I wish we could have 25 more years with them."
A year ago at this event, Bivens said the tour was taking ownership of the LPGA Championship, would move it to August in 2010 and raise the purse 50 percent to $3 million. Sources familiar with the situation said tournament organizers had a course and McDonald's was willing to stay on as sponsor. But the LPGA raised the financial commitment it wanted by $1 million, sources said, and was not going to put the sponsor's name in the title. That's when talks fell apart, the LPGA feeling its flagship event would be a lucrative revenue stream and that it could run it by itself.
"The world economy has changed considerably since last June," Bivens told Golf World in an e-mail. "And while we know that we'll produce a high-level LPGA Championship next season, we're also realistic and flexible as we put the pieces in place. It's too early to speculate, but our expectations remain high for the 2010 LPGA Championship on a number of factors including purse, venue and dates that all will contribute to ensuring that the LPGA Championship remains an extraordinary event."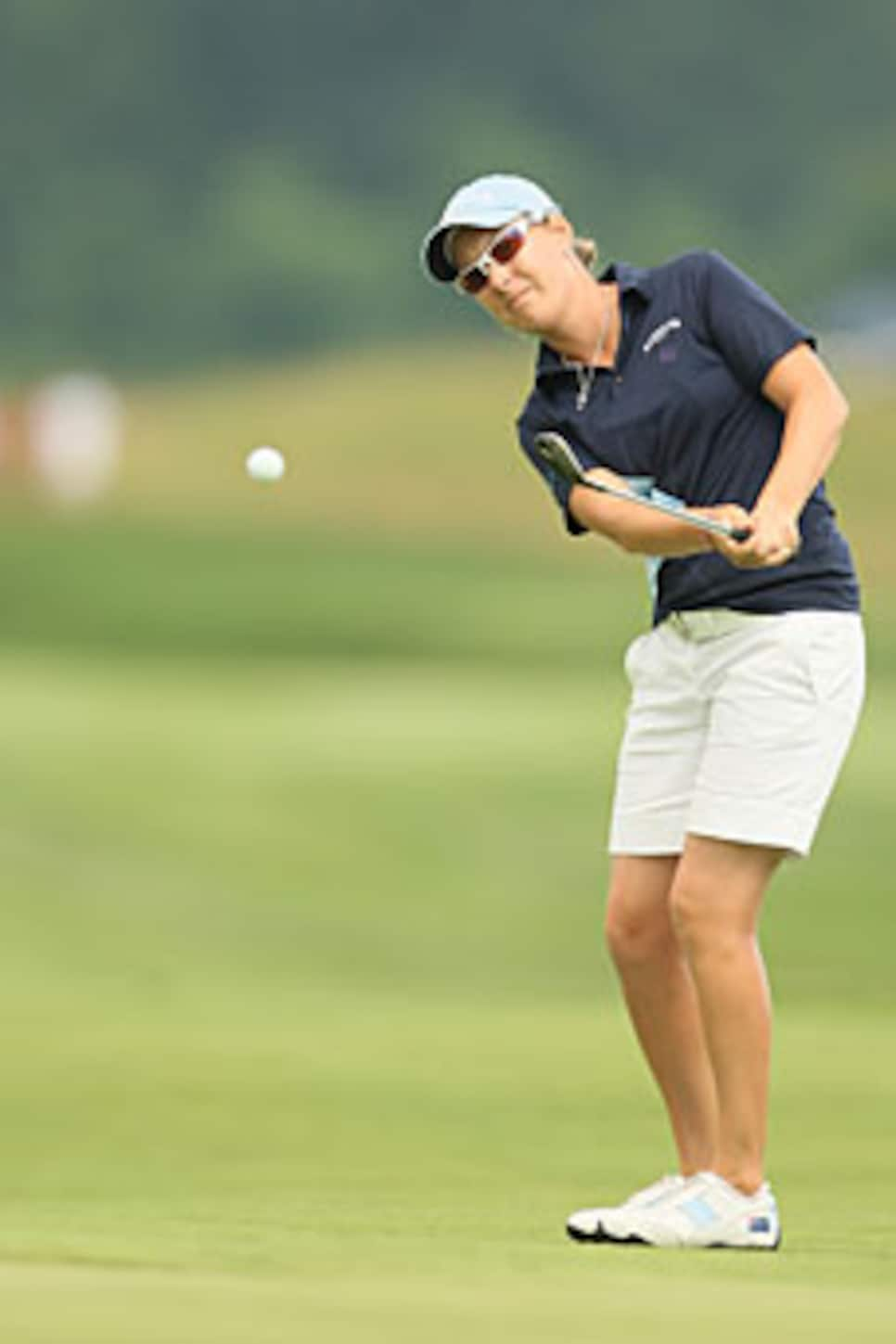 For the most part, the fact this was the last McDonald's remained an undercurrent and not a tidal wave that overwhelmed the event. Still, galleries were subdued, perhaps because they were witnessing a swan song, or perhaps because, absent Sorenstam, fans are still trying to figure who the dominant player is on tour. The one-time heir-apparent, Lorena Ochoa, was T-23 at McDonald's. The victory by Nordqvist means nine of the last 10 LPGA majors have been won by first-time major winners.
A Bulle Rock course already softened by a very wet spring was made even more defenseless by storms Tuesday and Wednesday. As a result, play began with wide fairways playing even wider, extremely soft greens and with lift, clean and place rules in effect. The scores were predictably low. Castrale peppered the flags with laser irons—three times hitting it to three feet—and took the first-round lead with a 65. Nordqvist was at 66 and Wright at 70.
A firming course yielded only nine rounds in the 60s Friday, including Shin (68) and Ochoa (69), both of whom who moved into contention at three-under-par 141, five shots behind Nordqvist, the halfway leader. Castrale stumbled early with a double bogey on her third hole but scratched out a 72 and was second at 137. Wright was at 138.
Nordqvist not only held onto her lead but also extended it to two strokes in the rain-delayed third round. She returned to the 16th tee at 7:25 Sunday morning, rolled in a 14-foot birdie on No. 17 and made a solid eight-foot par-save on the last hole to finish with a 69 and complete 54 holes at 11-under 205. Wright was at 207.
With no one else making a serious move, Sunday became a two-person race between Wright and Nordqvist, whose two-stroke lead grew to five when she birdied Nos. 1 and 6 and Wright bogeyed No. 7. Then Wright surged with birdies on Nos. 8, 9 and 12. When Nordqvist bogeyed No. 13 (her first in 19 holes) the margin was a single shot. But then the supersized Sorenstam did her thing and made back-to-back birdies to slam that particular door.
"I said to her, 'That was bloody awesome.' It really was," Wright said about Nordqvist. "Under that amount of pressure, not being in that position before and in a major and being a rookie? You can't get any better than that. She's a phenomenal player, and then to hit that shot on 18? If that was me, I probably would have wedged it around the green. She didn't show the nerves at all."