News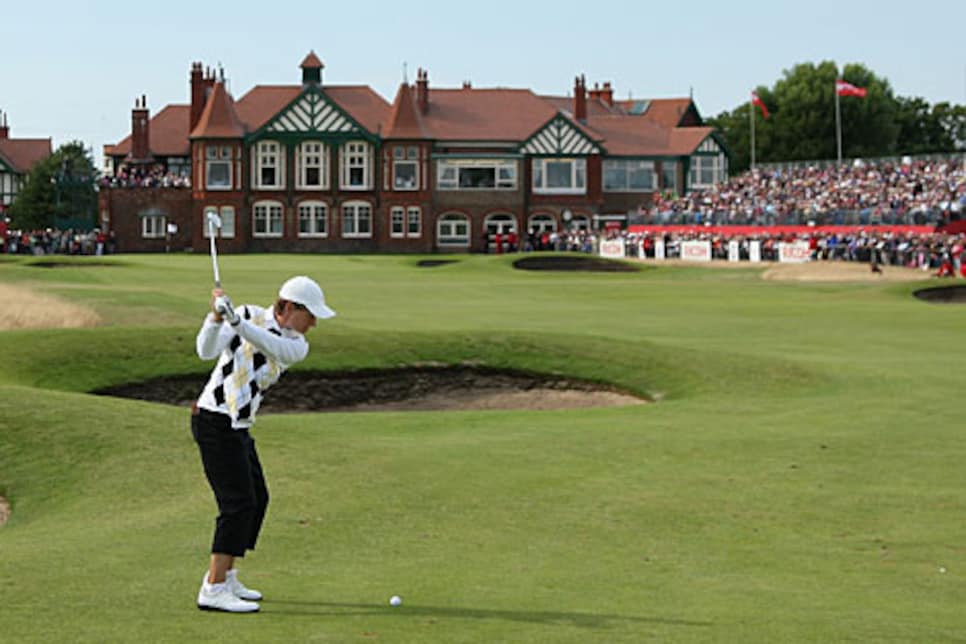 Royal scot: A third-round 71 gave Matthew a three-shot lead entering the final round of the Ricoh Women's British Open.
There is an anti-littering campaign in these parts that urges people to "Keep Britain Tidy." Who better to understand the importance of cleaning up than a nearly 40-year-old mother of two young daughters, the most recent of whom entered the world just 11 weeks earlier? That is exactly what Catriona Matthew spent much of Sunday doing in the final round of the Ricoh Women's British Open at Royal Lytham and St. Annes—tidying up after messes she made. She missed fairways, she missed greens, she missed putts and she seemed determined to miss out on her opportunity to win her first major championship.
Then, after a 12-foot par-save on No. 12, she rolled in an 18-footer for birdie on the next hole, followed a fortunate lie in the rough on No. 14 with an improbable 40-foot putt and then capped the three-birdie outburst with a tap-in on No. 15 after her eagle try stopped a half-roll short. Matthew went on from there to become the first woman from Scotland to win not only this tournament but any LPGA major.
That the final margin at Royal Lytham was three strokes better than Karrie Webb, who was trying for her eighth major, is no indication of the struggle involved, just as those blissful moments when a newborn falls asleep in a mother's arms give no indication of the labor pains involved. "I was definitely nervous this morning, and it was a pretty shaky start," said Matthew, who missed a six-footer to bogey the par-3 opening hole. "Then just a few birdies in a row sealed it," she said, typically understating the run that propelled her to a final-round 73 and a three-under 285, with Webb at 288 and Paula Creamer, Ai Miyazato, Hee-Won Han and Christina Kim at 289. Michelle Wie closed strong with a 69 to finish T-11 and was later rewarded as a captain's pick on the U.S. Solheim Cup team.
To say Matthew's victory at the Women's British was an improbable story is like saying Royal Lytham is a great golf course: It's a true statement, but falls far short of doing its subject matter justice. A week earlier Matthew returned to competition at the Evian Masters for the first time since March 8 when she left the tour to prepare for the birth of her second child, Sophie, who was delivered May 16. Matthew had been back hitting balls only five weeks.
"I never imagined after not playing [for so long] that I would win," Matthew said. "Coming out to play last week and this week, I was really just hoping to make two cuts."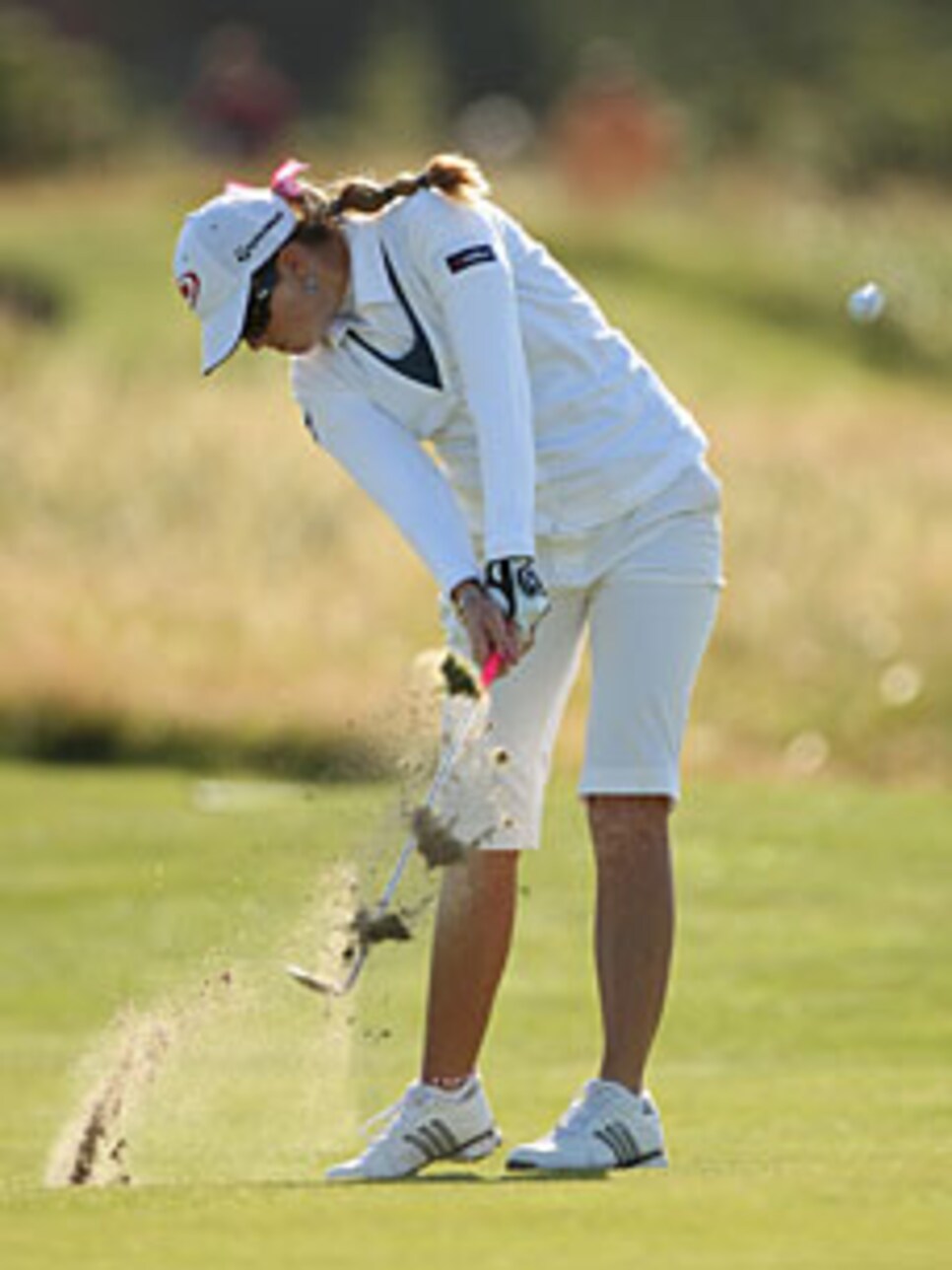 That her grasp exceeded her reach is all the more remarkable because on the eve of the Evian tournament she and her husband Graeme had to flee a hotel fire. When Graeme, who caddies for Catriona, ran back into the building to retrieve their passports, his feet were blistered by the heat so badly he was unable to work at Evian. But he was back on the bag at Lytham, offering the kind of words only a spouse can utter when Catriona was getting a little untidy on the golf course.
Matthew's T-30 finish at Evian gave little indication of what was to come. Then again the outward calm with which she appears to walk through life—good shots elicit a bashful smile and an embarrassed wave—gives little indication of the turmoil she suppresses on the golf course.
"I was getting a little anxious, maybe a little bit down on myself on the front nine," said Matthew, who had two previous victories in her 15-year LPGA career. "[Graeme] just said, 'You're still in the lead, keep going,' and that kind of helped."
Beginning the final round with a three-stroke lead over Christina Kim, Matthew missed several short putts early and even after she made a nine-foot putt to save bogey on No. 10 after taking an unplayable lie penalty, she had fallen into a tie for the lead at one under with Ai Miyazato, who had birdied Nos. 6 and 7. At that point, it appeared as though this fairytale story was about to lose its happy ending.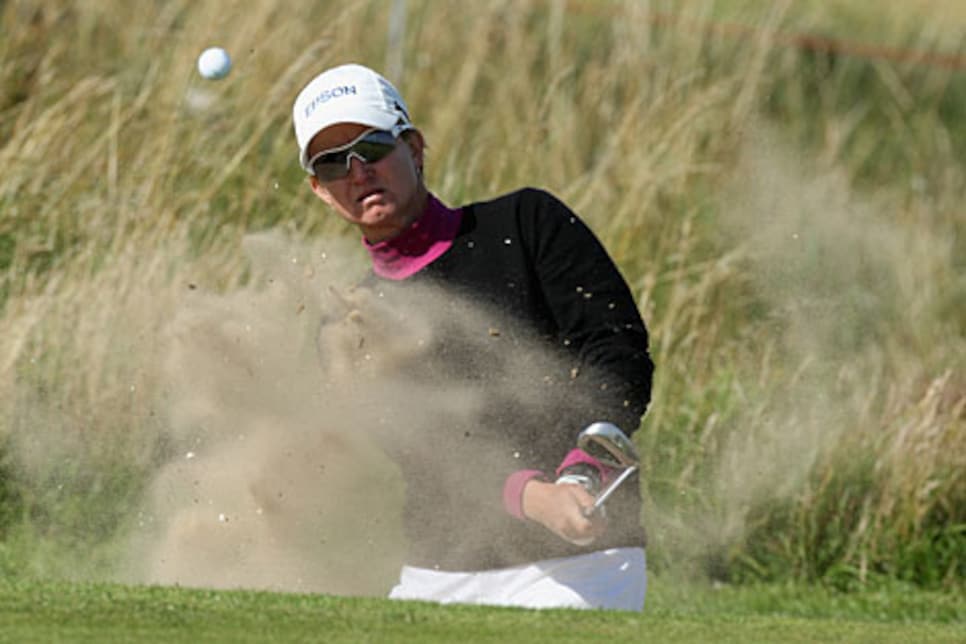 Miyazato, who got her first LPGA win a week earlier at the Evian Masters, was still at one under when she drove into a bunker on 17 and made double bogey to lose her chance at victory. Creamer also got to one under par but drove into a bunker on the final hole and closed with a double of her own.
"I made great birdies on 15 and 16 and then a solid par on 17," said Creamer, who turned 23 Aug. 5 and already has eight LPGA titles, but was once again frustrated in her quest to win her first major. "I went to 18 thinking, 'Just keep it out of the bunkers.' It wasn't the best drive, but the lie was horrible. Then I hit out and landed in a divot. What I did, though, was give myself a chance [Sunday]. My whole goal was to put myself in contention in a major and I did."
When Webb—who had opened the championship with a five-over 77—got into the clubhouse at even par with Matthew just teeing off on No. 13 at one under par, it seemed as if the Aussie's score might apply enough pressure to complete the unraveling already underway. "I knew I needed to get it to at least even today," Webb said after closing with a 68, the low round of the day. "I didn't have much going on [until] the 20-yard chip shot for eagle [on No. 15]. I'm pleased with my last three rounds to get back to even."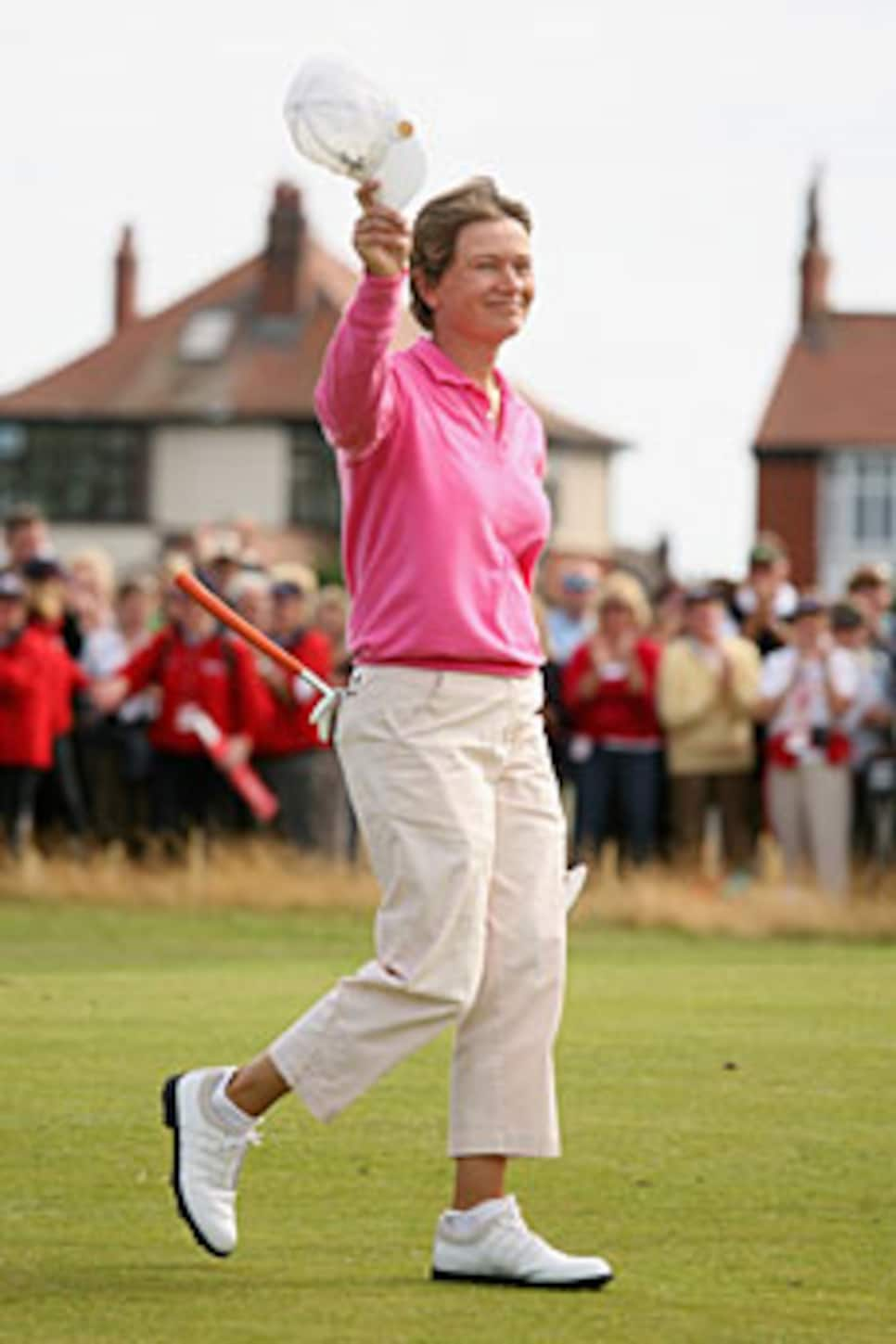 But it was not enough, thanks to Matthew's run of three straight birdies. Still, there were more messes to clean up. Matthew drove into the deep rough on No. 16 but saved par and, with a four-stroke lead, drove into a bunker on No. 17 and played her second shot into the rough but managed to limit the damage to a bogey.
When play began Thursday at Royal Lytham, the forecast was for a week of rain. Instead the first round was buffeted by wind that gusted to more than 25 miles per hour, bringing all 205 bunkers into play. Only five of the 144 players broke par with Sandra Gal of Germany grabbing the first-round lead with a 69, one stroke ahead of Song-Hee Kim and Angela Stanford. Matthew opened with a 74. Seon Hwa Lee was a perfect example of the differences in the two nines: She went out in 35 and came home in 47. The par-35 outward nine played to a stroke average of 37.168 Thursday while the par-37 inward nine played to a whopping 41.153.
An easier wind Friday yielded 67s by both Giulia Sergas and Matthew, who tied for the lead at 141 after 36 holes, one stroke ahead of Yuko Mitsuka and two better than Song-Hee Kim. Matthew was buoyed by a back-nine stretch when she eagled No. 11, aced No. 12 and birdied No. 13th. She played the back in a course-record 30—needing only 10 of those strokes on the greens. Gal fell back with an 80, and Stanford slipped with a 76. Among those missing the cut at nine-over 153 were Suzann Pettersen, Juli Inkster, Helen Alfredsson and Natalie Gulbis.
Matthew protected her lead with a solid 71 Saturday and took a three-stroke advantage into the final round at four-under 212. Sergas faltered with a 78. Christina Kim slipped into second place with a 71—215. Defending champ Jiyai Shin's 68 moved her into a tie for third at 216 with Ai Miyazato. Kim stumbled out of the gate with three bogeys in the first five holes Sunday, but hung on gamely until she bogeyed No. 16.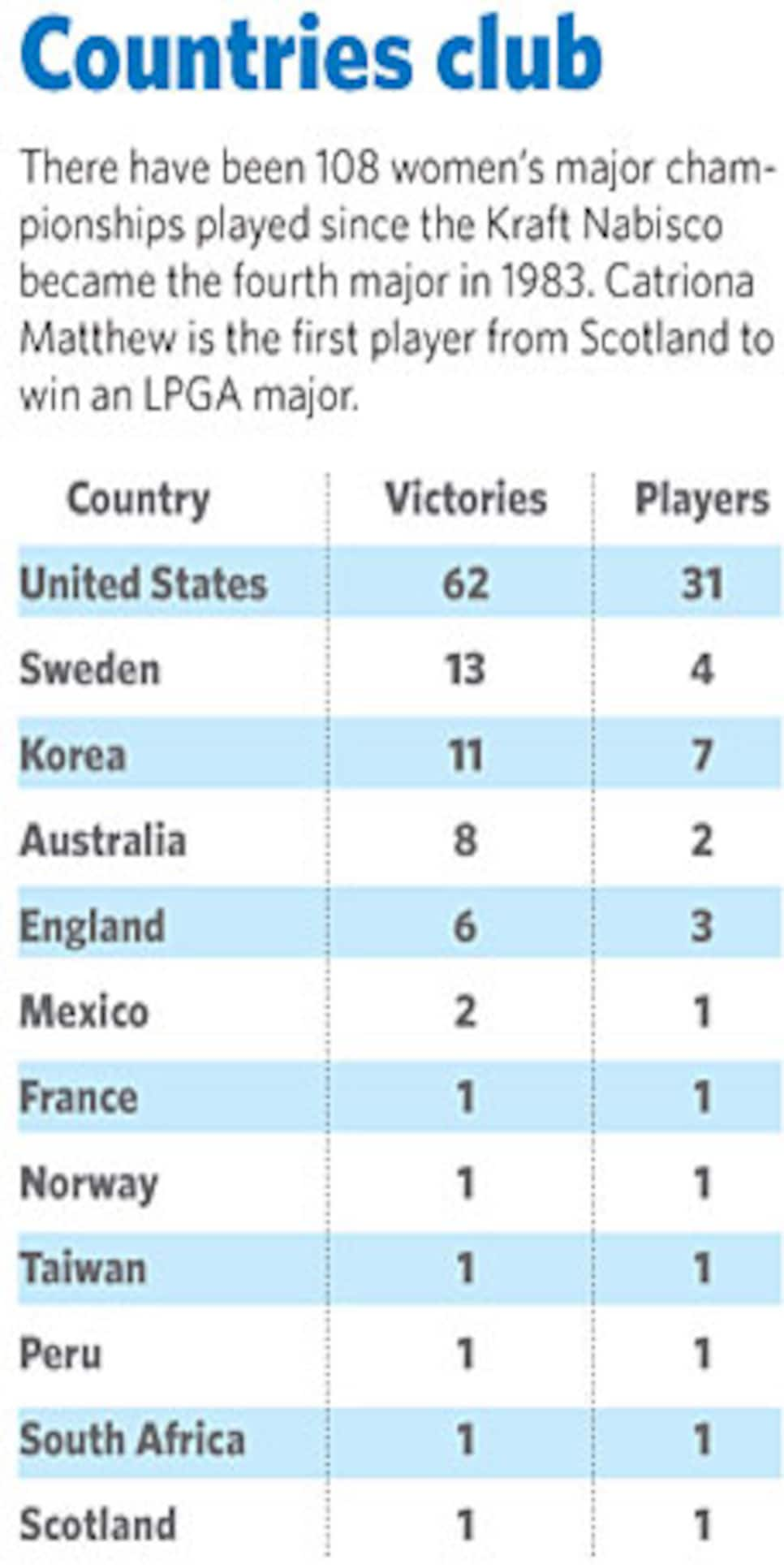 As impressive as dominant golf can be, there is also the admiration for a player fighting her game who still gets it done. That was the case with Matthew Sunday when she shot her third consecutive subpar back nine. With a large and appreciative crowd lining the 18th fairway—many waving the blue and white Scottish flag—Matthew played one of her tidiest holes of the day: Fairway, green and two putts, a routine conclusion to an anything-but-routine run to a major championship.
'"When I holed the putt on 14, I thought, 'This is mine for the taking now,' " Matthew said. "I had let it slip a little bit and others were kind of pushing me. But I holed that putt, and I thought, 'Right, come on. I'm never going to have a better chance, so let's take it.' "
And that's exactly what she did, tidying things up nicely on one of golf's most demanding back nines for a victory she can one day tell the children about.