News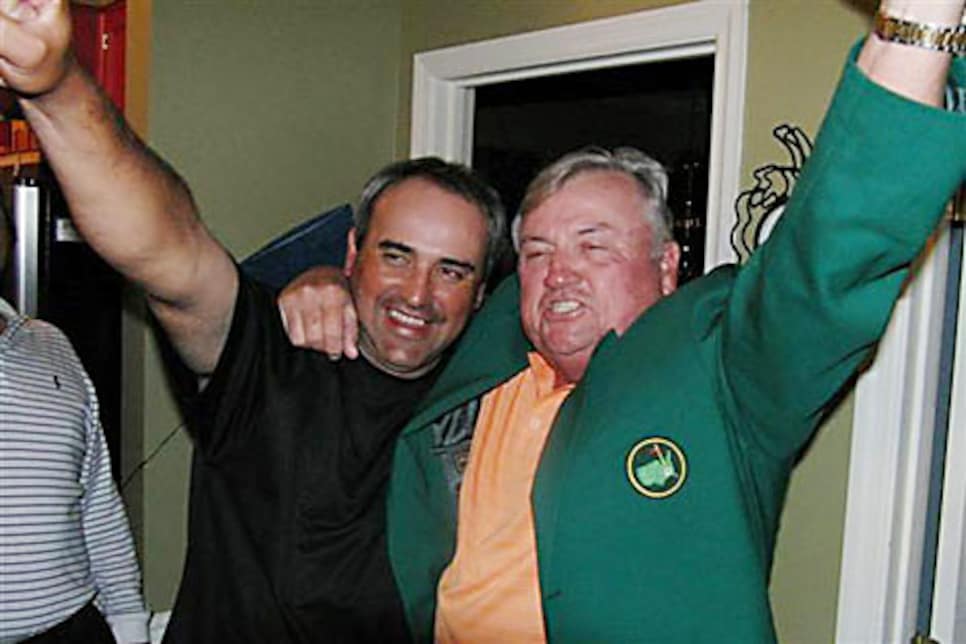 Angel Cabrera and swing coach Charlie Epps had plenty to celebrate Sunday night.
They call him "El Pato," but instead of a waddling duck, broad-shouldered Angel Cabrera has established himself as a bull in golf's fragile china shop of major championship contenders. While Kenny Perry came home in back-to-back bogeys and Chad Campbell missed a four-footer to stay alive in the Masters playoff, Cabrera kept rumbling to the finish line of his second Grand Slam title in less than two years. The Argentine survived a mud-ball shank, made one of the all-time, good-luck-bounce "barkies" in golf history and came charging out of a pack that had become a second act to the Tiger and Phil Show.
The win may not create as much buzz as a Woods or Mickelson victory would, but it gave every indication that the world's No. 1 and 2 golfers have another heavyweight in their division, size 46 regular. After overpowering Oakmont in the 2007 U.S. Open, Cabrera became a double major winner at Augusta National by making the putts Woods usually makes in crunch time. Everybody will remember the par saves at 18, from four feet on the 72nd hole and five feet in the playoff. But Cabrera's swing coach, Charlie Epps, was outside the clubhouse late Sunday night, and he wasn't talking about those downhill testers to stay alive. He was talking about the way Cabrera stalked the 18-footer at 16, with Perry 8 inches away from birdie two.
"Not only can he hit it 97 miles," Epps said. "But he's got a deafening touch."
The teaching pro from Houston is a Claude Harmon disciple, and had worked out in his mind what Perry's right-to-left ball flight would do under pressure with the Eisenhower tree in the dogleg of the fairway at 17, or with those fairway bunkers at 18. Reciting one of the former Masters' champions great lines, he said, "Like Claude always said, 'You can linger but you can't last.' ''
As foreseen, Perry clipped the trees right at 17, hit his approach long and left, and made bogey with a poor pitch that ran off the front of the green. At 18, he drove into the first fairway bunker and made bogey. With two closing pars, Cabrera bulled his way into a tie for the lead. He showed at Oakmont and Augusta that not only can he linger, but he also can last with the best of them.
"Great players get it done," Perry noted. "And Angel got it done."
The countenance was identical to his stride down the final 18 of the '07 Open, where he closed it out with a 356-yard drive down the center line. Even in the middle of his final round at Augusta, when he shanked his second up the hill at No. 8, or hung a 9-iron and bogeyed No. 10, that hulking never turned to the petulant sulking that was once a trademark.
As Epps explained early Wednesday morning, Cabrera's cursing going up the eighth fairway was a reaction to mud on the ball, not a deflection off the 3-iron's hosel. "It came out like a spitter in baseball but it was not a shank," Epps said. The fact he didn't quit after dropping a shot at the 10th indicated the anger management training had gotten through Cabrera's stubborn nature. From there to the clubhouse, Cabrera played the next eight holes in three under, capping off his second major with two solid shots down the 10th while Perry continued to become unglued, missing the green to the left, down in the trees where Len Mattiace's playoff chances ended in 2003.
Other than the playoff drive that ricocheted out of the pine forest at 18, Cabrera hit nothing but quality shots and pressure putts, using the 39-inch shaft and what Epps taught him to overcome his insecurity on the greens, bred from a childhood of slow putting surfaces in Argentina. Outside the clubhouse late Sunday night, Cabrera's caddie, Ruben Yorio, was asked what club he thought should be donated to the club as a representation of their victory. "The putter," Yorio said.
This showed how far Cabrera had come in the past two years, since Epps was introduced to his camp at The Players in 2007. They now have plans for Bethpage Black, where the U.S. Open will be staged on a golf course that would seems to favor Cabrera. "It's his type of golf course," Epps said. "Long and hard."
With two of the last seven majors in his collection, Cabrera returned home this week to another hero's welcome. The timing couldn't have been better for the Abierto del Centro (Open of Center of the Republic), a tournament hosted at the course where Cabrera once slung bags in the foothills of the Andes. The former caddie from Cordoba Golf Club has now surpassed the accomplishments of the country's golf patriarch, Roberto De Vicenzo.
After Cabrera won the Open, De Vicenzo gave him a framed photograph with his hand on the green jacket and the inscription, "I hope this give you luck so someday you can bring back a green jacket for yourself." Forty-one years after De Vicenzo's scorecard error cost him the 1968 Masters, Cabrera signed, sealed and delivered a victory that will have a ripple effect on his country for years to come.
Andres Romero, who defends his Zurich Classic title in New Orleans next week, was among the celebrants in the Butler Cabin on Sunday night. Just three weeks ago, Estanislao Goya, a 20-year-old from Cordoba, won the Madeira Island Open on the European Tour.
"De Vicenzo had bad luck," Cabrera said. "He had a bad moment. It's not going to change what happened to him. This win, to take back to Argentina, it's going to help a lot with our game."
Cabrera has already done his part. His home in Villa Allende overlooks the mountains and his two sons, Angel Jr. and Frederico are both proficient in the game at the club where he caddied. Except now the caddie yard is not a dirt floor, but a facility with showers paid for by Cabrera.
By the time he's done, Cordoba GC could have its own caddie dormitory. Cabrera returned home on Tuesday. Wearing the green jacket, he told the hometown crowd that green suited him, and noted that he feels like lingering and lasting for a long time. "Now I'm going for the third major," he said, "and I'm not going to stop until I win at least five."