News
The Decade By The Numbers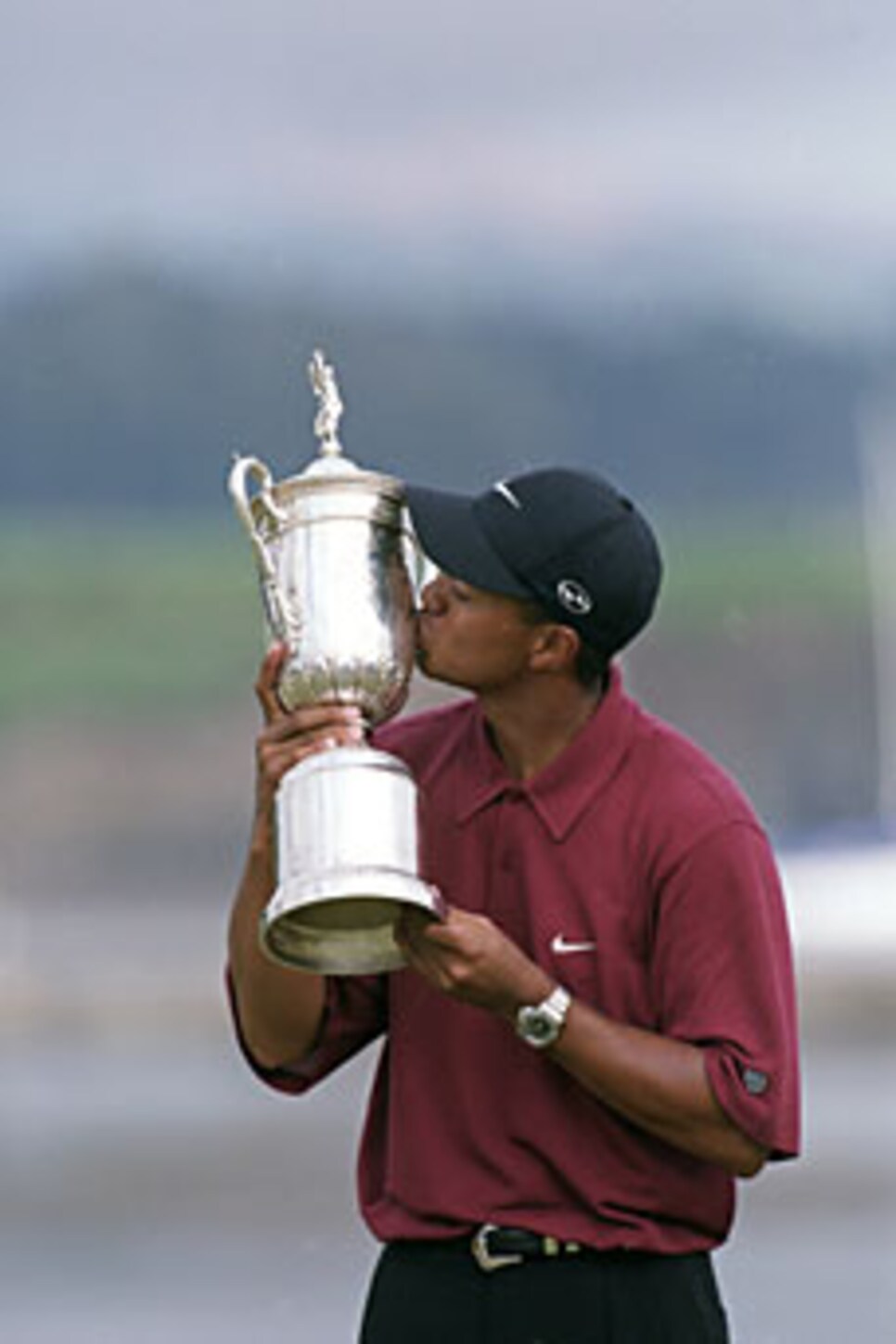 Tiger Woods' 15-stroke win in the 2000 U.S. Open was the most one-sided of the decade.
Y.E. Yang's stunning upset of Tiger Woods in the PGA Championship at Hazeltine National closed the door on the majors for the decade. Here's a statistical look at the 40 championships.
Most victories: 12, Woods. Beginning with the Tiger slam in 2000-01, Woods' dirty dozen includes a proportionally correct three at each major. He won six from 2000-04 and six from 2005-09. His longest stretch without a victory was 10 events, starting at the 2002 British Open. Incredibly, he only had three top-10 finishes during that spell.
Others with multiple majors: Padraig Harrington (2007 and 2008 British, 2008 PGA) and Phil Mickelson (2004 and 2006 Masters, 2005 PGA) won three. Angel Cabrera (2007 U.S., 2009 Masters), Retief Goosen (2001 and 2004 U.S. Open) and Vijay Singh (2000 Masters, 2004 PGA) won two.
Most top 10s: 25, Woods. There's no one on the top-10 list that you wouldn't expect.
The only player with a top-10 in his only major: Matt Bettencourt, 2009 U.S. Open.
Iron men: Four players appeared in every major during the decade -- Stuart Appleby, Garcia, Singh and Weir. Appleby, with only three top-10s, is clearly the odd man out in this quartet.
Most cuts made: 37, Mickelson. Lefty played in 39 majors and missed only two cuts, at the 2007 U.S. and British Opens. Woods played in 38 majors and made 36 cuts. Els (35), Singh (33) and Weir and Goosen (32 each) round out the top five.
Most cuts missed (including WD's): 23, Michael Campbell. The former U.S. Open winner has appeared in every major since his win at Pinehurst in 2005. He has missed the cut or withdrawn in 11 of them. John Daly, who qualifies for the British Open and PGA Championship as a past champion, is second with 20 missed cuts this decade.
Most consecutive missed cuts: 12, Gary Player. Ten Masters and two British Opens.
Most consecutive missed cuts (or WD's) by a non-senior: 11, David Duval and Mark Brooks.
Best finish by an amateur: T-5, Chris Wood, 2008 British Open. When Wood called his sister during the 2008 British, she asked if he was playing in that "golf thingy." By validating his performance at Royal Birkdale with a T-3 at Turnberry this past July, Wood became the only player to have top-five finishes in his first two "golf thingys."
Highest World Ranking by a winner: No, not Yang, who was 110th when he beat Woods at Hazeltine National. Not even close. Ben Curtis, who won in his first-ever major, was ranked 396th when he shocked the field at Royal St. George's in the 2003 British Open. That week's Golf World said the upset made "the previous standard for modern-era shockers -- Daly's triumph at the 1991 PGA Championship -- seem like Nixon over McGovern."
Largest winning margin: 15 strokes, Woods, 2000 U.S. Open. Woods followed his 15-stroke win over Els at Pebble Beach with the second-largest rout of the decade, an eight stroke win over Els at the 2000 British Open. Woods also had the third- and fourth-largest winning margins, by five shots over Colin Montgomerie in the 2005 British and Shaun Micheel at the 2006 PGA.
Largest winning margin by a player not named Woods: Four strokes, Harrington over Ian Poulter, 2008 British Open.
Lowest aggregate score: 265, David Toms, 2001 PGA Championship. Four players completed their major week with scores in the 260s and three came during the '01 PGA at Atlanta AC, where Mickelson (266) and Steve Lowery (268) trailed Toms. That leads us to ...
__Lower score in relation to par:__19-under, Tiger Woods, 2000 British Open. Woods shot 19-under 269 at St. Andrews to complete the career Grand Slam with the best-ever score in a a major.
Most greens hit in regulation: 62, Eric Ramsay, 2005 British Open. A little-known British amateur, who didn't even make that year's GB&I Walker Cup team, Ramsay had the week of his life at St. Andrews, finishing T-23 in the only major he has ever played. Woods hit 61 greens at the 2001 Masters.
Most fairways hit: 52, Scott Drummond, 2005 British Open at St. Andrews. Poulter hit 50 at the 2009 Masters.
Fewest putts: 101, Mark O'Meara and Jeff Maggert, 2003 Masters. Both players were in the top-10 that week. It was O'Meara's only top-10 of the decade.
Lowest round: 63, five times, José Maria Olazábal, 2000 PGA; O'Meara, 2001 PGA; Singh, 2003 U.S. Open; Thomas Bjorn, 2005 PGA; Woods, 2007 PGA. Of the five, Woods was the only player who would go on to win. Of his now-famous "621/2," Tiger said he was "mad" the 16-foot putt on the last hole horseshoed around the hole, but didn't fall. "I hit a good putt, and I thought I made it," he said.
Highest round: 105, Billy Casper, 2005 Masters. Casper didn't sign his card after that first round at Augusta National, forever relegating his triple-digit score to folklore. Unofficially, the 73-year-old Casper had three pars, eight bogeys, four doubles, two triples and a 16 on the par-3 16th hole.
Highest official round: 94, Tom Dolby, 2002 PGA; Doug Ford, 2002 Masters.
Highest round by a tour player: 89, Billy Mayfair, 2004 U.S. Open; Daly, 2008 British Open. Mayfair's round came on Sunday, which means he made the cut at Shinnecock that week. He was actually T-12 after two rounds.
Youngest winner: Woods. Tiger was 24 when he crushed the field at Pebble Beach in the 2000 U.S. Open, and was still younger than any of the decade's other major champs when he the next three majors to complete the Tiger slam at age 25. Curtis was 26 when he won the 2003 British.
Oldest winner: Singh. Vijay was the only player to win a major while in his 40s, being about six months removed from his 41st birthday when he won the 2004 PGA.
__Best total score:__Woods, 136-under par. Woods is one of nine players with a subpar total for the decade. However, he's only one of the nine to play in more than two majors. Dean Robertson and Lloyd Saltman are tied for second with an aggregate of five-under par. They both played in one major. Mickelson, at 39 over, has the next-best score for a player who appeared in more than 10 majors.