News
Whan Named New LPGA Commissioner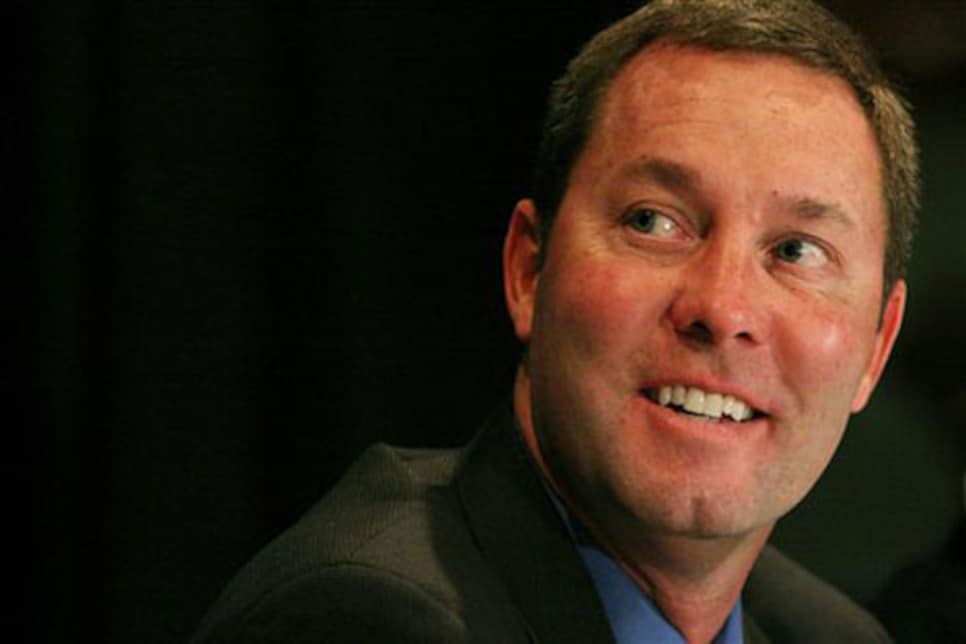 Whan will replace Carolyn Bivens, who resigned in July.
NEW YORK (AP) -- The LPGA Tour picked Michael Whan as its new commissioner, turning to a former marketing executive in golf and hockey equipment to rebuild the tour's relationships with sponsors.
The 44-year-old Whan previously worked for TaylorMade Golf and Wilson Sporting Goods and most recently was president of Mission-Itech Hockey.
"I was that crazy high school kid cutting greens at 5:30 in the morning so he could play free golf in the afternoon and caddying on Sundays," Whan said Wednesday, during an introductory news conference at Madison Square Garden.
He replaces Carolyn Bivens, who was forced out by players in July as the tour kept losing sponsors. Bivens had a strong business background but little experience in sports when she was hired in 2005.
Dawn Hudson, chair of the LPGA board of directors, said the tour needed a commissioner familiar with the sports business -- even if that experience didn't come working for a league.
"At this particular time, with the struggles that all sports have had and some of the controversy of the past year, we really need a commissioner who can hit the ground running," she told The Associated Press.
The number of official money events dropped from 34 in 2008 to 28 this year. While declining to reveal exact numbers, Hudson said the number of tournaments in 2010 would be closer to the best-case scenario than the worst-case.
"It's been a tough, hard couple months, but it's going to result in a surprisingly good schedule," she said.
Whan said he was "surprised and excited" when he saw the 2010 schedule, which will be released in mid-November.
"If that's a downturn year, then this brand's more resilient and stronger than I even thought coming in, and I was pretty confident going in," Whan said. "The LPGA's just fine."
Whan was selected following a three-month search. Acting commissioner Marty Evans will stay on the rest of the year, with Whan starting in January.
"I think the players are going to be super happy with the way that he is," said LPGA board player member Helen Alfredsson.
Whan has also worked in marketing for non-sports companies, including Procter & Gamble.
"I don't think anybody was immune to the business downturn in 2009, but at the end of the day, having been on the brand side of the big corporate brands, they're always looking for partnerships that can build their business and build their brand," Whan said. "The LPGA represents a very unique and powerful one."