News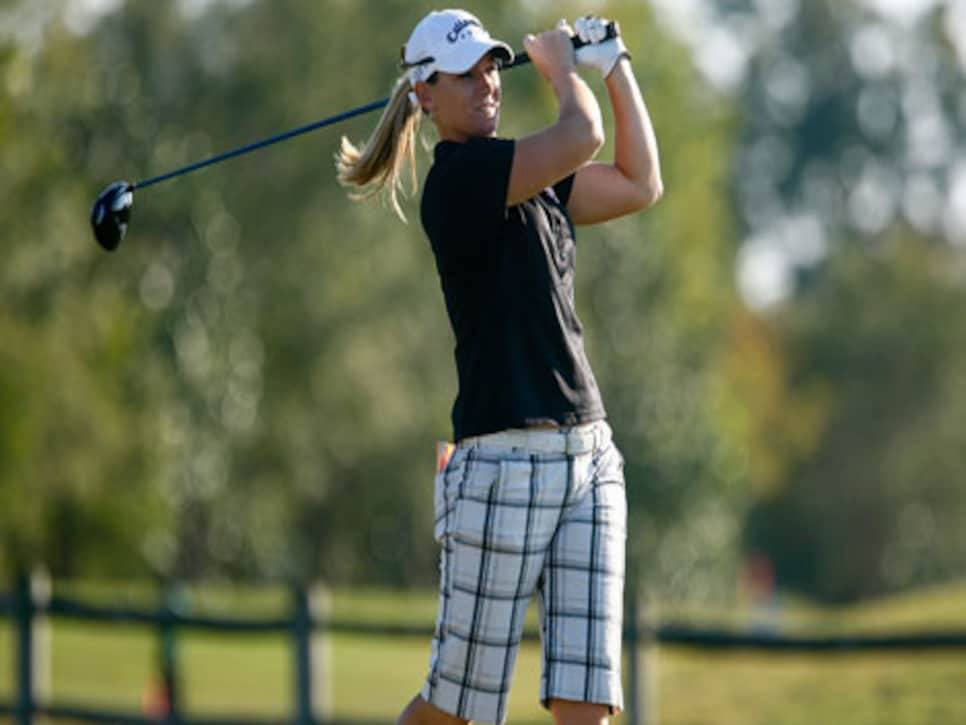 Unlike her nearest pursuers, Kristy McPherson was able to complete her second round, turning in a 67.
RICHMOND, Texas (AP) -- Kristy McPherson finished off a 5-under 67 in fading sunlight Sunday to take a one-stroke lead in the LPGA Tour Championship before the second round was suspended because of darkness.
McPherson was 8 under, one shot ahead of Jiyai Shin -- the South Korean star who had two holes to play. Lorena Ochoa, dueling with Shin for the player of the year and scoring title, was two strokes back in a tie for third with one hole to play.
Heavy rain swamped the course Friday and Saturday, forcing tournament officials to cut the event to 54 holes. The fairways were still water-logged Sunday, so players were allowed to lift, clean and place.
Players will resume the second round Monday morning. The top 70 and ties will immediately begin the final round.
For Ochoa to earn her fourth straight player of the year honor, she must win or finish no worse than third and then hope Shin places out of the top 10. The two are also decimal points apart in the race for the Vare Trophy, awarded for the season's lowest scoring average, coming down to the final day of the LPGA Tour season.
"Tommorrow, everything will be answered," Ochoa said. "I am very excited, yes."
Shin was four shots behind Ochoa after the first round, but picked up four birdies in a seven-hole stretch on Sunday to tie her. She holed a birdie putt on the par-5 16th, her last shot of the day, to move one shot ahead of her rival.
Shin is trying to become the first player since Nancy Lopez in 1978 to sweep the money title, rookie and player of the year and the Vare Trophy.
"I have a good shot at it," Shin said. "It's going to be very close. It wil be the most important day of my life."
Ochoa hit the first shot of her second round a full 72 hours after sinking a 15-foot birdie to wrap up a first-round 66 on Thursday. She dropped a shot on her front nine, then birdied 14 and 16 to move to 7 under.
Ochoa hit a greenside bunker with her tee shot to the par-3 17th hole, just before the horn sounded. She decided to finish, took a bogey and then headed straight to the practice green.
The 28-year-old McPherson, seeking her first LPGA Tour victory, picked up five birdies without a bogey in her second round after a 69 on Thursday. Neither of her rounds have been interrupted by the delays.
"Our goal was to get in before the sun went down, so we were happy to do that," she said. "We were fortunate to get through."
As the rain lingered over the weekend, players raised concerns about the availability of flights leaving Houston with Thanksgiving approaching. Michelle Wie dropped out on Thursday because of a sprained left ankle after shooting a 72, and five others withdrew between Friday and Sunday.
Some of the remaining players grumbled about the size of the field entered in the season-ending event. A total of 120 players started.
Cristie Kerr, who still has a mathematical chance to win the player of the year title, thought the event should've been more exclusive from the beginning.
"Your season-ending tournament should be your creme de la creme," said Kerr, 3 under after two rounds. "They said there are tour cards to keep, there are awards to give out. You shouldn't be worrying about keeping tour cards at this point in the year, with one tournament. Nothing against those people, I wish them well. But that's kind of the way it is."
The players who didn't finish their second rounds Sunday were due to resume at 7 a.m. on Monday. Those who make the cut will start their final rounds with no break in between as tournament officials race to finish before sunset.
"After so many days, the patience is just out," said Suzann Pettersen, 4 under through two rounds. "You just go out whenever you get the green light."