News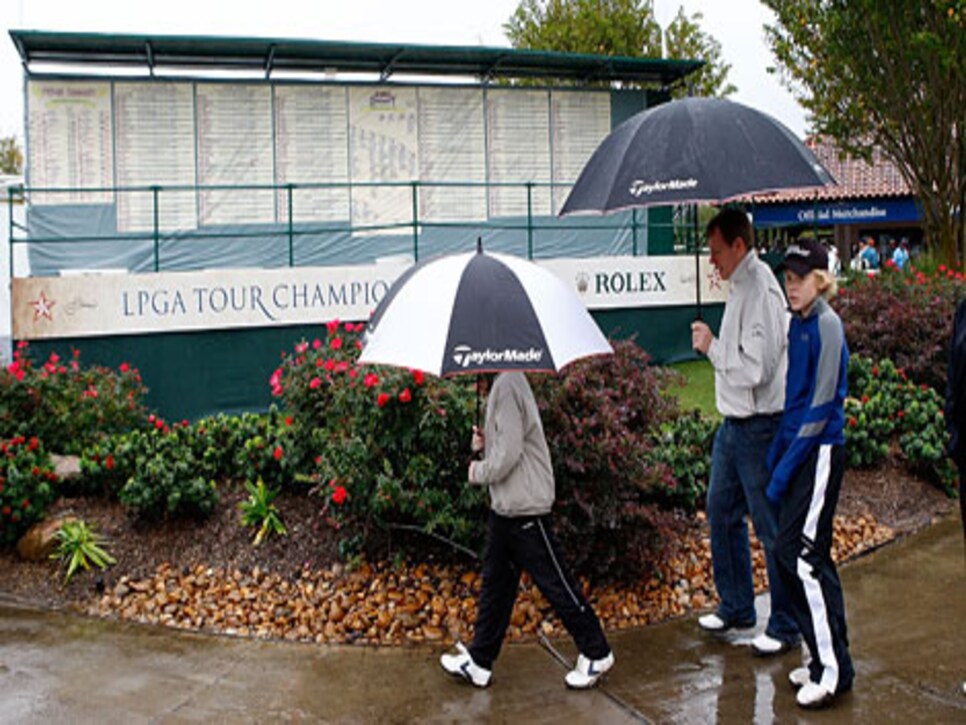 Fans haven't seen any golf the past two days at Houstonian Country Club
RICHMOND, Texas (AP) -- More rain on already saturated grounds at The Houstonian Country Club washed out play at the LPGA Tour Championship on Saturday, forcing tour officials to cut the season-ending event to 54 holes.
More than 1.4 inches of rain fell on the course from Friday morning until the decision was made to call off play Saturday at 1:30 p.m. CST.
Play is expected to resume at 8 a.m. Sunday to complete the second round. A cut will be made to the low 70 scores and ties, and a third round and final round will be played starting at 7 a.m. on Monday.
"We had a plan to try and play 72 holes by Monday, but that would have required players to possibly stay over for Tuesday and we didn't want to do that," said Doug Brecht, the tour's vice president for rules and competition.
Tournament leader Lorena Ochoa, who can win her fourth straight LPGA Player of the Year award with a win this week, has not hit a shot in competition since early Thursday afternoon when she finished a first-round 66.
Ochoa and most of the players were not in the clubhouse when the decision was made Saturday to cancel and return Sunday, when the forecast is for sunny and dry conditions.
The rain had been forecast to clear up late Friday and give way to cool and dry conditions on Saturday. But the rain continued overnight and was still heavy at 7 a.m. Saturday when play was scheduled to resume.
Because of miscommunication between local tournament officials and the LPGA, players were sent out to their assigned holes early Saturday, only to be told the course was unplayable and sent back to the clubhouse.
"I asked when I arrived this morning if the course would be ready for play at 7 a.m., and I was told absolutely it would be," Brecht said. "When it became light around 6:45 a.m., it was clear that was not the case, so we just turned the players around and sent them back."
The tournament was nearly canceled or moved this summer when original title sponsor Texas financier R. Allen Stanford was accused of running a giant Ponzi scheme. Then the tournament's top attraction, Michelle Wie, dropped out after the first round with an ankle injury and popular tour presence Natalie Gulbis withdrew with an undisclosed illness without even hitting a shot.
Sophie Gustafson, who technically is the second-round leader, having gotten to 4-under-par after playing 11 holes, said there is little the players could do with the wet weather.
"All we can do is stay dry and get ready," she said after signing autographs for fans at the clubhouse.
Christina Kim said it was simply a waiting game for the players on a soggy Saturday.
"I've eaten pasta, practiced my Spanish, told jokes, I've done it all," she said after the latest postponement. "We just have to show up tomorrow and see what the conditions are like."
Holes No. 3 and 5 were among those at the course that were under water and unplayable.
Conditions for Thursday's first round in the $1.7 million dollar tournament, at the Rees Jones designed par-72 course, and were excellent.
But play was delayed for six hours on Friday with nearly an inch of rain on the course. With the additional half-inch overnight, conditions went from bad and unplayable.