News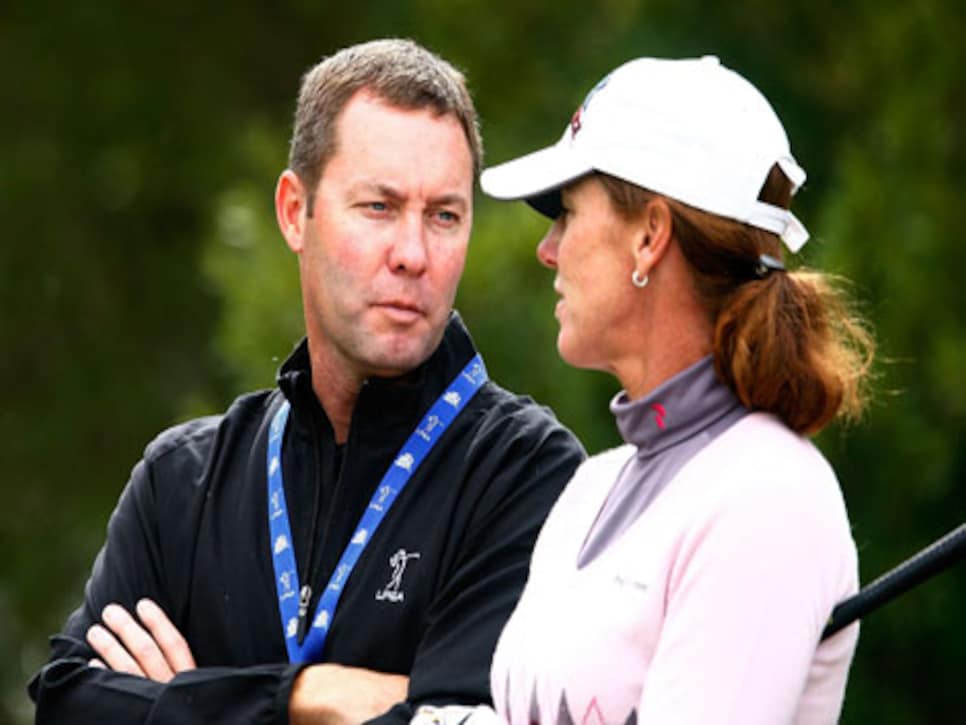 The next LPGA commissioner, Michael Whan, hasn't had much golf to watch the past few days.
RICHMOND, Texas (AP) -- Sophie Gustafson moved within two shots of leader Lorena Ochoa at the LPGA Tour Championship on Friday before second-round play was suspended because of bad weather.
Rain swamped the Houstonian Golf and Country Club before dawn and the start of the second round was pushed back six hours. The tournament resumed at 1 p.m., but light rain started falling about two hours later and play was halted for the day at 5:05 p.m. with darkness approaching.
Ochoa didn't play on Friday after shooting a 6-under 66 early Thursday. She will start her second round at daybreak Saturday.
Gustafson shot a 70 in the first round, then played 11 holes and moved to 4 under on Friday. Helen Alfredsson, Juli Inkster and Wendy Ward were 3 under.
The players were allowed to lift, clean and place because of the soggy conditions.
"The greens were really wet out there," said Inkster, 1 under through 10 holes in her second round. "I thought they left us out there too long, but that's just my opinion. I played good, but I usually do in wet conditions."
The weekend forecast is mostly clear and tournament officials are racing to finish the season-ending event by Sunday night.
LPGA Tour vice president of rules and competition Doug Brecht felt fortunate that the second round began at all, considering how the day began. The course managed to dodge powerful storms that moved up the Texas coast throughout the day.
"We're pretty lucky right now in that a big storm was heading our way and we didn't think we were going to get to play as long as we're playing," Brecht said. "Like most storms that have headed here, it broke up before it got to us and was not nearly as strong or severe."
But Brecht said tournament officials will still need "a little bit of luck" to finish 72 holes by late Sunday afternoon.
More rain is expected overnight and into Saturday morning, and if a high number of players make the cut - the top 70 and those tied will move on - that will push back the tee times for the last groups.
"We've got a couple of other issues, we'll see how they pan out," Brecht said.
The LPGA wants to avoid reducing the tournament to 54 holes at all costs, mainly because of the event's importance.
Ochoa is trying to win her fourth straight player of the year honor. She leads Jiyai Shin by four shots on the leaderboard and needs a victory to pass the 21-year-old South Korean in the points standings. Shin and Ochoa are also in a virtual dead-heat for the Vare Trophy, awarded to the player with the lowest scoring average.
Several players also need good performances to crack the top 80 on the money list and avoid going to qualifying school in two weeks.
"There are a ton of things riding on this tournament," Brecht said. "We are committed to playing 72 holes."
Brecht mapped out a tight schedule for the rest of the weekend that would get the tournament finished by 5 p.m. on Sunday. He was happy to see the players set a brisk pace on Friday to move things along.
"We are playing a lot faster than we did (Thursday), because there are less rulings and no wind," Brecht said. "So we're actually playing a little faster than the time schedule that I've laid out for us going forward from here."
Shin was one of the idle players who took advantage of breaks in the weather to practice.
"There isn't much you can do, but practice and get ready," Shin said. "I haven't really had much practice with waiting out rain delays."
Brecht said the course absorbed 0.64 inches of rain Friday. Though the course drained well, he expected that players would be allowed to use preferred lies for the rest of the tournament.